Solar Panel Usage
USD is home to one of the largest rooftop solar installations on a college campus in the nation, with a 1.23 megawatt system atop 11 buildings across campus. Since the installation in 2010, this system has saved USD over $350,000 and 4500 metric tons of CO2e emissions. The below map indicates each USD building that has solar panels on the roofs.
Palomar Energy Project
Located in the Alcala Vista Apartment Complex, Palomar Hall rooms have their own electric meters, making it possible to measure the energy consumption of each room.  This is a unique aspect of an on-campus housing facility. An Office of Sustainability team member conducts a weekly reading of all Palomar electric meters and tracks the consumption of each room, notating whether or not each room improves, stays consistent, or increases their energy usage. The Office communicates this information to each Palomar resident on a weekly basis and hosts a competition each semester, awarding the room with the lowest overall energy use and the room with the greatest improvement in energy consumption.
The Palomar Energy Project is funded by California utility customers under the auspices of the California Public Utilities Commission.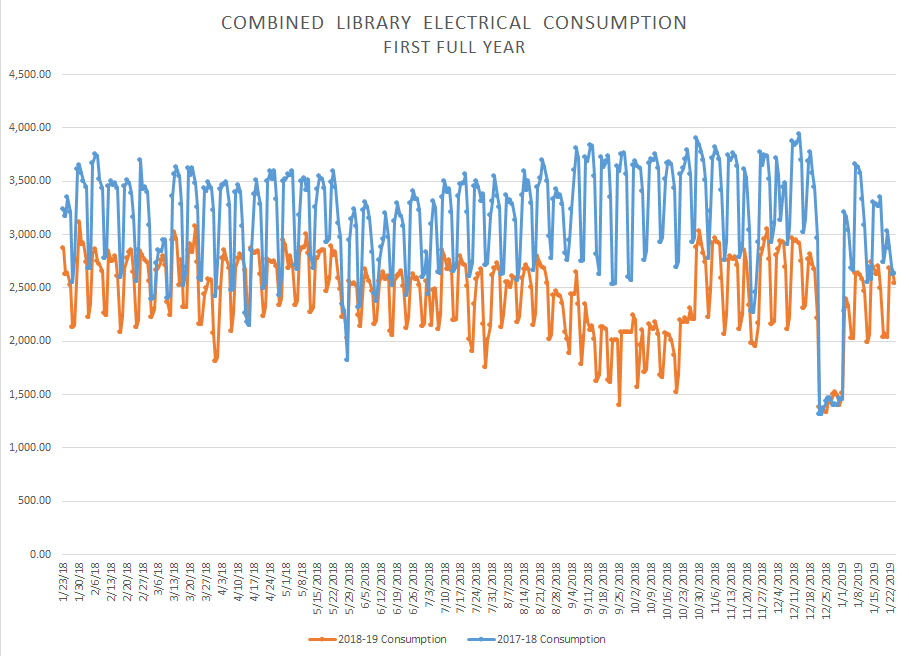 Lighting
The Copley Library and Pardee Legal Research Center (LRC) were retrofitted with LED light bulbs in the beginning of 2018. Over 4,000 lamps were switched from T8 fluorescent to LED bulbs. In the first full year electrical consumption decreased by 22.74%, resulting in savings of $56,700 (and a 9 month payback). The chart on the right shows 2017 into 2018 consumption (blue) vs. 2018 into 2019 consumption (orange).
SDG&E EcoChoice Program
After the completion of energy optimization, the university purchases cleaner and renewable energy for certain buildings to directly offset the remaining energy consumed by those buildings. USD is proud to be purchasing 100% renewable energy from San Diego Gas & Electric's EcoChoice program to make this possible for the following locations at USD: the Electronics Recycling Center, all Alcalaá Park West buildings (Coronado, Barcelona, Durango, and Avila), President's House, University Terrace Apartments, and Presidio Terrace Apartments.  Through this program, San Diego Gas & Electric is buying renewable energy on behalf of the university, from large, utility-scale generating facilities located within San Diego and Imperial Counties, therefore also supporting the local growth of renewables.