Energy
Energy is a primary focus of the University of San Diego's Climate Action Plan. The consumption of electricity and natural gas comprises 55% of USD's 2010 carbon footprint. As the largest source of emissions, it is a primary target for reductions moving forward. Through a systematic approach to generate savings through efficiency and increased reliance on renewable energy, USD will be able to lower emissions and reduce costs moving forward. Increased visibility through measurement will lead to an understanding of where and when energy is used to most effectively target reduction and optimization efforts.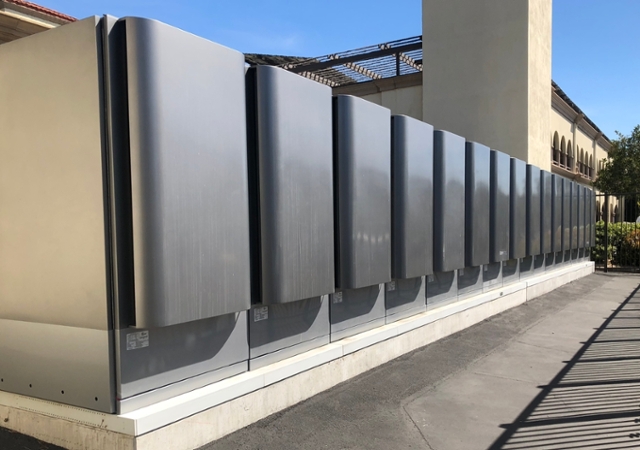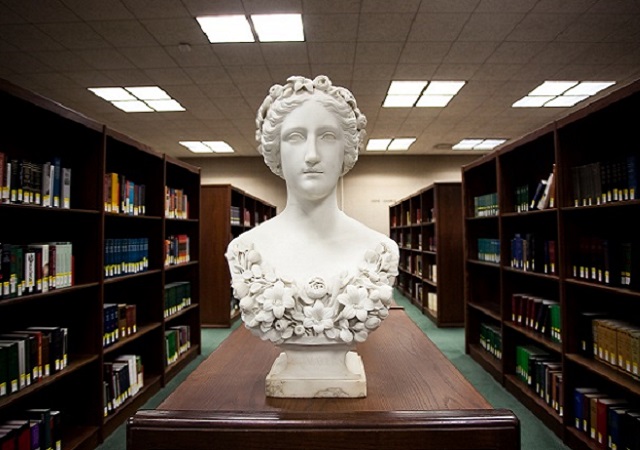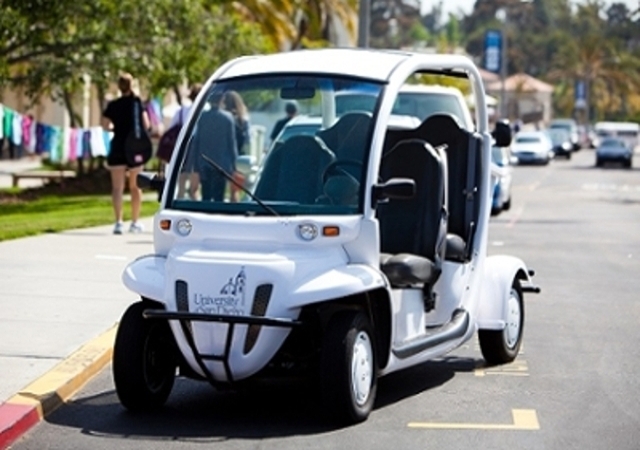 Solar Panel Usage
USD is home to one of the largest rooftop solar installations on a college campus in the nation, with a 1.23 megawatt system atop 11 buildings across campus. Since the installation in 2010, this system has saved USD over $350,000 and 4500 metric tons of CO2e emissions. The below map indicates each USD building that has solar panels on the roofs.
Lighting
The Copley Library and Pardee Legal Research Center (LRC) were retrofitted with LED light bulbs in the beginning of 2018. Over 4,000 lamps were switched from T8 fluorescent to LED bulbs. Between the beginning of the installation in January 2018 and October 2018, the project has reduced electricty consumption by over 205,000 kWh (23.3%) compared to the previous year, resulting in savings of over $42,500. The chart on the right shows 2017 consumption (blue) vs. 2018 consumption (orange).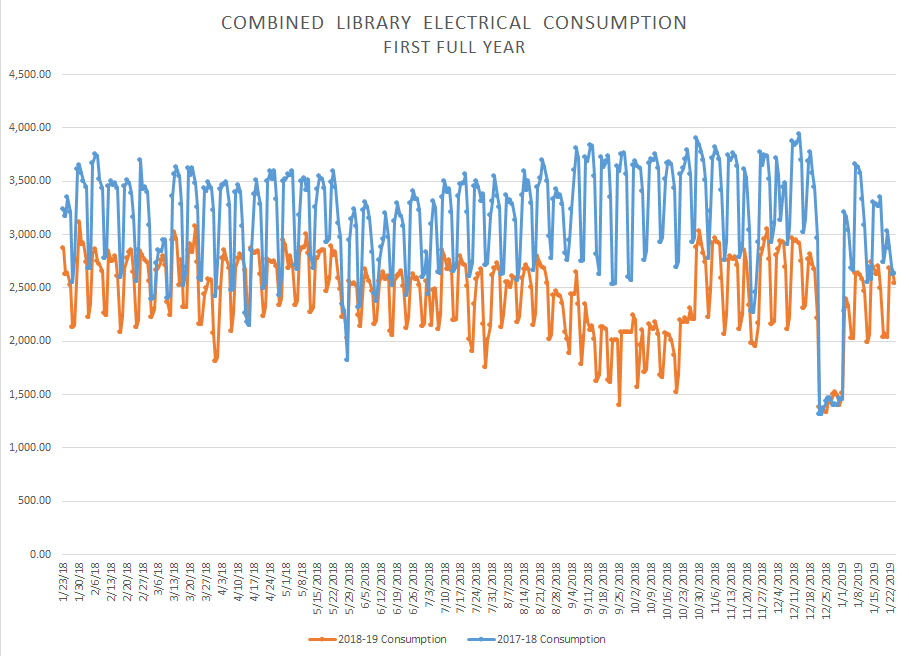 USD Temperature Standards
Energy conservation through efficient operation of building systems, including the implementation of temperature standards for university facilities, is essential to meeting the greenhouse gas emission reductions outlined in the University's Climate Action Plan. The temperature set points adopted by USD include maintaining standard building temperatures at or above 70°F in the heating season, and at or below 74°F in the cooling season during occupied hours. Exceptions to these standards are made for non-standard buildings and extreme high temperature events. To learn more about these exceptions, occupied hours, etc., read the full Temperature Standards document.
As a USD community member, please help to minimize campus energy consumption via the following: Maintain thermostats within the prescribed ranges (in areas where temperature cannot be controlled by the building automation system); adjust attire as appropriate to indoor environmental conditions; ensure that windows and exterior doors are closed; and avoid the use of personal space heaters.
Any employee that finds the temperature within her/his work area outside the temperature ranges specified above may contact the Facilities Help Desk at x4250 to request an assessment of the heating and cooling system supplying the area.
SDG&E EcoChoice Program
After the completion of energy optimization, the university purchases cleaner and renewable energy for certain buildings to directly offset the remaining energy consumed by those buildings. USD is proud to be purchasing 100% renewable energy from San Diego Gas & Electric's EcoChoice program to make this possible for the following locations at USD: the Electronics Recycling Center, all Alcalá Park West buildings (Coronado, Barcelona, Durango, and Avila), President's House, University Terrace Apartments, and Presidio Terrace Apartments.  Through this program, San Diego Gas & Electric is buying renewable energy on behalf of the university, from large, utility-scale generating facilities located within San Diego and Imperial Counties, therefore also supporting the local growth of renewables.