"The University of San Diego prepares students to be enlightened, engaged and ecological citizens."

James T. Harris III,                      President, University of San Diego
Commitment to Care For Our Common Home
Our world faces increasingly complex and urgent challenges that affect our collective environmental, social and economic well-being. Responding to these challenges in a holistic manner is the essence of sustainability, and the University of San Diego recognizes its responsibility to be a part of the response. We seek to create a university culture that embraces environmentally and socially responsible practices and processes through student action, faculty research, curricula, and daily operations, resulting in lasting change for both USD and society.
When USD adopted Pope Francis' Care for Our Common Home philosophy as one of the six Pathways to achieve its mission, it was a catalyst for this cultural change. The USD Office of Sustainability has launched several initiatives to support this effort. In 2016, USD published a Climate Action Plan which set goals for reducing the university's carbon footprint; this will be updated in 2020 as we rise to meet the new challenge established by President Harris to achieve climate neutrality by 2035. The Office has created programs to educate students and employees on ways to make their daily work and living practices more sustainable, and led projects to reduce USD's greenhouse gas emissions. Finally, the university offers nearly 400 courses containing sustainability concepts. 
We hope you will get involved in these and other sustainability initiatives on campus. We are here to offer resources to support your efforts and look forward to partnering with you to help address climate change and other urgent challenges of the 21st century.
Recent
Spotlights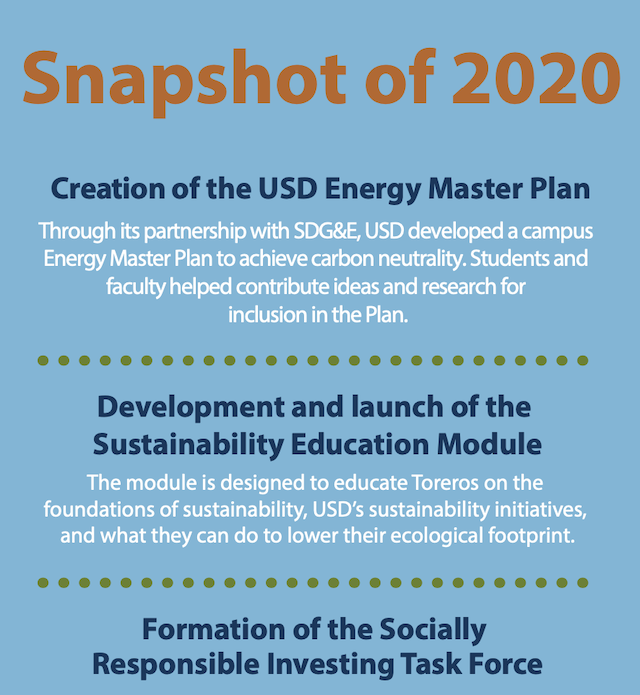 February 24, 2021
Despite the challenges of the past year, the Office of Sustainability is pleased to share sustainable achievements from 2020, including reductions in …
In the
News
// February 25, 2021

January 29, 20215:07 AM ET Heard on Morning Edition REBECCA HERSHER President Biden has promis…

// February 12, 2021

It's impossible to live sustainably without tackling inequality, activists say. June 3, 2020 By Somini Sengupta This…

// January 22, 2021

As a doctor, I realize the forces that cause climate change are the same forces that poisoned the lungs of babies in Detroit. &…