Join the Eco-Resident Certification Program!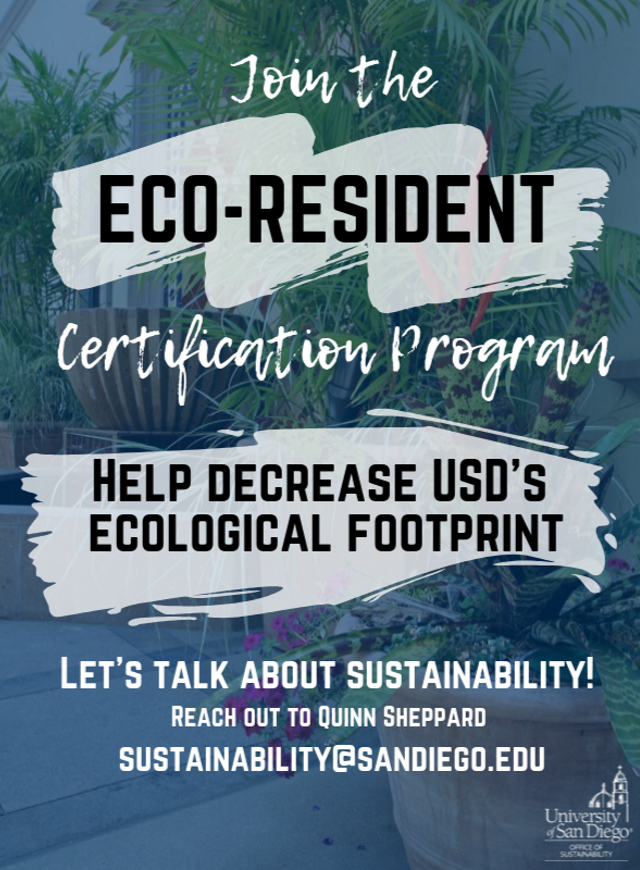 The USD Eco-Resident Certification Program is a joint project between the University of San Diego and San Diego Gas & Electric. Designed to help students living on campus live more sustainably, becoming a certified eco-resident helps you to lower USD's ecological footprint. This program also allows you to be a leader in your community by demonstrating leadership, initiative, and sustainable thinking.
Here's how the certification process works:
Meet with a student from the Office of Sustainability- takes ~45 minutes

Engage in a questionnaire-guided conversation, with tips and explanations

Some questions are behavior-based and others are driven by physical space

Discuss the following topics:

Energy efficiency

Water conservation

Waste reduction (including reuse and recycling)

Other conservation behaviors

Receive points based on responses

Receive a thank you gift for your participation
Once the meeting is complete, you will receive e-mail follow-ups with information about sustainability-related events, ways to stay involved, and tips on maintaining a sustainable lifestyle.
Pick a time slot and e-mail the Office of Sustainability to become an Eco-Resident today!