USD Students Participate in Global Climate Strike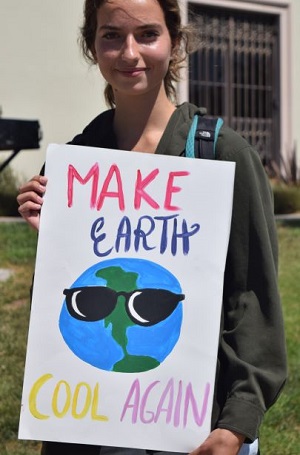 Joining the millions of students around the world, USD students held a peaceful protest at the Paseo de Colachis at 12pm on Friday, September 20th. More than 100 students and community members gathered to demand both global and local action to stop climate change. Speakers included current undergraduate students, graduate students, and community representatives.
Janet Nguyen, a second year graduate student at the Kroc School, said she joined the protest to push for political change around the world.
"If not now, when?" Nguyen asked. "We owe it to younger generations to speak up now."
USD Votes, a student run organization to help students get registered to vote, also had a table set up at the event.
"When it comes to climate action the best way to impact change is with your vote," said USD Votes committee member and student Linnea Leidy (junior- political science and history).
Ahead of the U.N. Climate Action Summit being held in New York City, this international movement was was organized by youth groups around the world. Nationally, the Climate Strike has five goals:
Pass Congresswoman Alexandria Ocasio-Cortez and Senator Ed Markey's Green New Deal, which would transform the U.S. economy to fight inequality, as well as fight climate change (for example, it calls for 100 percent green renewable energy by 2030)

Restore and protect biodiversity

Respect indigenous peoples and lands

Implement sustainable agriculture

Pursue environmental justice by advocating for communities on the frontlines of poverty and pollution
The protest acknowledged President Harris's recent letter the University addressing the steps the administration is taking as part of our pledge to Care for our Common Home and the progress made on the University's Climate Action Plan, as well as the responsibility of the whole Torero community to actively combat climate change.