Environmental Justice in San Diego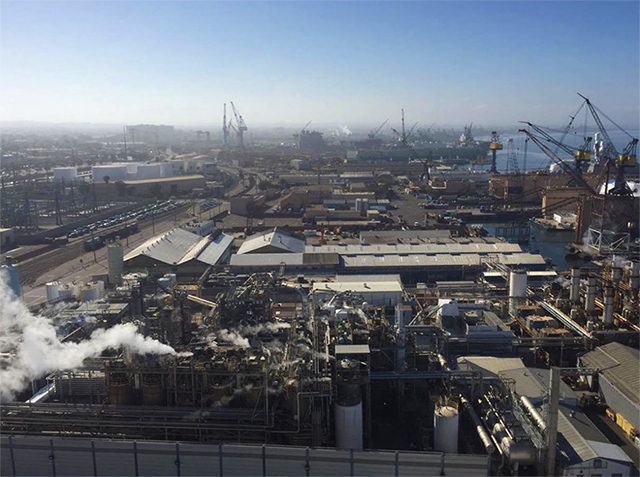 By Katelin Maatz |
The City of San Diego Climate Action Plan, approved by the San Diego City Council in 2015 and endorsed by many environmental, business, and community leaders, has recently received criticism in the form of a report released by local environmental advocacy organizations. The report, titled "Start Here, Start Now: An Environmental Justice Assessment of the City of San Diego Climate Action Plan," calls into question the efficiency of the Climate Action Plan in low-income communities of color. According to the report, the Climate Action Plan fails to address the lack of funding for environmental justice initiatives in these communities (Williams and Martinez, 2018). The most pressing needs in these communities, according to the report, are funding affordable public transportation. Other needs include an increased tree canopy coverage, solar energy accessibility, and efficient and clean water and energy services.
The United States Environmental Protection Agency defines environmental justice as "the fair treatment and meaningful involvement of all people regardless of race, color, national origin, or income, with respect to the development, implementation, and enforcement of environmental laws, regulations, and policies" (Environmental Justice, 2019). Environmental justice is the idea that every person has the right to an environment that is not harmful to their health or well-being. Environmental issues disproportionately affect the health and well-being of vulnerable populations worldwide, including in San Diego County (Morris and Saunders, 2017).
Environmental justice has been an ongoing issue in San Diego since World War II brought industrial expansion and a population boom to the city, which served as the home base of the Pacific Fleet. This rapid increase of population and industry led to poor urban planning, resulting in an overlap of industrial, residential, and commercial zoning in Barrio Logan, City Heights, Sherman Heights, and West National City. Each of these neighborhoods currently house populations that are at least 90% people of color, compared to the average people of color population (54.5%) in San Diego County (Environmental Health Coalition; U.S. Census Bureau QuickFacts).
Toxic air pollution from factories in Barrio Logan sparked outrage among residents who were affected by polluted air and discriminatory land use. Residents joined together and formed the Coalition Against Cancer in 1980, which became the Environmental Health Coalition. There are now multiple environmental justice organizations in San Diego fighting for the rights of oppressed minorities, including the Environmental Health Coalition and the California Environmental Justice Alliance. In addition, the Environmental Protection Agency funds local environmental justice programs, including a collaboration with the Environmental Health Coalition through the Environmental Justice Collaborative Problem Solving Grant.
The next step for environmental justice in San Diego is the City's response to this report. The fight for environmental justice in San Diego is unlikely to relent and the City will need to take action soon. Concerned citizens should vote for representatives with the environment and the people in mind. A helpful resource are voter guides created by the California Environmental Justice Alliance.
Sources:
Environmental Justice. (2019, April 02). Retrieved from https://www.epa.gov/environmentaljustice
Environmental Health Coalition. (n.d.). Retrieved from https://www.environmentalhealth.org/index.php/en/where-we-work/local
Morris, G., & Saunders, P. (2017, March). The Environment in Health and Well-Being. In Oxford Research Encyclopedia of Environmental Science. Retrieved from http://oxfordre.com/environmentalscience/view/10.1093/acrefore/9780199389414.001.0001/acrefore-9780199389414-e-101
Williams, J., & Martinez, C. (2018, October 22). Start Here, Start Now: An Environmental Justice Assessment of the City of San Diego Climate Action Plan(Rep.). Retrieved https://www.environmentalhealth.org/images/FINAL-Full-Doc---Web---An-EJ-Assessment-of-the-CAP.pdf
U.S. Census Bureau QuickFacts: San Diego County, California; UNITED STATES. (n.d.). Retrieved from https://www.census.gov/quickfacts/fact/table/sandiegocountycalifornia,US/RHI825217#viewtop