Walk for Water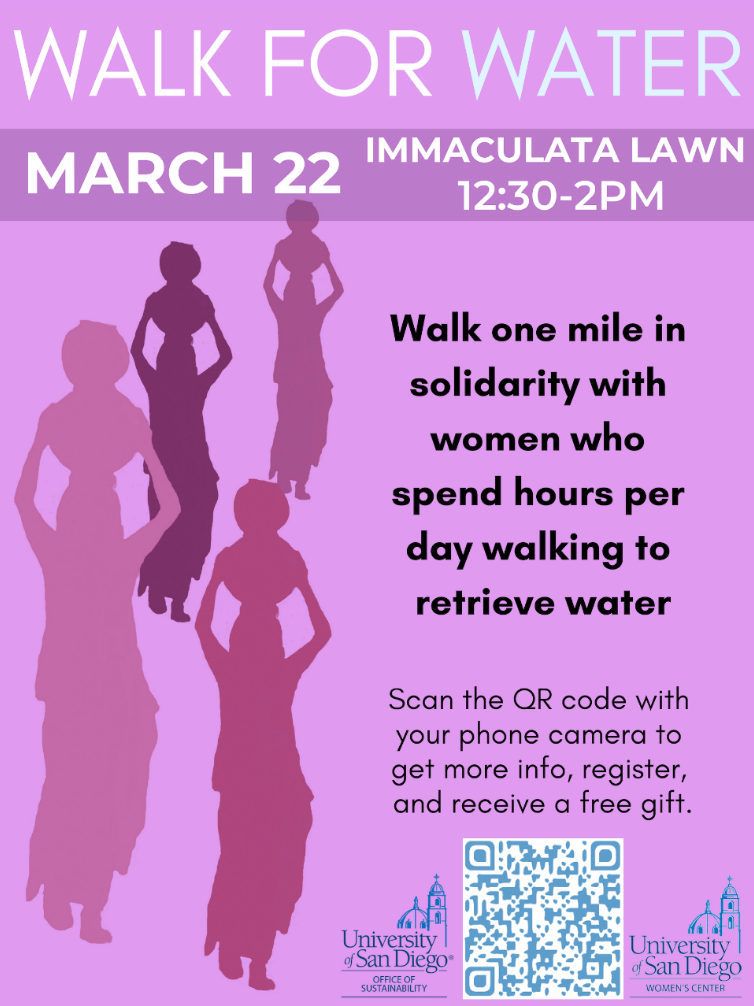 According to UN-Water, 2.1 billion people live without safe drinking water at home. In 8 out of 10 households without water, women and girls bear the brunt of the responsibility for water collection. The average distance walked to retrieve water is 6K (3.7 miles). In July 2010, the United Nations General Assembly explicitly recognized the human right to water and sanitation and acknowledged that clean drinking water and sanitation are essential to the realization of all human rights.
Join the Office of Sustainability and the Women's Commons at USD on Friday, March 22, at 12:30 p.m., to walk in solidarity with and in recognition of the women and girls who walk miles and spend hours per day to retrieve water. This event will also allow us to reflect on our own water usage as a society with easy access to potable water and the importance of global water conservation.
Event Details
The walk is a one-mile loop that will begin and end at the Immaculata Lawn on USD's campus. Participants will have the opportunity to carry the average weight in water that women and children must carry for waterless households. Five, one-gallon water jugs amount to the average 44 pounds carried per trip. Students, faculty, and staff are encouraged to sign up in teams and to share the burden of weight together.
The one-gallon jugs will be donated after the event to the local organization Border Angels to be used in humanitarian water drops and donation to migrant shelters. Although the jugs are plastic, the Office of Sustainability recognizes the humanitarian necessity of clean drinking water as a priority in this instance.
Participants who register prior to the event will receive a free gift.
For more information on World Water Day, please visit www.worldwaterday.org or www.unwater.org.