SOLES Alumnus Spotlight: Harry Dixon '14 (MA), Clinical Mental Health Counseling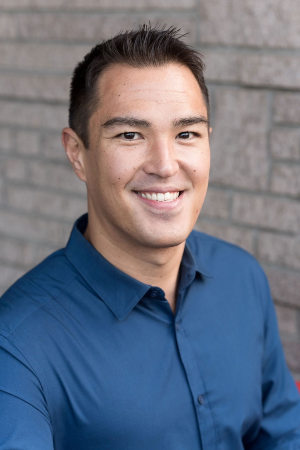 begin quote

I think the most valuable piece that I took out of my education from SOLES was the ability to critically think about my actions and how the work I do impacts the lives of clients.
Tell us about your degree program and why you chose SOLES for that program.
I always knew I wanted to be in the helping field. I thought being a medical doctor was the only option for me, but during my time at UCSD as an undergrad, I was doing volunteer work as a prerequisite for medical school at Sharp Memorial's Emergency Department. I began to notice that even though I enjoyed talking and watching doctors engage in procedures, what I enjoyed more was sitting and talking with patients, especially the ones that came in with psychiatric concerns. I was volunteering on weekends, so it could take anywhere between two or three hours for a social worker to arrive. I remember sitting and hearing what they were going through and being that person that could empathize and help them feel less alone. You can imagine how lonely it can be to be quickly labeled as being a psychiatric case and then you are left alone for two to three hours. No one's really paying attention or talking to them; it can be a very isolating experience. I was fortunate enough that the nurses that I was volunteering alongside would let me go and sit with them. I found that to be much more fulfilling, and that really shifted my career path goals. It was then that I decided that I wanted to be a mental health counselor.
I started looking for programs in the San Diego area. When I applied for the program in 2011, the Master's in Counseling programs were just rolling out because California had just passed recent legislature establishing the LPCC. Leaving San Diego was not of interest for me, and USD had the only counseling program that really matched my interests. I was really drawn to the way the USD program was focused more on a model of counseling that was culturally sensitive and holistic.
Who was your favorite professor from your time at SOLES?
I really loved Dr. Johnson. I remember his ethics classes being really interesting because he would always want you to think about the what ifs. He encouraged us to think critically and thoroughly. The way that he structured his classes wasn't in any way, shape, or form the traditional lecture that I was expecting. It was much more Socratic and he would make sure you were engaged throughout the entire three hour lecture. It made the learning more applicable. I was also fortunate enough that he was my advisor, so we partnered on research topics that were really near and dear to both of our hearts. Specifically, he encouraged me to research how to increase accessibility to counseling and psychotherapy in East Asian and Asian populations. The project was really insightful and the results showed us how important it was to have a culturally sensitive and aware perspective, or else clinicians could cause more harm. Additionally, Dr. Johnson was there for me throughout the program, giving me advice and encouraging me to be the best clinician I could be.
Tell us about your favorite class in the program.
My favorite class was the multicultural counseling course given by Dr. Erika Cameron. The experiential format was incredibly effective. I remember that there were a lot of exercises that made you reflect and think about things like privilege and cultural identity, which I had never had up until that point. Most of my classes had been in the hard sciences and so, unlike some of my other classmates who came from psychology backgrounds, or even social studies backgrounds, I never really got any of the education on things like privilege and how that all impacts one's life and the what and how of one's attitudes. When I think back to grad school, Dr. Cameron's class was really pivotal in helping me deconstruct some really deeply held concepts that I had regarding privilege and power dynamics, and it's in a lot of the lessons that Dr. Cameron taught through her exercises that still stick with me today in the work that I do with clients.
How did you complete the international experience requirement?
I found an international psychology conference in Japan. Dr. Johnson and I talked about it and he said it would be a wonderful opportunity for me to present a paper at this conference. He had another advisee that was interested, as well, so he had the both of us prepare a paper and presentation for the conference. The proposal got accepted and we were off to Japan. We spoke at this conference and networked with a lot of lovely psychologists and therapists from around the globe. I remember we had met a psychologist from Canada and one night she invited us come to dinner. We all had a wonderful conversation about what practicing with the Asian community looked like on the North American hemisphere and it was a great networking opportunity. We gained some great insights and knowledge from therapists and psychologists around the world that we applied to the final papers.
Can you share a little bit about your practicum experience?
I started at a charter school called Urban Corps and I was there for one semester, and then after that I was placed at the Southern American Indian Resource Center (SCAIR) out in El Cajon working with Native American populations for the remainder of my time at USD. Urban Corps is a charter school that provided transitional aged youth with educational and job training opportunities. I got to work with young adults who wanted to turn their life around, and just being a part of that journey was really rewarding. SCAIR, on the other hand, was more a traditional clinical setting, which I felt was more aligned with my post USD goals. The experience allowed me to interact with a whole range of clients from children to adults.
In what ways were you involved on campus?
Another student, Tiki Inacay, and I started what is now A.S.I.A. We started this student org to address the need within the graduate programs for Asian students to have a place where they felt like they belonged and could find community. I remember one day, Tiki approached me and said, "We can just create a club and you can be my vice president and I'll do everything. You just have to be my emotional, mental, and moral support". We had started A.S.I.A halfway through our second year, so we both understood that what we were doing was planting the seed. The next generation would take the reins and our hope was that the club would be exactly what A.S.I.A. is today. To see it grow to what it is now is quite the continuing legacy that I've been proud of to leave at USD.
Where was your favorite place on campus?
I really enjoyed studying around Mother Rosalie Hill Hall. It was always quiet, and you also got the best views of Mission Bay. I remember just coming out after classes and sitting outside, either reading or just soaking in the sunshine and taking a breather. That was one of my favorite spots.
What is your favorite memory from your time at SOLES?
I think one of my favorite memories was watching the World Cup Final in my positive psychology class. Everyone brought snacks and we watched the World Cup finals together as a class. It was kind of one of my fondest memories, that kind of camaraderie right at the end of my years at USD. Because it was the last class I took at SOLES, it felt like a really good send off.
Tell us a little bit about your journey since graduating.
After grad school, I wasn't sure if I was going to stay in California or move somewhere else. I applied to jobs and hadn't really gotten any leads in southern California, so I made the decision to move to Seattle, Washington. There was a group practice in Redmond that was hiring. I interviewed and I started working at a practice that was centered around children with developmental disabilities and autism spectrum disorder. After working at the practice for a few months, I realized it wasn't a good fit for me, so I found another group practice that took me in for about two years. However, being an associate and not able to take insurance was limiting so I also worked as a per diem case manager for a local behavioral health hospital in the Seattle region. I would see clients in the evening and then during the day I would pick up shifts as a case manager for this hospital. These shifts would be anything from working on the units, working and helping full time case managers with their caseloads, or even doing crisis management calls—very similar to the PERT team in San Diego. I was quite busy my second year out of grad school. I think I was working up to 100 hours every two weeks (if not more) between clients and this hospital work. This was what helped me complete my required hours within two years.
I also came out as a gay man and I added working with the LGTBQ+ community to my niche of populations that I work with.
I started my own private practice in 2016, and it's been my sole source of income since 2018. From 2017 to late 2018, I was also a part time clinician with an organization called Asian Counseling and Referral Service. The work was very rewarding and it was a way for me to help out the Asian American community in Seattle while I got my practice up and running. I headquartered my practice in Seattle until COVID-19 happened, when I realized I could do everything via teletherapy. I was already dually licensed in California, and I started seeing California clients at the beginning of 2020, so I was already doing teletherapy. I remember thinking, "If I can work from anywhere, I might as well do it where I'm feeling the most happy and where the sun is always shining", so I relocated the practice back to San Diego in January 2021.
How would you say your education from SOLES has impacted your career and any future career goals?
I think the most valuable piece that I took out of my education from SOLES was the ability to critically think about my actions and how the work I do impacts the lives of clients. This was something that was encouraged in both Dr. Johnson's and Dr. Cameron's classes. That education and that kind of thinking has really helped me connect with a large population of clients and really helped me to think quickly on my feet about how to tailor treatments and therapies to the individual unique needs of every client that comes my way. Moving forward, it helps motivate me to continue doing continuing education classes to make sure that I'm staying up-to-date, and that I'm not falling behind, and that I'm providing the best treatment options possible.
How do you take care of your own mental health?
After my day is done with clients I'm usually rushing to a gym class, which helps me clear my mind and transition from my professional life to personal. I also have a dog who's always there to provide companionship and unconditional love. I have also maintained very strict boundaries with my time. This means that on Friday evenings after my last client, I don't do any more client-related work. I don't answer phone calls. My clients know that I don't respond to any type of communication--unless it's some type of emergency--until I'm back in the office on Tuesdays. Scheduling my work in such a way that I have consistent three day weekends is also another great way of managing my mental health.
What advice do you have for a current Clinical Mental Health Counseling student at SOLES?
Don't be afraid to do things your way and find what works for you. Find what's consistent with your value system and do it that way. Even if people might say that it's impossible or it's difficult to do, or they even give you some negative feedback about it. I've only seen things go wrong when people don't live in accordance to their values or who they know themselves to be. In my own life and in my own experiences, when I continue to live by my own values and by what I know to be true of myself, I've seen a lot more success in my life than when I've tried to do it another person's way.
The other piece of advice is to see if you can take a business class. 60% of us who have a Master's in Counseling will go on to open a private practice, and unfortunately there's a gap in our education about the business of practice. Find a seminar, an online class, or you can reach out to me on how to run a business; that will save you a lot of headache in the future. I heard in my graduate program that I was "too ambitious to be a good therapist" and the best thing I did was promptly ignore that. You have to be ambitious and driven to create a successful private practice and be the best therapist you can be.