SOLES Alumna Spotlight: Andrea Trejo '19 (MA), Marital and Family Therapy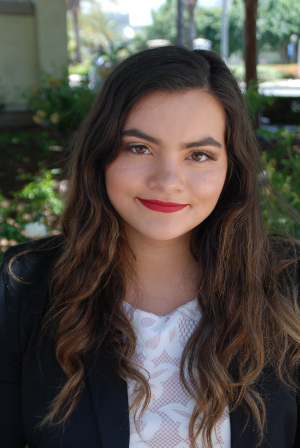 begin quote

The quality of the education that I received goes without saying; it was amazing and I felt really prepared clinically for my doctoral program.
Tell us about your degree program and why you chose SOLES for that program.
I had always kind of known that I wanted to pursue graduate school. I think what really shaped my decision to pursue marriage and family therapy in particular was that during my undergrad, the professor that I did research with had some master's level graduate students who were part of the lab. And they happened to be doing the MFT program at SOLES. I think it was a combination of feeling really inspired by them—they were wonderful, beautiful people—and also hearing about what their experiences were like, specifically in the MFT program at USD and the positive experiences that they had. In addition to that, I knew that I wanted to work with families and children, so that felt like a very intuitive fit. I would also say that I am someone who identifies as Mexican American, and family is definitely central to me and it's central to my culture, so working from a systems perspective also felt very intuitive. I kind of just knew at that point that USD and the MFT program was where I was meant to be. I only applied to SOLES, which was a very gutsy move, and I guess I got lucky.
Who was your favorite professor at SOLES?
I have to say Dr. Florencia Lebensohn-Chialvo. She's been a really significant mentor to me, and continues to be. Dr. Jo Ellen Patterson, as well, has also been huge support to me. I would say those two professors, definitely. That's an easy answer.
What was your favorite class?
I took a collaborative care class and as part of that there was a bilingual therapy component. I think it counted as a separate class but they were kind of wrapped up together. That's my favorite class because I really like the idea of integrated care, so it was great to learn about that in a formal classroom setting. But also, that class led to an international trip in Cuenca, Ecuador, which was amazing. I would say probably that class.
Tell us a little bit about your international experiences.
A few months after I went to Ecuador, I went to Madrid, Spain, for another class. I think that class was technically my international requirement, but both trips were amazing.
The Cuenca, Ecuador, trip was so amazing. As I mentioned, that trip was part of the collaborative care and the bilingual therapy co-classes. They were both taught by Dr. Lebensohn-Chialvo. I think that trip was amazing just because I got to go to Ecuador, and that was a Latin-American country that I had never experienced before. It was really cool for me to connect with people, and to learn about new slang that I wasn't familiar with, and just to speak with people and try new foods. But I think the most incredible part was getting to go shadow doctors at these clinics in a rural part outside of Cuenca. We shadowed them and observed how they worked with their patients to see if they were integrating mental health, and how they were doing it. And if not, where were some areas that we would like to see more mental health integration. I think that was a really amazing experience for me because I saw how different the patient-doctor relationship was. Because the communities are so small, I feel like the patients were really close to their doctors. They had been seeing them for a long time and it seemed like when they would talk to their doctors, they weren't just talking about physical health related things but they're also talking about mental health. And they were so warm and welcoming in including us, as well. I think that trip was probably what solidified for me that I really was passionate about working with Latinx communities and that's the space that I want to be in. I also saw a place for myself in integrated care. I think that trip will always stick with me.
For the Madrid trip, we went with Dr. Todd Edwards and Dr. Patterson. In that class, we learned about working with different types of family systems. For the international component, it was really like almost the whole cohort went to Madrid, so that was really fun in and of itself. Madrid is a beautiful city, but I think my favorite parts of that trip were staying with my host family. They were absolutely wonderful and so welcoming, and I feel like I have a mom in Madrid; it was a really, really great experience with them. We also got to meet some marriage and family therapy students in Madrid, and so we learned about how they were learning about family therapy and we conceptualized a family case. The students in Madrid were discussing the case all in Spanish, which was really cool for me because, up to that point, I had very limited exposure to talking about family systems and family therapy in Spanish. It was really cool to have a whole like program of students that I could just hear how they were talking about case conceptualization. That was really amazing as well.
How did you complete your practicum hours?
I was in the High Tech High system, so that was my official placement. My supervisor was at High Tech in Loma Linda, but I chose to provide services at a small middle school and high school in City Heights. I would also go once a week to the High Tech in Chula Vista, so I was kind of at those two sites. Basically, I would provide individual services as well as family services for kids who had mental health services included in their IEP plan. It was really collaborative because I was working a lot with the teachers, and the IEP coordinators, and the education specialist, and the speech therapist. That was a really great experience and the kids are really fun, too.
How were you involved as a student on campus?
I was a graduate assistant for Dr. Lebensohn-Chialvo. I was also part of an undergraduate student folklorico group (FAMA). We would practice and perform on the weekends, which was really fun! I was also a HRSA Project TeamUP recipient for the BHWET Grant that Dr. Lebensohn-Chialvo has right now. There was also a group for Spanish-speaking mental health clinicians from across the programs, and we would meet every few weeks or so to talk to providers within the community who had worked with Latinx communities and in Spanish speaking communities. Also, my last year I was working with Dr. Patterson and peers of mine to provide support to asylum seeking families in San Diego. A lot of great experiences at USD that I'm really grateful for.
Where was your favorite place on campus?
I really liked studying at the courtyard outside of Bert's Bistro, on the West Plaza. Also where the two hammocks are near Camino Founders. I loved studying there, too. Sometimes I would take my dog and she would just be laying on the grass while I was studying in the hammock. And there was definitely a time or two that I wanted to go take a nap on those hammocks, as well.
What's your favorite memory from your time at SOLES?
That's so hard. I think one of them would definitely be the time that I spent at the shelter with parents and children who were seeking asylum. That was really special. I loved playing with the kids, listening to their favorite songs--some of which were songs I loved, too--and I loved connecting with the parents. I'm definitely not doing any justice to what that experience was like, but it was really special.
I think I definitely enjoyed a lot of my time with FAMA. That was kind of my space to destress and just be me and not be a grad student. I really, really enjoyed all the times that we performed and just hung out and practiced. That was really so meaningful to me.
And then definitely on the international trips. What was really special I think, in particular, were the chances that I got to connect with the faculty on that trip and my peers. I can't boil that down to a single moment, but just a lot of great experiences.
Tell us a little bit about your journey since graduating from SOLES.
I had kind of started thinking about getting my PhD during my first year at SOLES. I think it was that spring that I started talking to Dr. Lebensohn-Chialvo about it and letting her know that I was interested in pursuing a PhD. I'm really grateful that she kind of walked me through that and was there to help me every step along the way. It seemed so intimidating. There were multiple professors who helped me, but I really am grateful for her mentorship in that. It was also through her that I found out about medical family therapy programs and it was also through her that I was able to access a conference in the fall. At that conference, I was also able to meet the program directors for some of those programs, and she also helped me in facilitating those connections. She was the one who connected me to my future major professor at University of Georgia, actually.
The reason I decided I wanted to get my PhD initially was because I realized that integrated care/medical family therapy was my passion. I knew I wanted to go into integrated care and in my mind, I needed more training in that. Even though I had a class at USD, I wanted the experience of really being trained and know what it was like to work in those settings. In addition to that, I also knew that I wanted to play a larger role in training future Spanish speaking therapists. I knew that there were some contributions I wanted to make, research wise.
Since then, I would say that those interests have definitely stayed central to my path and I currently do work with many Spanish speaking clients, both individual and couples and family therapy. There's a there's a huge need for Spanish-speaking therapists in Athens, Georgia. My assistantship research focuses on evidence-based parenting interventions for immigrant families and children affected by traumatic stress. I also do some hours in another lab focused on child development and parent-child engagement in Black and Latinx families. I have my hands in lots of different things, but my personal research is still focused on the health of Latinx immigrant and asylum seeking families and how culturally responsive care and linguistically appropriate care is given to those families in medical settings. That's what I would like to focus my personal research on.
I just started an internship at an integrated primary care clinic in Morrow, Georgia. It's a mental health desert, so I think it's the only option for mental health care for many people. I'm excited to go there and provide Spanish speaking services and to work in a primary care clinic for the first time.
I do plan to get my licensure, but it's complicated when you're still a student. I probably won't pursue that for a few years down the road, after I get my PhD. I would also love to return to California once I complete my degree, but I think it'll be more about where the jobs are. I don't know how much say I have in that, but in an ideal world I would love to return to California. We'll see what life has planned for me.
How do you take care of your own mental health?
That's important as a grad student. I think every therapist has a therapist, but certainly therapy is a must. Also, I'm trying to be better this semester at not overworking and putting limits around when I work. I have a semester goal of taking Sundays off this semester, which so far I have been pretty successful at. Last spring, I took up gardening for the first time. Plants and I used to not get along; I'm not good at planting or taking care of them. But I told myself, "I'm going to figure this out," and this will be my second season at it now. I'm pretty excited for that. I think tending to my garden last spring was a huge source of self-care, so I'm excited. I think just picking up little hobbies like that can do well for your mental health. Right now, I'm cycling my first community fish tank, which I also used to know nothing about but I've been doing a lot of research. And that's been an adventure! I think just finding ways to still have fun, putting boundaries around work, and going to therapy are all good ways to take care of yourself. But it's definitely something I'm still figuring out, too.
How has your education from SOLES shaped your career path and your career goals for the future?
I'm so grateful for the MFT program at USD. I know 100% that I would not be where I'm at without that program. I think the reputation the program has…the reputation for the MFT program is really, really strong and of course that that has helped. The quality of the education that I received goes without saying; it was amazing and I felt really prepared clinically for my doctoral program. I think the mentorship that I've received—and continue to receive—from Dr. Lebensohn-Chialvo and Dr. Patterson and other faculty is amazing. Almost two years later, I've still been involved in different projects with them, and they've helped me in applying for fellowships, and I feel like they've continued to be really, really supportive. I'm so grateful for them. I don't think I would have received mentorship and that support if I had not gone to USD.
The HRSA Project TeamUP stipend program and working with Dr. Lebensohn-Chialvo really shaped how I'm focusing my career now. Up until that point, I wasn't sure what contribution I could make. I think just a having a professor who I had a shared cultural experience with was so incredibly meaningful. I've continued to receive mentorship from her and what it's like to be a Latina scholar in family therapy, you know, both the good and the bad. And that's been really, really impactful. Seeing her work with training mental health providers to fill this discrepancy in the kind of care and the access to care that Latinx communities receive, really is what made me realize that that's what I wanted to help impact, too, and that's what I wanted to address. I think all of the projects that she works on and all of her knowledge definitely shaped my career in terms of what I'm focusing on, as well. 100%.
I think also, the program's focus on global mental health, too. I think that's pretty unique to USD, in terms of a master's level program. That's definitely also shaped my awareness of what it's like to think about marriage and family therapy on a global perspective, not just here in the US.
What advice do you have for our current MFT students?
I would recommend for them to connect with professors and take advantage of the fact that they have really amazing scholars in the field at their fingertips, and that's not something to take lightly. Really pick their brain, connect with them, go to office hours, and talk to them about what you want to do with your career. As I've mentioned, that's been the most impactful part for me. I think it's a mistake that students don't spend more time talking with professors and learning about their experiences and learning from their wisdom. From my experience, USD professors in general seem to be really open to doing that. That would be my main recommendation. But also, just enjoy the time you have because this program has a lot of resources and a lot of opportunities, and it'd be a shame to let those fly by. The two years go by quick.
Any final thoughts to share?
I would specifically like to express my gratitude for the HRSA Project TeamUP stipend. I think that the financial support that I received through that, and the specific training that I received through that, has also been instrumental in where I'm at today. The skills I'm able to provide to my clients would not have been there if it weren't for that stipend. I want to make sure to highlight my appreciation for that stipend.