SOLES Alumna Spotlight: Geralyn Williams '17 (MA), Higher Education Leadership Studies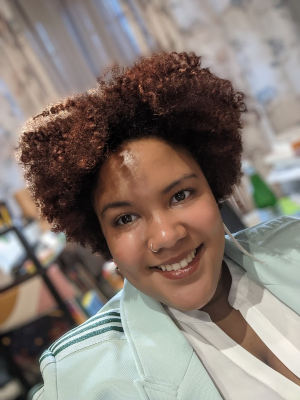 begin quote

Whether we're in counseling, teaching, higher education, all sorts of different spaces—don't be afraid to push. That's what you were brought here to do, that's what called you here to this space.
Tell us about your degree program and why you chose SOLES for that program.
I received my Master's in Higher Education Leadership Studies within the Department of Leadership Studies. I decided to pursue this degree because I enjoyed my time in college and I found myself very involved on campus. I always wanted to get into education; at first, I thought I was going to be a high school history teacher. But then I realized how much I was learning outside the classroom, and how much I was learning from my advisors and my mentors that wasn't necessarily academic. I thought higher education could be a pathway that I would like to pursue, and I found student affairs degrees and higher education degrees. I was looking for programs that centered around social justice. USD was a reach for me. I'm from New Jersey and I had only been to San Diego once for ComicCon. I loved it, so when I found USD through my research and saw they talked about social justice, I thought the program was interesting. It was kind of a stretch since it was so far from home, but I applied because you never know. And then I got accepted. I wasn't quite sure if that was where I wanted to go, but then I came for the interview day and it just felt right. Going through the orientation and talking to different people…all the people that were interviewed were just so awesome, and so the idea of being in the program with them and in the classroom with them seemed amazing. I went back home and was deciding between USD and another school in Chicago—and part of it was also the weather—but I just thought USD was the right choice. It was a really big change and a big shift for me to go all the way across the country, but it felt really good to take that leap of faith. Part of that was also the cohort experience, so that also helped me to decide to pursue going to USD and being a part of SOLES.
Who were your favorite professors? What was your favorite class?
I would say Dr. Cheryl Getz, Dr. Chris Newman, and also Dr. Zachary Green. I loved all of my classes with them; they were very practical, profound, and moving for me. One of the classes that stands out with Dr. Newman was our diversity class. I think, for me, it was less about learning new things and more about understanding my lived experience, and understanding what I've learned through my history degree, and being able to put names to a theory. I loved Org Theory; I think some people had a tough time, but I loved Org Theory with Dr. Green. I actually had a course with him before (Love and Leadership), so I knew him before a lot of my other classmates did. I kind of knew his style and I had a little sneak peek into how the class was going to go. I remember he would always say, "Geralyn, don't ruin things". I loved it; I really love that part of the work. Thinking about how organizations work, where people are important within organizations and how you can help people stay aligned, help people address issues, help people transform. An organization can be a standard business, but it can be a lot of other things, too. It can also be friendships, it can be classes, it can be so many different things. I would say Org Theory would probably be my favorite class, although I think it would be unusual because it's one of the few courses that we actually had quizzes and tests in for our program. It was the first time in a long time for a lot of us that we had to take a test or a quiz. I truly enjoyed that class and I loved all of the professors I had. They were really wonderful and supportive and they helped me to grow not only as a person, but also as a professional.
How did you complete the international experience requirement?
While I was at USD, I was a graduate assistant at the Mulvaney Center for Community, Awareness and Social Action. We worked with the Study Abroad Office and did a program that goes to Jamaica for three weeks over the summer. There's a variety of different courses that happen while in Jamaica, but it also has this really rich community engagement experience. Through my GA role, I went on that trip and used it as an independent study. While I was working with the students and our community partners there, alongside some of the other staff that went, I got to do my own independent study which was supporting and advising young Black women in their leadership roles. We had two undergraduate students that were returning to the Jamaica program to be peer leaders and support for the new students, so I had the chance to sit with them and advise them in their leadership, support them in their own experiences in being Jamaica again, and it was powerful. It was powerful for me because I had never been in a country where people looked like me, or people who looked like me were the majority. To be in a space where everyone looks like you is so magical and very different. It's something I think people with other backgrounds where they are the majority might take for granted. There was this feeling with our community partners that they welcomed me home, in a way. And that was very, very powerful, but also drew some very stark contrasts in terms of lived experiences.
Two of the courses that were happening in Jamaica were Sociology and Theatre, and so something that was very enjoyable for me was that I got to flex my other experiences in those spaces. I was always a part of theatre growing up and still a part of companies to this day, so I was able to help some of the students that were creating theatre pieces by being a practice actor for them. Then also flexing some of my history background when we were talking about the history of Jamaica, and the sociology of slavery and tourism. It was a lovely experience. We were touring plantations on July 4th that summer, and it was a very dissonant experience, but also extremely impactful. It made sense because, while Independence Day is independence for some people, it's not for all people in the US, particularly Black and Indigenous communities. It was absolutely something different. There were also quite a few shootings of unarmed Black people that summer, and it was very hard—but important—to process that in a space where I'm surrounded by people that look like me, as opposed to being in the US.
It was wonderful and absolutely influential to me. I think it's also necessary to be a university that is consistently working within a community, and is collaborating and working alongside that community, and is sustaining those relationships. This collaboration was in year 11 when I went. I think sometimes people pop around to different places and don't necessarily put down roots to truly understand the lived experiences of people and to really leverage the power and privilege of a university alongside those folks.
Share a little bit about your experience with the Student Affairs/SOLES Collaborative (SASC) program.
The SASC program is a portion of the higher ed program where there is a collaboration with SOLES and USD's Student Affairs department. Students that are in the Higher Education Leadership program get placed in fellowships across the university. Those folks work on campus as well as take courses; it's a smaller portion of the entire cohort of higher education leadership. Their positions on campus allow them to have a lived work experience within higher education, as well as mentorship and other types of experiences in professional development. I really enjoyed being a part of SASC and working with the Mulvaney Center, but I did think it was kind of tough because there is a difference in experience between people that are a part of SASC and people that are not. There's different experiences in the program and it's hard because there aren't necessarily enough spots in the SASC program for all of the people that want to take part in that. I loved my experience and I hope as the years go on there are ways to collaborate with other schools in the San Diego area for folks to be able to get a SASC position and have those lived experiences, as well as the financial support and career and mentorship support that it offers.
Can you share a little bit about your action research?
My Action Research was talking about self-care and community care with the students that I worked with. Some would have called themselves activists and some won't, but people who were deeply engaged with social justice on campus and within their communities. So the question was, how do we create spaces, processes, policies, and formal and informal actions that actually support students in taking care of themselves and creating a culture and community that takes care of each other? I got to work with some students on thinking about their work, what feels good to them, what they would want to see from staff, and programs. It took some time to do all that, but it was wonderful to plan those things out; plan the spaces, create the spaces, give people the free space to talk, and to plan, to plot, to dream, and to think about what they would want to see. It was definitely a challenge, but something I really enjoyed. I still have my action research, and I've even given it out to some of my colleagues and community partners that I work with now at Princeton. It's something that I continue to try to infuse in all of my work going forward. There is real liberation in care and community.
How were you involved on campus?
My second year, I was Vice Chair for the Graduate Student Council (GSC), and I loved that experience and being able to support graduate students all across campus. I also worked with some folks in the higher ed program to create a support and tutoring experience for undergraduate students at USD who were interested in grad school. It was called College 2 Grad. We put on some different events and offered other types of support for folks that were interested in grad school in various programs, specifically focusing on first generation students who might not have parents, other family, or mentors who had navigated that.
What kind of mentorship did you have while in the program?
Our program did kind of an informal mentor program. We made spreadsheets and forms and people signed up to participate. My first year I was mentored by a second year. We would talk about life, and the program, her experiences and my experiences, how do we navigate, how do we stay sane and take care of ourselves, etc. Then my second year, it was nice to be a mentor and share my thoughts and experiences. I do appreciate mentorship experiences because it's important to have possibility models. It's helpful to have people who will listen to you. Other mentors I've had were within the Mulvaney Center as part of my work were John Loggins, Chris Nayve, Ilana Lopez, Prof. Judy Lui, and Maria Silva. I also found support in Graduate Student Life. Mariann Sanchez was an amazing mentor and advisor to me.
Where was your favorite place to go on campus?
There's a stone bench that looks out over the canyon between Maher Hall and the Student Life Pavilion (in the back), and that was one of my favorite spots. I always took anyone that visited me to that bench. The last time I visited campus, I kind of just sat there and chilled. It's usually very peaceful and quiet. I also love the back of the Kroc School; that's beautiful. It also feels like you could just fall off the edge of the canyon. And then the Graduate Student Lounge; I spent a lot of time there for meetings, doing homework, and lots of naps. It was an amazing community space for me.
What is your favorite memory from your time at SOLES?
I loved my time there, so it's hard to pick one. But I would say our action research presentations. I think it was special to see the culmination of everyone's experiences and their learning, to be able to cheer people on, and to ask important questions about our field. My sister actually surprised me and came out for it. I wasn't expecting any of my family to be there because of the timing between our presentations and commencement. There were a couple of weeks between them so I didn't think anyone would come for my presentation.
It was inspiring to be a part of that moment. I think seeing the depth and passion of your work, and your time, what you believe in and what you want to put into the field, is fantastic. For me, it was awesome because a lot of what I put into my research were the parts of myself that standard academic spaces don't accept easily. As a black, queer, liberation focused woman there are definitely many spaces in higher education that aren't made for me. I hoped that I was kind of subverting a lot of the oppressive systems that exist within any institution or any kind of field. I remember I had long blue braids and my suit was pink, I used hip hop music in my presentation (Childish Gambino and Chance The Rapper), and one of my literature sources was Beyoncé. It was life-giving and thrilling for me to kind of put my whole self into the work that I did and represent the students that I worked with. I think that was probably one of my fondest memories, seeing my work and its culmination but also supporting my amazing cohort and seeing their work come to fruition. I probably cried a couple of different times.
Tell us a little bit about your journey since graduating from SOLES.
I did a national search to find a job. I was looking at service or civic engagement, or social justice work, looking at multicultural centers, Black student centers, women centers, LGBT centers, etc. I stayed in California for a couple of months post-graduation and then moved back to New Jersey to spend some time with my family. I had an offer in California, but it didn't feel quite right for the kind of work that I wanted to do. It took me about a year to land my job at Princeton; I started in August 2018. It was hard. I definitely had some moments when I thought, "What did I do?" The field is small and big at the same time, and it can definitely be tough to navigate. Unemployment and underemployment are real experiences that many people in and outside of this field face. That year and change made me realize how important things like job security, universal healthcare, universal base income, and other equitable rights are. I was extremely lucky and definitely privileged in the support that I had. I had an awesome community of friends and family around me that kept me hopeful.
At Princeton, I work in the Pace Center for Civic Engagement as a program coordinator. I have a pretty diverse portfolio within the center. I oversee all of our immersion experiences, the alternative trips that happen during the breaks in the fall and spring; I coordinate a lot of the training and learning for the entire center, so thinking about how do we prepare people to do service well to engage ethically and humbly in community; I support community partner engagement, so being another facet to bring community partners in, support them in their own learning and experiences, help elevate them as experts; etc. Another big part of my portfolio is also activism and advocacy. That part has grown and shifted over the last couple of years. I think a lot of universities have struggled with activism and advocacy and deciding "how much is too much", but it's been a transformative moment given everything that's happening in our society and our world, particularly since this past summer. We're able to push and pull the university further along in a lot of interesting ways. In the last year, I've been able to dig into activism and advocacy; bring some interesting people to campus, figure out how to support students and their learning, and in their own agency as creating spaces for change. I've taken up even more of a role in terms of trainings and workshops; I get to work with my colleagues to pinpoint what kind of areas of learning and development we want to offer, as well as working with students and community partners in trying to find those sweet spots to create opportunities of growth in both leadership and learning. It's been a great experience. This is my third year at Princeton. It's interesting to be in an Ivy League. I don't think I was necessarily looking for that, but to be able to work in my own backyard—I'm a Jersey girl born and bred—and to be able to fully bring that expertise and connections to the work that we do has been wonderful.
I've always been into the theatre and arts, and some of my friends from my undergraduate school (Rutgers) have created a community theatre program that is about theatre for all—making sure that it's accessible and making sure the kind of stories and artists we're working with truly reflect our community. I'm on the board of directors and I get to help oversee this company. This past summer we took the reckonings around racial equity and calls for justice and equity to heart, and to work through and start practicing transformative practices within our company. That's been wonderful to be a part of because the organizational theory part of my brain is just saying, "Yay!" It's also been thinking about how to create spaces where art and theatre and storytelling is for everyone, and people are seen and held as whole people. We challenge the systems at play within theatre that privilege some and denigrate others. Looking forward to this upcoming spring and summer season, we're looking at virtual programming. We're working on a radio series to support different stories that would be filmed live and also recorded for later engagement. We're also doing a story festival to look at diverse folklore and mythology. Everything will be virtual engagement.
How would you say SOLES has shaped your career and any career goals for the future?
It's interesting because I think there is a "SOLES" way of doing things. I think also within leadership studies we also have our way of doing things. The centering of group relations is important. Being in a space that's really about reflection, and learning from your experiences, and honoring that experiential learning—as both participants, as well as professionals—is remarkable. After my first year, the way that I talked about space and relationships changed. I think that's something that I still hold with me, although not all the spaces that I work in speak that way. I think my work is all about relationships and community, and that was what SOLES and my program focused on. In the way our courses worked and having a cohort, but also in thinking about ethics, and moving towards justice and equity; that was at the core of all of the work and the courses that I did. How do we make organizations? How do we create educational spaces that impact people and are transformative? That we support and challenge our students and our peers and the communities we reside in to be better. That feeds into everything that I want to do.
I definitely see myself as an educator within and outside of higher education. I definitely see my work in community as something I'm dedicated to. As I continue, whether I stay at Princeton and move up the ranks, or whether I continue to work within community engagement or civic engagement areas, I think that is something that will always be at the core of my work. I'm deeply interested and invested in mental health and wellbeing, too. I think that graduate school and SOLES allowed me the space to look back on my own experiences as an undergrad, and even as a graduate student, and understand as I'm pushing for systemic change, and cultural change, and community change, taking care of myself is so important. Creating spaces that are healthy for students and the whole campus community was really important to me.
I love learning, so I'm always thinking about going back to school. Whether I go back for counseling or I go back for community development and public affairs, those are some spaces that I'm considering and I can see how the foundations of my experience at SOLES reflect in that. I do see myself getting more involved in group relations and getting more involved in some consulting spaces because I do it already, and SOLES has helped me figure out my own way of engaging, of supporting, and of challenging folks. So I definitely see that as a pathway to create change, whether it's big or small.
What advice would you give to a current Higher Ed student at SOLES?
I would say lean in to the community that you have and that is created, whether it's been created virtually or you've had the opportunity to be in person. The community around you is what will get you through. Try to find some balance between being both present in the moment, as well as planning ahead. That doesn't necessarily mean you have to have everything planned out. I found that I needed to be a much more structured person when I was in graduate school to make it through. Hold the space for being present, but also dreaming of the future.
If you need help, ask for it. I really loved the people I worked with, and I would say your professors care about you and they want you to succeed. If you need some assistance and you need some time, just be real with them. Be real with them about what's going on and ask them for assistance, and ask your cohort for some assistance. Don't be afraid to ask for help and try to lean into the joy whenever you find it.
Any final thoughts?
You'll find systems at play no matter where you go that don't want the joy and the justice that should be in place to be in place. No matter where you go, it's important to find ways to push for better, more just, more equitable communities. It's tough, but I think that's the work (particularly if you're involved in any program at SOLES) that we are called to do. Do your best to push for change and to support change in whatever ways you can. That's what we're called to do, no matter what space we're in. Whether we're in counseling, teaching, higher education, all sorts of different spaces—don't be afraid to push. That's what you were brought here to do, that's what called you here to this space.