SOLES Alumnus Spotlight: John Hinck '18 (PhD), Leadership Studies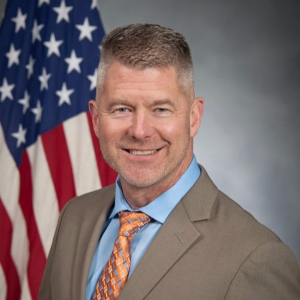 begin quote

SOLES really allowed me to lean into being me. Not only did it develop my mind, but it also developed my heart to a greater capacity in leadership for self and others.
Tell us about your degree program and why you chose SOLES to pursue that program.
SOLES was the best choice to coming "home" for me! I grew up in California and the extended Hinck family is spread across the state. I retired from the Army in 2013 and had started my own business of giving keynote speeches for conferences and doing leader development, and taught college courses in Michigan. While I had practical, real life experience and—although I had two master's degrees—I didn't have the depth of theory that I felt I needed. If I was going to continue in my profession, I wanted to get into a program that had a PhD for the research chops and one that was interdisciplinary, and the doctoral program at SOLES had all of that, and more. When I talked to the faculty (especially during the open house), it felt like I was coming home in a way. In the military and with the faculty in Michigan, I was part of a high performing team--partly because my older brother and his wife both taught in that department—through collaboration and the mutual support. I felt that same feeling of caring, collaboration, and appreciation with the SOLES family. The first people I spoke with at SOLES were Dr. Afsaneh Nahavandi, Dr. Zachary Green, and Dr. Fred Galloway; those were the ones that I really gravitated toward. I looked at all the doctoral programs and USD was the one for me for many reasons. Also, I grew up in California; San Diego's only a few hours away from where I grew up. My dad was getting old at the time and he passed away right before I started the program, but I got a chance to spend that summer with him. There were a whole bunch of reasons why I was going back to California...and SOLES was the right choice in coming "home".
Who was your favorite professor during your time at SOLES?
Dr. Zachary Green was my advisor; he and I kind of both picked each other. He delivered the very first course I took, and we've also done work together in coaching and group relations since I graduated. Dr. Lea Hubbard…because of her Advanced Qualitative class--the final paper was published in a peer-reviewed academic journal. She really help me with coding and understanding how to do qualitative research. And then I connected with Dr. Fred Galloway because we both were caring for elder family members; I was taking care of my 98-year-old aunt at the time. They (Dr. Green, Dr. Hubbard, and Dr. Galloway) are more than just teachers, they are really part of the support network. But also because they became a part of a friend network. Those would be my three.
What was your favorite class?
Well at the time, it was not LEAD 600 because of the challenges it provided for my cognitive and affective/emotional spaces. However, as I look back, it was most beneficial for me. The other classes were the ones with Dr. Hubbard, especially Advanced Qualitative Research Methods. The coaching program in and of itself, because I brought coaching with me and it's now in the Air Force at Air University. Dr. Green and Linda Leibowitz are helping with that coaching program to deliver it. I'd say LEAD 550/600, Advanced Qual, and the coaching classes were my three favorite classes.
How did you complete the international experience requirement?
I went to the International Leadership Association (ILA) conference in Barcelona, Spain. I was a TA for Dr. Cheryl Getz and she would take students in her professional development class to the ILA conference every year. I had been deployed before; I had been stationed overseas in the military and lived in the German economy in two small German towns. But it was great going back to Barcelona with a different set of lenses through which to then examine and experience culture. That was my international experience. And then two years later, we were in Cambridge and then went to Brussels, Belgium, for the ILA conference. It was through the ILA conference that I really got the international exposure.
Tell us a little bit about your dissertation.
The study examined the decline in participation in fraternal organizations by employing a two-phased, modified exploratory sequential design. Using California Masonry as a representative case of fraternal organizations, 20 interviews of individuals with diverse membership status (nonmembers, former, and current) were conducted. Results from the interviews indicated that participation is influenced by several factors internal to the Masons such the extent to which individuals share a common objective, the organization's focus on making a difference in community, the extent to which enacted and espoused values match, and how members feel valued and trusted influenced participation. External factors such as family and job commitment, and interaction with internal factors, also impacted willingness to participate in the Masons. These qualitative results contributed to the development of a new survey instrument, which was pilot tested and refined into the Participation Assessment Tool-Fraternal Organizations. Finally, conditions were set to administer the new survey to a stratified sampling of 28 of the 373 Masonic Lodges in California. The research contributed importantly to the identification of and the interrelatedness of the internal and external factors that have contributed to the decline in California Masonry, and provided important information to aid similar fraternal organizations in understanding this problem. The research also provides recommendations for interventions that can have a meaningful influence on organizational leaders' ability to strengthen membership practices and more generally, to our understanding of fraternal organizations, organizational leadership and organizational change.
Where was your favorite place on campus?
My favorite place was the back terrace of Mother Rosalie Hill Hall. I enjoyed eating there, and the views--love looking at the ocean. My second favorite place was maybe the Peace and Justice building, where the fountain is, and those views. Those two places are very tranquil and peaceful--great to get away and recharge.
What was your favorite memory from your time at SOLES?
It was the celebration with family and friends that took place immediately after my dissertation defense, followed by a dinner with my committee at Mr. A's, a restaurant downtown. My committee was Dr. Hubbard, Dr. Galloway, Dr. Christopher Newman (who's no longer at SOLES) and then the other one was a member of one of the fraternal organizations that I was examining. His name was John Heisner, and in fact, he did his Juris Doctorate at USD. The fellowship, the celebration, and being with them was awesome!
Tell us a little bit about your journey since graduating from SOLES.
I am in my dream job, in terms of teaching leadership, publishing, and serving in incredibly meaningful ways with an awesome, collaborative, and supportive group. I teach primarily in the leader development course for squadron command (we say LDC for short). I co-lead the faculty development program, I'm the director of the Coaching Certification Program, and I direct the Leadership Horizons Program for Air War College. That program has 15 students over two terms with a co-teaching team of four. They learn how to be a coach, mentor, and consultant. They select an organization that's working around a change project or where change is needed and then they give frequent updates on what they're doing with that client and that project. I work with awesome people who are making a big difference. I'm doing meaningful stuff in the world of teaching, of research, and service, and all-around leadership.
Two years ago, I got involved with Leadership Montgomery, which is a local nonprofit that brings people together from the greater Montgomery community. They have an older group and a younger group; the older group is called Legacy and the younger group is called Torch Bearers. I was part of the Legacy class. We go through a program for a year and then we continue to help out in the community. It's really about how do you bring people from very diverse backgrounds together to make a difference in the community that truly matters. Meeting people where they're at, not where you want them to be. And how you then institute the change on the community level, which is so important.
I presented four papers at ILA this past year. The highlight was what we call the Impact Paper, which talks about re-operationalizing and measuring impact of a leader development course – the LDC. The paper re-operationalizes the term "impact" to evaluate success in the USAF Leader Development Course for Squadron Command (LDC). Literature was used to define impact in a three-part way: area of impact (what topics were most effective in instruction), level of impact (how topics will be applied in the future), and depth of impact (why the course was effective). Based on qualitative analysis of 379 surveys completed by students and their supervisors, findings revealed 10 top areas of impact. Seven topics were common between what students indicated had impacted them with what graduates reported actually applying post-graduation. Regarding level of impact, self, others, and unit were the top-rated categories of applying course content. The depth of impact was seen as being in an ecosystem of interconnectedness between the human microsystem (interactions with instructors, peers, and self) and six overlapping elements – the exosystem – that brought the student experience to life. The system of relationships is depicted in a new model called the "Student Experience Ecosystem" that may serve as a blueprint for designing similar courses. The study aids LDC revisions, informs development of similar programs in the academic community, and offers a holistic way to improve pedagogy in higher education. There were a couple of gaps in the literature and we addressed those gaps with that paper. It got picked up by SAGE as the most publishable paper in leadership education. We were very honored and humbled. Recently, the paper has been accepted for publication in the International Journal of Teaching and Learning in Higher Education, so we were thrilled. I couldn't be prouder that a fellow co-worker and I got that achievement. We have other projects in the publication process pipeline and am incredibly grateful to have incredible support from Air University to continue doing research that is meaningful to the Air Force and the larger community of leadership studies scholars and practitioners.
Were you involved on campus when you were a student?
I was involved with the Dean's Student Advisory Council (DSAC) for a while. One of our biggest successes is that we got a room for students right next to the Inner Courtyard, what's now the student lounge. I was the founding faculty advisor for the National Society of Leadership and Success Chapter. I was there at the beginning and then sort of handed it off. We also started the Graduate Student-Alumni Rainbow Connection, which was the LGBTQ+ graduate group. I TA'ed a lot and taught in the leadership minor program.
How would you say your SOLES education has shaped your career and any career goals for the future?
For me, I would say that SOLES really allowed me to lean into being me. Not only did it develop my mind, but it also developed my heart to a greater capacity in leadership for self and others. That's probably the one thing that SOLES really did in terms of not just my career professionally, but also personally. It reinforced that interdisciplinary and integrated approach to leadership and life. I had the opportunities to practice teaching, to do research, and service. It really jumpstarted my career in academia. When I arrived at Air University, I knew what it meant to teach already, and to teach in a space that was more about an experience than just about content. For service and scholarship, my USD experiences provided blueprints to follow.
People often say that the first job out of a PhD program is not your last job, it's more of a starting point. Most people want the right job, the right people to do it with, and the right location; I am fortunate to be in a location that is making a difference for others in a loving community and in a dream job with awesome people.
What advice do you have for current students in the doctoral program?
Study well and enjoy the sun. Learn to forgive yourself and others. By the very nature of what SOLES does, you're going to be put in a class that's going to feel discomforting. Lean into that productive zone of disequilibrium because that's where real learning takes place. Find opportunities that are going to challenge both your cognitive, your affective, and your behavioral space; so, you strengthen your head, heart, and hand. Give gratitude freely and with intention. Find courage to grow into your own potential and empower others to do that same. That's what SOLES really did for me.