SOLES Alumnae Spotlight: Andrea Medina '18 (MA) and Molly Patrick '19 (MA), Leadership Studies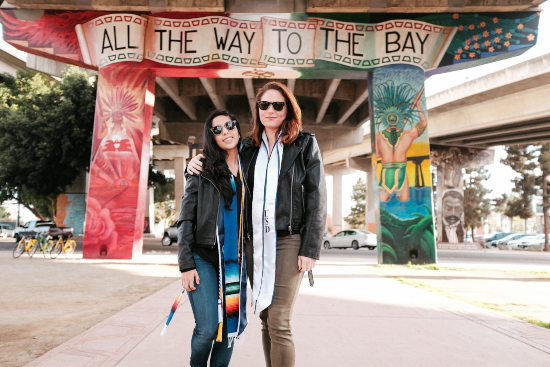 begin quote

The goal is to always ask how we are continuing to learn and grow, scale our impact, and share the knowledge that we've learned from SOLES with as many people as possible.
Tell us what degree programs you pursued and why you chose SOLES for that program.
Andrea:
I was really eager to deepen my understanding of leadership philosophies and concepts. After graduating from Trinity University with a BA in Human Communication and a Minor in Entrepreneurship, I was yearning for more. I had also been working with the National Hispanic Institute (NHI), an organization offering experiential youth leadership development programs, as a senior trainer and assistant educational director throughout high school and college. Funny enough, I learned about SOLES from a USD admissions counselor who attended NHI's student college fairs as well as NHI alumni friends who also went through SOLES. The fact that I had so many natural connections to SOLES was a huge selling point for me. It felt very full circle to have it be my "next step"; moving away from my home in San Antonio, Texas, for the first time, and wanting to challenge myself to get out there and continue my growth and learning in a formal academic setting. Also, San Diego is not the worst place to be!
Molly:
For me, I got a BA in Sociology from the University of California, Berkeley. After undergrad, I felt this wave of analysis paralysis. I needed to find something that I was really passionate about, but noticed that I wasn't quite there yet. I liked too many things and couldn't focus on a clear direction. I taught English abroad in Chile along with a whole gamut of different things like working at a startup, a restaurant, and a catering company. After I came back from Chile, I decided I wanted to get a more consistent "big girl" job. A family friend recommended that I apply for a job at USD, and I began working in the Professional and Continuing Education department in 2015. One of the incredible benefits of working at USD was tuition remission. Of all the degrees at USD, the SOLES Master's in Leadership Studies program really spoke to me. I didn't even know a degree like this existed, and I only got more inspired learning more about the program. When it began, I really got a slap in the face—especially after taking LEAD 550: Integral Leadership Theory—but it was a good slap in the face. It definitely made me realize my worth and potential, and that leadership can be present at every level. You just have to have confidence, a growth mindset, and always be curious.
Tell us how you met.
Andrea:
We met at our program's first admitted students event! Molly's dad came…and I was so close to bringing my parents, too, all the way from Texas! I thought it was cute, and we definitely connected over that. There was also a lunch and tour involved, so we got to know each other a little bit more on that first day. We followed each other's Instagram and the rest is history.
Molly:
I would say it was serendipitous because that was the first event we could have ever attended as admitted students. I think we both had the same feeling of, "Oh yeah, we're gonna be friends." I was the only person that brought a guest, even though they did say we could bring a guest! So anytime I got called on it was, "Oh, Molly and dad". But it was really great for my dad to see what I was getting into and even meet some of my professors, especially being a K-12 educator himself.
Can you share how you became a couple?
Andrea:
We were best friends at first. We were on the same course track for taking classes, and experienced almost every class together. It wasn't until later, closer to when I graduated in 2018, when we stopped to seriously acknowledge that this was real real. Some of our super close cohort friends actually helped us both—separately—process what these emotions and feelings were. A lot of us were going through the leadership coaching program, so our friends were able to semi-professionally help us unpack what these feelings were and how to navigate.
Molly:
Yes, definitely! The leadership program is transformative, so we were going through that together. In hindsight, that was really special because I think any partner who doesn't actually go through the leadership studies program truly understands what you learn and experience at SOLES.
Andrea:
I think it's also important to note that I had recently come out to my parents as bisexual literally a few days before moving to San Diego. I was in the early stages of understanding that part of myself, my queerness. And Molly also went through the entire process of coming out, too. It was very much a dual self-discovery thing. And, again, having those resources, both within our classes and with our cohort members, really allowed us the space to discover exactly what it was: us deeply falling in love and not an average close friendship.
Molly:
I don't remember who said it, but somebody in the beginning of the program mentioned that SOLES either makes or breaks relationships. If somebody is not on the same life path of wanting to continually grow and challenge themselves, it sometimes gets people to realize that maybe they're not with the right person. That was the case for me in my previous relationship. And, again, the program gave me a real life kick in the you-know-what to go for someone that I actually wanted and felt I deserved.
What was your favorite class at SOLES?
Andrea:
We loved so many of our classes, but we both aligned on LEAD 559: Organizational Theory and Change taught by Dr. Zachary Green. This class was where we had to study organizational change concepts and work through different groups to: 1) present and dissect these different org change models and then 2) become a pseudo-organizational entity within ourselves as a class to execute on a formal organizational consultation.
Molly:
The course was presented through learning about organizations, systems, change models, and dynamics that emerge, and then we got to play things out through self-organizing, experiencing, and analyzing the concepts in real time. Dr. Green would say, "There's only going to be 80% of you that will be on board with any given initiative, and 20% of you are going to be apathetic or detractors." We thought, "No way, we're all chill and we got this". But it indeed happened that there were many times interpersonal and group challenges arose due to the 80/20 disagreements and differing perspectives. And it really helped us—or at least for me—try to cut out the fat and see what was important when working with larger groups, when structures are uncertain, and when to let go or push forward on ideas.
Andrea:
We were specifically tasked with consulting for the Bayside Community Center. We were introduced as their consultants and had to figure out how to elevate their upcoming community event. Our 25-person class had begun to form a small organization at that point; we had to name ourselves, delegate roles, and figure out how we were going to approach the consultation. Watching our class go through that experience…whew! We'd be at SOLES until 11pm trying to figure out what we were doing, who was doing what, how we were going to implement all these little ideas. There were tears, laughs, really intense moments, and altercations between people who had strong opinions. It was chaos in action that culminated into something quite emotional and impactful.
Molly:
And all of this with limited resources and limited time! That will always be the case in any organization, and it's more evident as we move throughout our careers. You're never going to have all the time in the world to plan and execute everything. This class really showed us that you can do something powerful if you're aligned with what your purpose, intention, and capacity is as a group.
Andrea:
I think the moment where we realized this was our favorite class was when we took a step back to see how much we were able to accomplish. We set up a consultation schedule, built a speaker lineup, organized an interactive activity for the event, built out a website for our consulting team, documented the event with top-notch photos, increased attendance for the event with postering and outreach efforts…the list goes on. It was moving for all of us to see Dr. Green shed a tear because he had never seen a group finally come to some sort of collective agreement and accomplish to the extent in which we were able to do. We were crying, our TA was crying, everyone was emotional at some point, because it was so much work. I think that release of what we accomplished as a group—a really complicated group all with day jobs, different backgrounds, and lives outside of this one class—was something that left us all feeling empowered.
Who is your favorite SOLES professor?
Andrea:
Dr. Green! I was lucky to have many classes with Dr. Green and it was an awesome opportunity to have a lot of face time with him. His thoughtfulness, the way he speaks, and the way he coaches...incomparable. He likes to say there's a mystical element or source that we can tap into when we're really in tune with each other, the space, and our internal self, and he has the ability to tune into that very quickly and on demand. He can tap into the collective consciousness of a group, with the power to make the whole room go silent, make a whole room get angsty, make a whole room feel connected. I think that being in his presence you learn by how he exists, thinks, speaks, and how he navigates the world. There were a couple of professors that taught with this same sense of awareness, depth, and presence, though I didn't have as many opportunities with them. Dr. Terri Monroe, who I know is retiring, Dr. Cheryl Getz, and so many others come to mind. SOLES is a very special place with some very special people.
Molly:
I'm sad I never actually had a formal class with Dr. Getz, but I am happy that we got time with Dr. Lorri Sulpizio, and fellow adjunct professors like Dr. Roxanne Kymani, Dr. Sean Horrigan, Dr. Michael Lindsay, and others…they're all great in their own right. But we had the most exposure to Dr. Green. It's safe to say we're attached.
How did you complete your international experience?
Molly:
We had been talking about what we wanted to do for a while. As we looked into it, we agreed that it would be really valuable to go through an entire process of creating our own experience. We ended up deciding on Mexico City; neither of us had been, it's relatively close, so full of history, and was definitely more financially accessible. We found out that one of our professors from our capstone class, Dr. Cris Bravo, was teaching in Mexico City. We went out on a limb and asked, "Is there any way we can partner with you? Maybe we can do a workshop with your students!"
Andrea:
A long shot, right? He was at Tec de Monterrey Campus Santa Fe in Mexico City, and we decided to take a chance with the ask. It was incredible to see his email come back promptly and enthusiastically saying that he's teaching social innovation and partners with a fellow leadership professor occasionally, and that there indeed was an opportunity to offer the class extra credit through a half-day workshop. We settled on developing that workshop as the project for our international experience. We then met with our advisors in a joint meeting, and worked hard on a thorough and thoughtful proposal to get approved by our advisors. They had a couple of comments and suggestions about what to put in our reflection paper and evaluation survey, but were very supportive and signed off with excitement.
Molly:
We were a one stop shop. We developed curriculum research, marketing, evaluation criteria, and administrative logistics in partnership with Dr. Bravo. The workshop focused on cross-cultural communication and leadership identity; as we knew that we were working with bilingual students fluent in Spanish and English from Mexico City. We wanted to present the opportunity for them to analyze their own leadership identities through Hofstede's cultural leadership models, unpack how U.S.-Mexico relations play into their leadership, and reflect on how and why their identity may show up in different spaces. This was at a point where I wasn't as comfortable speaking in front of people, and Andrea took the role as my facilitation and public speaking coach. Telling me, "You're going to lead this, and I'm going to be your co-facilitator". Normally, she would have taken the lead but she decided to push me and have me be the lead facilitator and curriculum developer. I am grateful she pushed me and gave me the space to stretch myself. That was super rewarding! You can only truly learn by doing, at least for me.
Andrea:
We definitely consider Dr. Bravo to be an incredible supporter, leader, thought partner, and the kindest, most humble person that is leading huge leadership, social innovation, and social change work at different schools all around the world. He's in Canada now, so being inspired by his international courage and leadership journey is something that we're grateful to have in our life.
Learn more about their international experience.
Share a little bit about your internships.
Andrea:
For my internship, I actually got to work with the National Hispanic Institute (NHI). NHI had been partnering with USD to host one of their 8-day high school leadership programs on campus for 5+ years pre-COVID. To be able to staff an NHI program on USD's campus for my graduate program's internship credit was a dream. It gave me the space to dig deeper into my learnings and put NHI work into my formal SOLES learning frameworks. Having that full circle moment in my graduate program with people that have supported me since my early leadership development days in San Antonio meant a lot to me personally. Read more about Andrea's internship.
Molly:
One summer, I decided to participate in the Trans-Border Opportunities Certificate at the Kroc School. I ended up asking if I could do my internship with the trans-border organizers, another self-started initiative, and they agreed! For this internship, we worked on building out a more intensive trans-border leadership certificate program, focusing not just on the history and weekend trips, but infusing how to build up the next generation of trans-border leaders. There are many community leaders in San Diego and Tijuana that are connected and leading great work, but a lot of these leaders are getting older. Our main question was, how do you train the next generation to lead in this region? That ended up being a way bigger project than we could execute, so it didn't get off the ground. It wasn't the right time, but it was going to be a massive partnership between SOLES and the Kroc School. Being part of the ideation and planning team for my internship was an invaluable experience regardless of it falling short in the end.
Where was your favorite place on campus?
Andrea:
We have a soft spot for O'Toole's. I believe that's an overwhelming fan favorite due to the wine, beer, and amazing happy hour deals. We also enjoyed many long walks around the beautiful USD campus. I lived in graduate student housing, which was quite literally my beloved home at USD. I was also a graduate assistant in Undergraduate Admissions, so that entire office feels like a second home, too.
Molly:
I would say that the Graduate Student Lounge in the Student Life Pavilion was very helpful to be able to have after work hours and on later nights. We actually did a couple of public speaking workshops for the greater USD community there, as well. I enjoyed having another spot to hang out and do work in that wasn't necessarily at SOLES.
How were you involved on campus?
Andrea:
I participated as a member in the Latinx Graduate Student Association (LGSA) for SOLES. I was in the organization as it was becoming; it was more of a loose network. Then we had a few members of our graduating SOLES class step up and galvanize that group. We even got sarape stoles when we graduated, and it felt more like a supportive family of peers from Latino/Hispanic backgrounds.
We both participated in the SOLES leadership mentor program. We both had mentors that are lifelong connections with people doing amazing professional leadership work, which has been quite phenomenal to have as resources and a sounding board. Thank you to our mentors, Gloria Bader and Zohra Razi, who are absolute all-stars!
Molly:
I participated in PRIDE, the LGBTQ+ student organization. They were just opening this up for grad student participation during my last year. I worked full time, so it was hard to do anything extra. I was on the SOLES Sustainability Committee and that was really insightful; with faculty, staff, and students who all participated.
We were also both part of the SOLES Student Ambassadors program. We really loved being ambassadors. You got to connect with future students and sometimes they would meet for 1:1s on campus. You'd have some coffee and tell them all the tea and how the program high-key changed your life forever.
What is your favorite memory from your time in the program?
Molly:
Something that is kind of sad, but very memorable, was being in class on election night in 2016. We were all sitting in LEAD 550; class was not canceled, and we were not allowed to watch TV. Everyone was on their phone or laptop refreshing the results and not paying attention to class. Seeing the dichotomy of collective emotions after the decision, and feeling closer to people that we didn't know very well—we had just begun our program together—really solidified our friendships.
Andrea:
It was absolutely a pivotal moment, and to experience it with our cohort and with a big LEAD 550 group was memorable. It's something we will always remember every time election day comes up because we all processed it together, tears, frustrations and all.
A lighthearted memory is that we both got to watch each other graduate!
Molly:
That was really special because we graduated at different times. I was able to be there and hang out with her parents and family while she was walking. And the same with her getting to hang out with my parents and see me walk.
Tell us a little bit about your journey since graduating from SOLES.
Molly:
After Andrea graduated, I remember feeling like I didn't have this partner to go through class and commiserate with about long nights or stressful projects. But it did get me to focus on what my goals were. Seeing her do so well and get an awesome job right after graduating, that was an inspiration to me.
Andrea:
Through SOLES, I discovered a lot about program and project management as a viable career path. It helped me realize that schools and companies have programs that need to be run, and I already had robust community leadership experience in that realm. On my end, I got a Program Manager position at the Stanford Graduate School of Business the Friday before walking the stage for graduation in 2018. Making a quick move to the Bay Area without my partner and on short notice felt like I was dropped into a cold bucket of ice water. I had to adapt fast, but I knew I was ready. Long distance was definitely rough, but it did provide me the space to really focus on learning as much as I could and refining my program management skills. That's what I focused on for almost two years and in my decision to transition into tech and the Diversity, Inclusion, & Belonging space; eventually landing my current role at LinkedIn at the end of 2019. I decided that I needed to be at a place where I wake up every day and actively work on projects that aim to make the world more equitable and just for all. And LinkedIn has proven to be more than I could have ever expected with incredible and inspiring leaders tackling these challenges in the tech world day in and day out.
Molly:
My job search was longer than hers, for sure. But I think it did give us the space because of everything that happened in grad school, and it allowed us to really process the question of "What did we just go through?" That definitely helped us to figure out where we were going, who we wanted to be as life partners, and how to get to that next step of living together in the Bay.
Andrea:
When Molly finally got her dream job and landed an Associate Director role at the Stanford Graduate School of Business, it was like a baton passing. I left Stanford in December 2019 and she came at the end in February 2020. This was a huge moment for us in finally being able to be together and feel like our work had finally caught up with our graduate school experience and where we wanted to be professionally.
Molly:
I think LinkedIn's a better fit for Andrea and I feel lucky to be in my role at Stanford. I've been able to catalyze change and open up people's views to new perspectives and approaches. And now, in COVID times, I've been given a lot of trust because I had previous online programming experience at USD. I do think that going through the leadership program, I'm more set up to handle and navigate certain organizational challenges and dynamics. I feel more empowered to use my voice. SOLES definitely gave me the confidence to believe that I can and should be the one speaking up. I might not be the only one that feels a certain way, and it's absolutely worth asking questions and bringing items up to the larger team to elevate the conversation and possibility for change.
In terms of our relationship, we definitely hustled both while we were doing long distance and in the first year after we were both situated in the Bay. We had a housemate situation that allowed us to save money, made a goal to get our own place in one year, and have now met that goal. Being able to debrief on what's going on in either each other's lives and organizations, with a SOLES organizational systems level lens on it, has helped us immensely. The gift that keeps on giving!
Andrea:
We're on the path to grow and continue building our futures together, and we're at a place where we feel confident staying put for a bit so that we can dig deeper. I think the next question is how do we grow within our roles and how do we become more impactful leaders within our respective professional spaces; both in tech and higher ed. Regardless of where we end up, the goal is to always ask how we are continuing to learn and grow, scale our impact, and share the knowledge that we've learned from SOLES with as many people as possible. I also know that there may be a possibility for Dr. Molly Patrick to become a reality in the next 5-10 years. Stay tuned, but going deeper with our education is always something we are open to.
Molly:
We have also talked about working together as coaches or facilitators; that's a dream. We've both done contract work separately, and it would be awesome to go into that space together. We have proven that we can work together both personally and professionally. This is definitely one thing that made me realize she was a true life partner; with both of us being able to sit down and map things out no matter what project, challenge, or adventure it may be.
Andrea:
We have to get to that place where we feel comfortable to explore and take that next step financially. As we continue building our futures, moving into contract, facilitation, and coaching, and/or consulting work is definitely an option. A dream would be to have a coaching business or an institute that allowed us to work with young people or emerging leaders in facilitation, public speaking, leadership, and rhetoric training.
How would you say your education from SOLES has shaped your career and career goals for the future?
Molly:
It validated that I need to be in a space where I am affecting other people's understanding of their leadership journey and potential. Either in a programmatic role or as an individual or group coach, spaces where people are wanting to further themselves is where I feel the most energized. SOLES solidified that for me.
Andrea:
SOLES helped me realize that, no matter where I am, I really want to work toward supporting underrepresented groups and individuals who normally wouldn't have access to leadership insights, concepts, or coaching. I think that the training I had gave me the tools to be able to go out and do this wherever I go, no matter what role I am in—whether it be in tech, higher ed, nonprofits, etc. The future is always emerging, and SOLES also helped shape my understanding that growth is never linear and to be open to analyzing my goals regularly in alignment with my core values.
What advice would you give to current students in the Master's in Leadership Studies program?
Andrea:
I think the biggest thing would be to take advantage of all of the opportunities and resources. The mentor program is optional. Do it. The Internship...you could do something easy, but where do you really want to intern, who do you want to connect with, and how can you make that possible? Really challenge yourself. Same thing with the international experience. If it's set up and that's where you want to go, do it and get the most out of it. Book a side trip if you can. If you want to create your own experience, do it; and innovate with what and how you want to learn. Figure out how you can expand on the opportunities that are given in every single class. You're there for a short time and it goes by faster than you think. Try to do it all. It might feel like a lot, but continuing to build those relationships and incredible networks that you have at SOLES is invaluable. It expands your potential and learning when you challenge yourself to take advantage of the opportunities presented to you with a sense of pride and ownership.
Molly:
I would reiterate that. Also, try to go outside of your premade group or program. There's lots of amazing events and programs put on by the peace school, sociology, humanities, and other departments on campus. Try to really put yourself out there and say, "Hey, I'm doing this if you want to partner" or "Hey, I'd like to join this". There's so many eager people at USD wanting to connect and get you connected, it's definitely worth asking and putting yourself out there. USD is small enough YOU can be the person who initiates, gaining that experience of growing something from scratch with little to no risk involved. It is the best academic sandbox and playground ever.
What advice do you have for SOLES couples?
Andrea:
It's largely about communication, a shared understanding of what equitable partnership means, and fundamentally feeling that it's right and that you're on the same page. Discovering our love was really about us both being on the same page about having a growth mindset, being curious, wanting to challenge ourselves and each other, wanting to give each other space to unpack challenges and feelings, wanting to break out of our comfort zones. If you're comfortable and able to explore these things as a couple, then it can lead to an exceptional partnership. If not a romantic partnership, at least a really deep friendship that goes beyond an average friend or an acquaintance. You might find that this is a lifelong person that you really appreciate in your life. And we have handfuls of those, too, that are deeper than an average friendship; many of our cohort members feel like family.
Molly:
I feel like this is obvious, but over communicate, even when you don't know exactly what to say. We are already communicative people, but I would credit SOLES with the conceptual and interpersonal tools that helped us through the hardest parts of our discovery as partners. We have agreed to be in a partnership where we're okay with challenging each other with mutual trust, appreciation, respect, and curiosity to fully understand what the other is feeling and going through. That was huge for me. Feeling comfortable to challenge it is not an easy dynamic to build at first, but eventually lays the groundwork for open, honest, and constructive conversations and growth. There are stressful moments and moments come to a head, but we always try to be as honest as possible with what we were feeling and give each other space to express that in our own ways.
Andrea:
Definitely if you take LEAD 550, LEAD 585, or any of the coaching classes, you'll learn language about unpacking emotions and verbally processing personal and professional scenarios and concepts. Describing in detail the reasons why you may have gotten upset, how certain emotions got pulled in, what you're sitting with, and what you're feeling that can be connected to something bigger. It gives you the language to talk about these things with grace and curiosity, and the confidence to create the space to talk about sensitive emotional relationship things.
Molly:
Learn your partner's communication style, love language, etc. and call it out! We have different communication styles. She loves to verbally talk it all out—every single detail. And I need some time to think about it beforehand. I need to decide how I feel. And it is always a work in progress. That's one of the other things that we learned from SOLES, that nothing is ever "finished". You ask more questions than you can answer, but that's exciting. And that means we're never bored. There's always something that you can work on. There's always somewhere you can get involved and try to create or implement change. That was daunting, but also very enlightening to understand. No one is a singular static being, we are all complex and capable of infinite growth.