SOLES Alumnus Spotlight: Scott Merkel '15 (MA), School Counseling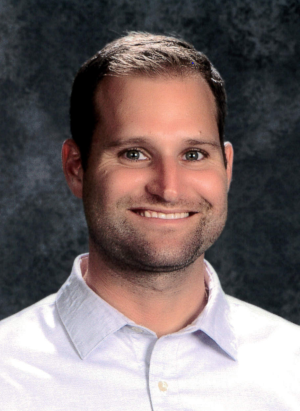 begin quote

Be confident that the skills that you're learning at SOLES are going to prepare you to do a very nice job when you get out into a position as a school counselor.
Tell us about your degree program and why you chose SOLES.
My path was maybe a little different than others. I was working as a consultant in the Washington, D.C., area and I had done that for a handful of years. I just felt lost, I didn't feel like I was in the right place, and I didn't feel like I was doing something that matched up with my personality or something that I was really interested in doing. I didn't feel like I was making a difference. As I reflect on my values, making a difference and connecting with others is important to me. I've always coached soccer, and then I started mentoring at a high school. It became really clear at that point that I needed to make a change. I started looking into what it would take to get a Master's in School Counseling. I had a couple of schools on my radar, and took a bit of a chance and applied to SOLES. Through my research and visit to campus, it really felt like a great place to transition for me. The thing that stuck out to me about SOLES was the connections, the relationships, and the willingness of the professors and staff at SOLES to really make it feel like home. That's what it really ended up being for two plus years—home. A lot of great relationships and a lot of great opportunities that came out of that, which has now yielded itself in a great way in terms of where I'm at now.
Who is your favorite professor from your time at SOLES?
It's hard to choose a favorite. I think they were all really fundamental to my development in different ways. I worked closely with Dr. Rowell, who's no longer with USD; I did some work with him, specifically around action research in school counseling. I also spent quite a bit of time with Dr. Erika Cameron and Dr. Ian Martin, and I really respect them and their work, and the way that they help prepare future counselors. I think they do a fantastic job. I spent some time with Peggy Hetherington, as well; I love Peggy. She's a fantastic person to get to know and she did a lot for me, as well. I got to work really closely with all of them during my time, and I just have a deep respect for all of them and a lot of gratitude for everything that they've taught me.
What was your favorite class at SOLES?
My favorite class was the experience that I had doing Multicultural Counseling in Duncans, Jamaica. We did Career Counseling there, as well. There were really some unique opportunities that not a lot of people probably get; the chance to immerse themselves in a different country and work with the local population, and really get to make connections in a different way. Dr. Martin and Dr. Cameron led those classes. The courses were really transformational in a lot of ways—eye opening—and really laid the groundwork for what it means to connect with another human being on a different level, even when you don't have a lot in common. I think those are memories that will endure for a long time.
The trip was almost a month long. We got to stay in Duncans, which is a small town on the north central coast of Jamaica. I had the opportunity to have a different perspective and to connect in a deeper way with people that I probably wouldn't normally come into contact with. To hear their stories and learn more about them. The lessons learned from that experience and being able to take those into the profession as you work with students who come from different backgrounds, and have very different orientations, and different values, has really lent itself to helping me dig into that tool box and try to make those connections. Counseling is a bit of an art form; you try some different things as you go, with the ultimate goal of trying to build that relationship and build that trust. Some of those experiences in Jamaica went a long way and I still reflect on those from time to time as I try to think about how I can connect with students that look different from me, that come from different backgrounds than me, and that have different orientations than me, and it's a really powerful thing to be able to reflect on and a skill to try to be able to employ to try to build those relationships.
Did you have any mentorship during your time in the program?
Technically, Dr. Rowell was my mentor. I did spend a lot of time working with him. I presented at a couple of different conferences with him, one in Canada and another one at USD. From Dr. Rowell, I really learned the value and importance of data collection and iterating, and putting ideas forward and trying them, and working through the research lens of actually rolling up your sleeves to collect some data and try to iterate and create programming that really supports the population that I was working with. That's been an invaluable lesson because school systems can tend to move at a glacial pace. Sometimes new ideas can kind of be pushed aside if there isn't a lot of evidence to support why we're doing something. I think the nature of action research and a lot of things I learned there was if you want to have a compelling thing to bring to the table and you want to be able to sell that thing and help the population in a way that you know how, it goes beyond just doing the thing and hoping that it's going to work. You have to be able to sell it to the various stakeholders within the community, you have to be able to provide some evidence of why you're doing it and why it's working. And you have to be able to iterate on that, which is kind of that action research cycle; you reflect on what's been done and then you see how you can take it forward on the next round. That can be a pretty powerful process. But then it also requires some integration of some of the other things that I've learned from Dr. Martin and Dr. Cameron, and that deep relationship building and working with various stakeholders. It all kind of marries together. I would say in a lot of ways that I leaned on all of them to mentor me.
Where was your favorite place on campus?
Right outside the building, on the terrace. There's not too many places on campus that offer a better view. It's a very tranquil spot to be on a quiet, sunny afternoon. I can still go there in my mind when I need to, and I think that's a nice thing to have; that imagery when stepping back to try to be mindful and put myself in that place. I would say that's the spot, although there's obviously a million nice spots on campus. It's a beautiful place.
What is your favorite memory from your time at SOLES?
Some of my favorite memories are just the day-to-day interactions. We had a really close cohort and we got along pretty well for the most part after we got to know each other. Many of those relationships have endured and there was just a really great, collaborative team feeling from our group. I think Dr. Martin and Dr. Cameron created a really great environment for that to happen. When I say it felt a lot like home, it just did. The relationships and the people really created this spot that felt comfortable. While we were all going through something new and learning how to be school counselors--which isn't the easiest thing to figure out how to do--it was just a really comfortable environment and a place where I felt like I could thrive. The little moments, the simple moments in class, and the lighthearted fun that we were able to have are some of my favorite memories.
Tell us about your journey since graduating from SOLES.
I tend to be impatient, although it's getting better as I mature. I was concerned that I wasn't going to be able to find the right opportunity in southern California when I graduated. I know I would have, I just didn't give it enough time. An opportunity came up to go back east and, in hindsight, it worked out just the way it should have. I got to a school in northern Virginia that was an ASCA RAMP school, a Recognized ASCA Model school. The mentors I had there and the people that I got to work with also remain great friends. I stay in touch with them and they are colleagues and peers for life. I pick their brains consistently, even though I've moved on twice since then. The experiences there really provided such a great jumping off point for myself to build my own skills within my counseling practice and to feel comfortable and confident that what I'm doing and bringing to the table can help make a difference. I'm incredibly grateful for that opportunity.
I left there kind of bittersweetly because, at the time, I had just gotten engaged to my now wife who had taken a job in North Carolina and she was commuting back and forth from Virginia to North Carolina. She had an opportunity to come back to San Diego, and that was the catalyst that led to that move. I feel grateful and privileged to have gotten the opportunity at Thrive in Linda Vista. It probably didn't work out the way I had envisioned, but it offered another great opportunity to gain perspective, to learn a lot more about myself, to learn a lot more about my practice and my orientation, and working with a different population of students.
Between that really big, comprehensive system that I experienced in Virginia and the experience at Thrive in San Diego, now we've landed in Denver, Colorado; hopefully it's for more than just a stopover. Now I'm in my second year here in Colorado, kind of in the middle ground. It's a mid-sized school and the program isn't as fully developed as it was where I was in Virginia, and it wasn't starting from scratch like at Thrive. It's kind of at this midpoint where there's opportunities to take some of the programming forward, and so I'm leaning on my previous experiences at both of those other stops to reflect and think about how we transform the program at my current high school.
This year in the midst of the pandemic, I have become the chair of the department and so I'm working through that aspect, as well. I don't think I could have called my shot on the journey when I walked out of USD, but it's been fruitful with a lot of good learning experiences. I'm very grateful. I've been pretty blessed in that most everyone I've encountered on my journey has been really good to me. I've had the opportunity to work in some different environments—big systems, small systems, different populations—and it's just really lent itself to learning a lot and meeting different people. It's been a nice journey to this point.
I've been a high school counselor the whole way. It's not that I wouldn't potentially try elementary or middle, I've just really settled into the high school role. I've been able to coach soccer at each of those places, as well, which I really enjoy doing. I think the opportunities to work with high school students as they are embarking on the final phases of their K-12 education and considering their opportunities for their next steps in the "real world" and whatever that looks like, it offers a really cool opportunity to do some critical thinking and to build deep relationships and really walk the path with the students and help them try to figure out what it looks like. That journey is a little bit different for everybody, and in a lot of ways I'm an illustration of that so I can put that on the table and help students think critically. There's no one path, and that's the cool thing about it and so it creates a lot of conversations with a lot of depth.
How has your SOLES education shaped your career path and career goals you have for the future?
SOLES deserves a lot of credit from me, in terms of what it has done to prepare me to be successful as a school counselor. And not just as a school counselor, but—as I've worked my way through the different stops that I've been at—to start to be a leader and to bring forward opportunities to make positive change at some of these places. A lot of that learning, about how to deploy that leadership and how to connect with stakeholders and build those relationships, a lot of that was heavily reinforced at SOLES. I couldn't say enough good things about my experience: the group that I was with, the professors, the atmosphere that's created to create robust experiences and to allow learning to happen. It certainly made a huge difference in my trajectory.
I can certainly see going forward, as I consider my own path and where I go from here, I'd like to continue to find ways to make a difference on a larger scale. That takes some steps to get there, but I have been able to lean on this balance of confidence and humility, much of which was learned during my time at SOLES. Confidence in the fact that I can do the job, and be a leader, and help support my school community. But having the humility to really understand that these relationships are critical, and that I know very little in the grand scheme of things, and that listening to others and getting input and feedback is vital. It's been a really great thing to reflect on, the opportunities that SOLES has presented me with and the learning that happened there.
How have you remained in touch with SOLES as an alumnus?
When I was in San Diego, it was a little easier. I was able to come and speak to the current students and be a resource for them. Admittedly, it's a little more challenging to remain connected now being out of state. I do reach out to the professors from time to time to continue to pick their brains. When I run into sticky challenges that require that mentorship type relationship to get their feedback and their perspective, I still lean on that from time to time. With my own group, there are quite a few that I still connect with occasionally and continue to collaborate with. Ultimately we came up together and we learned some different lessons together, and were in some different unique experiences together. We have some shared experiences, and I think that lends itself to continuing to be able to collaborate and work together to come up with unique solutions to challenges.
What advice would you give to a current School Counseling student at SOLES?
Be vulnerable. Be open to feedback. Be confident that the skills that you're learning at SOLES are going to prepare you to do a very nice job when you get out into a position as a school counselor. Continue to leverage the resources at SOLES and the professors—who are some of the best in the business—to help support you along the way.