SOLES Alumnus Spotlight: Dominic Rios '18 (MEd), Online MEd School Leadership Specialization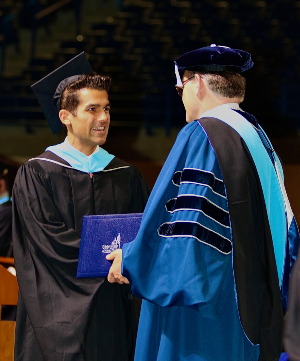 begin quote

Whether I continue as a classroom teacher, venture into school leadership and administration, or whether I eventually shift into a different career path, that social awareness is forever engrained from my SOLES program.
Tell us about your degree program and why you chose SOLES.
I always knew that I wanted to be involved in education. After earning my undergraduate degree, I was fortunate to be accepted into the Teach for America program and I was placed in San Diego. After I cleared my credential, I knew that I wanted to continue with my Master's in Education, but I really didn't know what specific area I wanted to focus in. I knew that the University of San Diego and its SOLES program maintained an extremely positive reputation, so I placed it at the top of my interest. The more I researched online MEd options, the more that SOLES stood out. I was teaching full time in the classroom and knew that any outside commitment would need to be flexible. When researching specific concentrations, the school leadership emphasis stood out to me. Leadership—particularly in education—has always been something that I've been passionate about. Moreover, I greatly valued the program's focus on education as a social justice issue rooted in the communities that we serve. All of these things motivated me to choose SOLES and apply!
Who was your favorite professor in the online MEd program?
My favorite professor was Dr. Reyes Quezada. He was my advisor in my final term and my advisor on my capstone project. I really appreciated the close one-on-one relationship that we had in that capstone course. I particularly gained a multitude of insights from Dr. Quezada related to working in charter schools. He serves on various California charter school boards, so I valued those conversations. As it relates to my capstone, his feedback was invaluable. I was fortunate to meet with him a handful of times in those final days leading up to submission and then also at graduation. I'm really appreciative of his feedback, and I still connect with him periodically.
Tell us a little bit about the Capstone Project.
The capstone project allowed me to implement an action research project into my professional practice. I determined a specific area of focus and then developed a research question rooted in that issue. My specific capstone focused on increasing student efficacy in non-academic settings to strengthen academic achievement. This process required identifying student interests and strengths outside of academics, cultivating those capacities, and then leveraging those efficacies towards that student's education. This project was extremely impactful for my students. I teach in an independent study context, so the 1-1 nature of our school allowed the flexibility to deeply engage students in their non-academic interests. Seeing how non-academic achievements translate into academic growth was extremely encouraging to see. It was a really meaningful project for me given the findings and I truly enjoyed it.
What was your favorite class at SOLES?
I had two favorite classes. One was Ethical School Leadership. In it, we examined state & federal court precedents that related to educational policy. We then applied those items to critique current policy within San Diego Unified and current policy within our own schools. I've always had an interest in public policy and in the legislative components of education, so I was extremely engaged in this material. The second course was Social Justice in Educational Equity. Here we examined individual case studies of students and schools centered on some issue of educational equity. I've always viewed education as a social justice issue that is rooted in issues of community equity. This course solidified that belief. I still have the textbooks for each of these courses and I reference them when faced with some issue of educational policy or equity.
Did you ever come to campus?
Yes! Being a San Diego resident, I really wanted to take advantage of being on campus as much as possible. I spent most weekends in the library completing work, and I would venture into the SOLES building whenever necessary. I also took advantage of attending professional programming offered by SOLES or other graduate programs. I recall attending many of the Bergman Memorial Lectures that the Law School hosts–especially those that were co-sponsored by SOLES when they related to education. I remember that one of those lectures centered on the federal court case, Mendez vs. Westminster, that dealt with barriers to educational equity in Orange County. Attending events like these were beneficial, not only because of the content, but because they also allowed me to interact with the campus, professors, and other graduate students in ways that I would not have otherwise been able to.
Where was your favorite place on campus?
I loved spending time working, reading, and reflecting in the Copley Library—particularly the Mother Rosalie Hill Reading Room. I'm really looking forward to seeing the renovations that have been done to the facility. I am excited about getting back there and seeing it, knowing how I experienced it as a student prior to those renovations.
I also enjoyed walking around the main campus promenade to take in the scenery and decompress from academics. We are incredibly fortunate to have one of the most beautiful and scenic university campuses. The university gardens and terraces (especially the Garden of the Sea, the Garden of the Sky, and SOLES terrace) are still some of my favorite places to walk and take in awesome San Diego scenery.
What kind of relationships did you have with your fellow online classmates?
I formed extremely positive relationships with my online classmates—many of whom were local to San Diego and California. These connections were especially impactful given our common connection to state and local education systems. Engaging with those outside of California (and even internationally) was also important in creating a broad range of perspectives that is so critical to a holistic educational experience. Many of us remain connected on LinkedIn and still chat with each other periodically. There were at least 15 of us who attended our graduation ceremony, and it was great to be able to interact with them in-person.
What is your favorite memory from your time in the program?
My favorite memory was graduation. Obviously, being an online student is different; we don't necessarily have those on-campus memories that other programs have. Experiencing graduation and connecting with other people who had completed the program was incredibly rewarding. Admittedly though, I was initially hesitant about participating. Around that time, I remember speaking to some of my students who were also deciding whether or not to participate in their own high school graduation ceremony. Speaking with them about their hard work during high school and reiterating the importance of that moment helped me realize that I needed to follow my own advice and attend my own ceremony.
Graduation was the perfect culmination of the program. I was especially proud to have my parents attend. We went to the SOLES reception afterwards and they were in awe of the campus and facilities. It was just a great day and, looking back, I absolutely would have regretted not attending.
Tell us a little bit about your journey since graduating from SOLES.
My degree fostered a leadership mindset into my daily practices as a teacher. I believe that the teaching profession is one of the greatest forms of leadership that people can serve in. When we view teaching in that way, it improves outcomes for our students and our communities. With that said, I constantly integrate that teaching-as-leadership view into my professional practices.
The greatest impact from the program was solidifying the recognition that so many external factors play a role in teaching and learning. Whether that be policy related to education, policy related to social and mental health resources, policy related to funding for community programs—anything associated with community development immensely impacts schools and our students. Having that awareness transformed my day-to-day practice—recognizing that teaching is not just about serving individual students but an obligation to serve the surrounding community, as well. That is something that I'll carry with me forever. Whether I continue as a classroom teacher, venture into school leadership and administration, or whether I eventually shift into a different career path, that social awareness is forever engrained from my SOLES program.
How would you say your education from SOLES has impacted your career and any career goals for the future?
It's given me the capacity to feel confident in a variety of roles within education. It's also provided me the aptitude to succeed professionally. This is not only because of what I learned as a student but also due to the continued investment that USD places in alumni relations, networking, and professional development. Moreover, the university, and SOLES specifically, maintains a prestigious reputation across a variety of professional sectors. Knowing that creates a high level of confidence for any future professional routes that I may take.
How are you involved as an alumnus of USD?
I stay informed from the alumni newsletters and regularly check for events that are of interest to me. There is always consistent stream of events related to educational leadership and I make sure to attend those when I can. Some of these include SOLES professional panels, the Bergman Memorial Lecture series, and other sessions centered on career and professional development. I also regularly connect with professors with whom I remain close. Possibilities to stay connected and involved as a USD alum truly are endless.
I was speaking to a colleague recently about staying involved with USD as an alum, and I spoke about the desire to remain engaged with, and give back to, those organizations that gave me value. The university, and SOLES especially, provided immense value to me as both a student and as a professional educator. With that said, I feel genuinely motivated to remain an active alumnus however possible!
What advice would you give to a current student in the online program?
For those students who are local to San Diego, I encourage them to take advantage of any opportunity to be on campus and utilize the resources that are available to students. Take the initiative to conduct in-person research in the library or to meet with your professors outside of the online setting. For those students that are not local to San Diego, my advice is to find ways to connect to the university wherever you can. There are so many virtual events at the moment, and I expect that virtual offerings for programming will remain moving forward. Taking advantage of these opportunities is what made the program especially meaningful for me. I consistently reminded myself that I was just like any other USD student and that my experience would be shaped by my initiative and engagement as such. The university truly does a phenomenal job of creating access for its online students, so lean into those opportunities whenever they present themselves.
Final thoughts?
I am so grateful and appreciative for my time at USD and SOLES. I feel the same alumni connection to the university and SOLES as I do as an alumnus of my undergraduate alma mater. This sentiment speaks volumes about the program and the way that the online students are welcomed as a part of the USD community. Go Toreros!