SOLES Alumnus Spotlight: Gary Ransom '18 (MA), Leadership Studies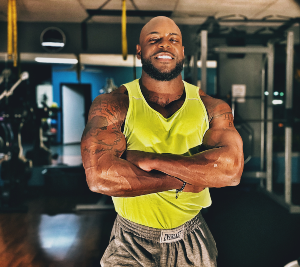 begin quote

Leadership is not about the principles and styles, it's more so about understanding who you are and finding that identity so that you know how to lead authentically.
Tell us about your degree program and why you chose SOLES.
I'm from Ohio and I was getting recruited to play football at USD. I was looking at different aspects and different places for growth for me in getting my master's. I didn't want to do exercise science or kinesiology because that was what I received my undergraduate degree in, so I looked for opportunities for me to grow. Leadership Studies and organizational leadership really stood out to me, and the SOLES program offered a diverse experience. It had not only the nonprofit sector, but it also had executive coaching and what that looked like. I dabbled in each program and really took advantage of what SOLES has to offer.
Who was your favorite professor from SOLES?
That's a hard one, because I had so many great professors that taught me so much about leadership, different styles of leadership, and what leadership meant to them and what it would mean to me. All of my professors challenged me in that way, but I would say Dr. Afsaneh…a lot of her teachings still ring to this day. Around the leadership that not only did she embody, but that she was teaching to us. And the different styles of leadership. It really resonates today what she was able to teach us and what we were able to learn from that.
What was your favorite class at SOLES?
My favorite class was one of the most challenging classes for me: Mindfulness and Meditation. I didn't really know what that meant when I went into it. It was one of the toughest times I was going through in my life, and I really found an identity because of all of the things I was going through. But Mindfulness and Meditation was able to ground me and helped me to understand what was going on and how to react. It transformed me in a different way.
Talk a little bit about being an athlete at USD while getting your degree from SOLES.
It was good to be in a cohort with other athletes. I was with Maya Hood, who was very influential. Working with her and her being an athlete, and her story was just amazing. So to know that you had other people in the program and other people since we've gone, I imagine other people have taken that route as an opportunity to be in SOLES as an athlete, so it's amazing to see that program grow.
I hope that this pushes even more athletes to pursue a degree at SOLES. From a sports perspective, you get some aspects of leadership. I've been a captain on pretty much all the teams that I've been on, and was fortunate that my peers looked at me as that. But leadership is more than just who your peers view you as. Being removed from the sports aspect and finding an identity as a leader outside of sports has come from SOLES.
How did you complete the international experience requirement?
I was blessed with an opportunity to work with an orphanage in Acapulco, Mexico. My deliverables were to teach the children more about mindful eating practices. The woman who runs the orphanage doesn't allow just anyone to come to the center; mostly visitors are there to teach English. For me to present it in a way where she thought I could provide value and still have a great experience at the same time, it just clicked in a way. It was a unique situation and a unique experience because she'd never dealt with anyone who was trying to teach healthy eating. We were able to provide groceries and other supplies through fundraising. I took a translator with me and that was the first time ever in another country. It was an amazing experience; I actually took away more than I gave to them because I learned so much. They taught me so much about the systems. This orphanage had an average of 60 kids, ranging from 5 – 18 years old, and it was run by just one woman. Everybody had a role and responsibility, and it was held with accountability because that's how they survived. It was amazing just to see how that worked and how well-oiled they were; from the cooking, to cleaning, to laundry—it was just amazing to see and be a part of.
Where was your favorite place on campus?
One of them is the SOLES building. Seeing the view in the back provided such a peaceful, beautiful experience. You could literally see the whole city and it was a very chill environment. My second is the gym at the Jenny Craig Pavilion. The gym was something that I really valued, from a physical standpoint. Part of it was that I was going through a lot of personal things, and the gym was able to provide comfort and allow me to express my feelings that way.
What is your favorite memory from your time in the program?
Graduation day is definitely my favorite memory. I was with my cohort and those I shared my SOLES experiences with. We went from LEAD 550 and not understanding what leadership was about, and then through that maturation and growth we really figured out what 550 means and what the class was providing for us from an information standpoint. You're going to learn throughout your life, you're not just going to learn all the lessons in just that class.
Another reason it is my favorite memory was because my family and friends got to come out to San Diego. That was their first time here, and it was my mom's first time ever being on a plane. She had never been on a plane before because we didn't really have money to do that. She looked at herself last and took care of everybody else first. To see the emotion that she had on that day was just an amazing experience and something that I will always remember.
Being in the program was tough for a while because I went from Ohio to San Diego. That was a huge jump from a cultural standpoint. I was alone because I didn't have any family or friends out here when I first came to San Diego. It was a tough process to go through and it taught me so much. I think that's where a lot of that emotion came from on graduation day. It had been awhile since we'd seen each other, too. That day just brought out a lot.
Tell us about what you've been up to since graduating from SOLES.
Since graduation, I have continued my entrepreneurship with personal training (Workhorse Fitness) and I have expanded the ways that I do personal training. I was doing online training even before the pandemic, so it was good to know what I was working on years ago is still helping me today with my business and in other ways. I learned that from the coaching program at SOLES. We were taught different ways of the business model and how to create different strings of revenue and resources, so that really opened my mind and allowed me to provide different ways and different values to my customers and clients.
I'm also the former Health and Wellness Director of the YMCA; I was in that role for a couple of years. Unfortunately with COVID-19, we were all furloughed--our whole branch was furloughed. It was tough to build something amazing the last two years and have it stripped away. I was a part of the planning and execution of a new wellness center; I was the lead on the project. From equipment, to wearable technology, we were able to provide all new equipment for our members. Something they had never had in the last 10 years. That was amazing.
Fast forward, I'm now the Director of Internal and External Affairs with Fit Athletic in Mission Beach. This is a brand new experience for me, from a leadership standpoint. I actually just started in this month, and I'm excited to go on this next phase and journey. Fit Athletic offers the gym aspect, as well as swimming and different types of programs like swim lessons and fitness classes. I'm really excited to be working for this organization because they are willing to adjust and adapt while others are not, which is especially important during these times that we are in. I'm excited to get myself more into that environment and see what I'm able to do from a leadership standpoint.
I just finished an e-book, Good Vibes Recipe Book, which has been the most successful book that I have released. It's all around health and wellness, and being a leader in that aspect. I'm cautious around mindful and healthy eating; that's kind of the theme of my life. So it just made sense to make a cookbook that embodied that. The book came out November 2020, right after Thanksgiving. It's been amazing to see how people are using it, especially around the holiday season. And now I'm working with multiple types of people and educating them on living a healthy lifestyle, which has always been my goal. Coming from where we come from culturally, we eat a lot of not so good foods, but they taste amazing. I was kind of taking the same principals of the taste being amazing but making it healthier. That started when I was a kid; I was always challenging my mom, who is an amazing cook, to use healthier options. I don't know where it came from, it was just something that clicked to me as a kid: that I knew I probably shouldn't be eating the less healthy foods, even if it tastes amazing. I wanted to find a better sustainable way to keep eating so we could live a long and healthy lifestyle. To be able to embody that myself and then to share that information with others is amazing.
With my personal training business, I have online clients right now. I'm partnered with San Diego Sports Health & Fitness, and we had to close down our facility for now. We have older members, so we have to be mindful of that. Right now, my whole online platform is what I go off of, but I can't wait to get back to working with my clients in person. But from a health standpoint, I just don't think it's best for right now. I have clients that are different age ranges and they have their own challenges with COVID-19, so just being mindful of that and trying to provide a better solution. I have at home workouts that I've been able to provide. Trying to stay connected to my clients has been a process--but a great process--because we're learning about ways that people struggle and the different struggles that everyone's had with COVID-19. It's been a great experience to be able to be a light to them and a positive outlet.
How has your education from SOLES impacted your career and your career goals for the future?
I could talk all day about SOLES and how it has impacted me in my career and my personal and professional development. I've learned about systems, and dynamics, and those types of things that I cannot unlearn. Once you notice these dynamics and systems, and then you use yourself as an instrument, you can't forget it. It's definitely made an impact on me as a leader, it's definitely made an impact on how mindful I am and how conscious I am, and how I'm able to be diverse in my offerings and my skillset. I would say it has allowed me to wear multiple hats and collaborate with different and diverse types of people; that's something that I for sure think came from SOLES. Being able to understand so many different aspects and being mindful of it is from SOLES. I didn't know what a lot of different things meant; I would see it, but I didn't know why. And once you go through this program, it provides a lot of those whys for you.
What advice would you give to a current student in the Master's in Leadership Studies program?
Be a sponge. Use yourself as your instrument because life will test you in multiple ways. Being able to understand who you are as a person will allow you to become a better leader and understand leadership that much more. Leadership is not about the principles and these styles and all of these other things, it's more so about understanding who you are and finding that identity so that you know how to lead authentically. You're able to lead from an authentic place and people can feel it, people can resonate with it, and they can feed off of the energy and consistency that you bring every day. That all comes from you knowing who you are as a person and as a leader, and those skills will develop over time.
Any last thoughts?
You hear about USD and all of the great aspects that people from USD are able to bring to the table. I've seen President Harris honored for different things at events this past year through my work with the YMCA. It was amazing to be a part of that and to see that that's who the president of USD is; down to earth and caring about all types of people. It shows through the programs and the things that he is trying to do at USD is coming to fruition because of who he is as a leader. That makes me feel good. I'm proud to be a part of SOLES and USD because of all the great things they have done.