SOLES Alumna Spotlight: Fabiola Bagula '07 (MEd), Educational Leadership, '16 (PhD), Leadership Studies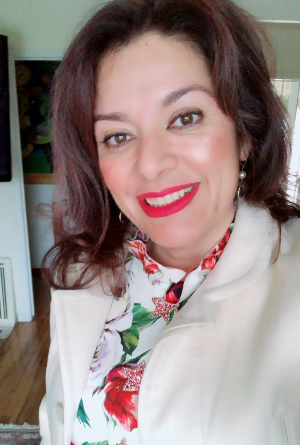 begin quote

I love the philosophy that SOLES people learn, and engage in, and discuss. Being able to explore leadership theory and practice, and what it might mean. And engaging in reflective discourse about the full person; leadership from the inside out. 
Tell us about your degree program and why you chose SOLES.
I started my journey at USD through the Educational Leadership Development Academy (ELDA) program. I was working on getting my administrative credential and I built some really strong relationships with the professors. Dr. Kemerer was so enthusiastic about SOLES and educational leadership, and he kept encouraging me to work on my master's and my doctorate. He was always so supportive, welcoming, and he believed in my capacity. That set the tone for my whole experience at USD. The professors have always been really beautiful about seeing peoples' potential and then shining a light on them.
I chose to continue to get my master's degree because they were very welcoming and did a really good job at recruiting. I felt very seen, which was not a normal thing for me coming from UCSD. After I received my MEd, I took about a year and a half off, and then I started the doctoral program.
What was your favorite class during your time in the program?
The group relations class with Dr. Terri Monroe and Dr. Cheryl Getz would have to be my favorite; I took this course as a master's student and as a doctoral student. I took this class every time it was available to me, so much so that I became a TA. Quite frankly, in my career as a principal, those skill sets that I developed in those classes taught me more about leading and leading a group of people in more ways than I could have ever imagined. When I then became Assistant Superintendent and I was supervising principals, my hope and my wish was to enroll them in that course. I knew that when they were having issues at their school site; an understanding of group dynamics would have been beneficial for their leadership. And I wish I could have assigned them that course to teach them how to see the system from both the balcony and the dance floor.
Who is your favorite professor from SOLES?
Dr. Zachary Green. I will follow him wherever he leads me to; I will just go, blind trust. To this day, I am privileged to work with him. I'm part of the RISE San Diego faculty, thanks to him and his connection. I'm a big believer in what he's trying to do for the community. Trying to ensure that there's grass roots efforts and co-constructive leadership rooted in adaptive leadership and equity across San Diego.
How did you complete the international experience requirement?
I had the best one, in my opinion. I was supposed to go to Tokyo, but it was around the time that they had the tsunami. It was a big disaster, and so I couldn't go. I was really disappointed because I love action research and that's what the course would have been. So I stuck with action research and ended up going on a counseling trip. The counseling students were going to an international action research conference in Vienna, Austria, and then they were going to go to another conference in Verona, Italy. I was the only doctoral student on this trip, so it was really interesting from that perspective and point of view to be in education but to have a different mindset. I made lifelong friends from the counseling department and thoroughly enjoyed these two beautiful cities. It was also interesting to see a Germanic organizational conference on action research and a Latin organizational conference; the cultural differences were palpable and were very interesting to experience within the same week. I think that the international experience is one of the best components that we have and that we demand as a requirement.
Where was your favorite place on campus?
I love the Inner Courtyard of SOLES. I liked to go there when I was on campus all day. I could have lunch there and it's a nice respite and it takes in the beauty of the space. I've always loved that design from Spanish architecture. And people don't go there, it's not crowded. So you get the whole courtyard to yourself.
Were you involved in any student organizations during your time at SOLES?
I really wasn't. I was working full time and had young children, so it was hard to manage everything. I do have regrets, because I did participate in the graduation celebration that the Latinx Graduate Student Association (LGSA) hosted. During the celebration, I kept thinking I should have joined the organization. I would have made community. I was really seeking community with other students, but I was just so busy working that I didn't have the time. And I do regret that. If I could do it again, I would have sought both the LGSA and other grad student groups, even if "busy". Community is necessary.
What was your dissertation on, and are you still using your research today?
I was going to do action research for my dissertation--was practically finished with it--but I had an experience with two young students that made me throw that away and start over. I had two students come up to me who were very different. One of them had been accepted to The Bishop's School on a full ride scholarship. She had been there for a year when I received a phone call from the principal saying the student wanted to quit. And I had been fully invested in her journey at this school by helping her fill out that application, talking to her parents, giving her rides, and making sure she got there. But when I talked to her, she said something that I'll never forget. She said, "I ride a bus for one hour each way. I'm one of the only Latinas, I don't have any friends at school, and I don't have any friends at home. And my parents aren't even proud of me because they don't understand what this means." To have that reality as a 12 or 13 year old, I just kept thinking if school is feeling like a choice between school and community, at 12 years old you're going to choose community. I couldn't argue with her points. At the same time, I had another student—because I had been principal now long enough to see the kids graduate and head to college—who had received a full ride scholarship to Notre Dame. Her first generation parents were telling her she didn't need to go, and that she could go to community college here in San Diego because it's the same thing. So I was trying to negotiate and advocate as much as I could for these two young women, and at the same time seeing the difficulties that arose from that and the divides in our community.
These events before me were an awakening to a necessary topic of study. I quickly shifted my study to Latina leadership and identity formation. And thinking of this notion of why is it so lonely? Why does it feel like a choice between school or family or community? And how unhealthy it is to ask someone who's 10, 11, 12, or 13 to make that decision. And it shouldn't be a decision. So my dissertation went more that route, and I have been both advocating and studying and continue to write about Latina identity formation and Latina leadership. I wrote a chapter in a Latina leadership textbook that was released in November Latinas Leading Schools, so I do actively participate in those sorts of research circles and research groups and discussions. I'm trying to create a space for Latina healing. I put together a website and started writing op-ed pieces to connect, and I'm calling it Latina Self Care. It's definitely something that I'm both passionate about and I'm continuing to pursue very actively.
For me, I connect with these two young girls because I often feel lonely. I don't have the same relationships that I used to have as a child. I am one of the only people in my family with a college degree, and I'm definitely the only one with a salaried career. I'm the only one that has a long-term relationship (we just celebrated our 18 year anniversary this summer). I'm the only home owner. And I recognize that sounds a bit pompous, but it makes me wonder about the cultural differences and these categorical elements of "success". I definitely feel separated. I chose education because my teachers always said education is a great equalizer. You'll be able to do all of these things that I get to do. But I'm lonely. Being the only Latina in some of the spaces I go...some of the spaces aren't always so hospitable because it wasn't made for me.
What is your favorite memory from your time at SOLES?
There was a class called Love and Leadership. I wasn't in it, but they were in session at the same time as a class that I was in. They were right across from us. They would sing and I was always jealous. A couple of times I would crash the class and sing. I have a very strong memory of a Sinatra song...That just encompassed to me not only leadership, but love and creativity, and being welcomed into the class. That's how I always felt at SOLES; I was always welcome. I didn't feel like I was intruding, I didn't feel like I didn't belong. It was just, "Yes, come on in! You're smiling at us, come on in." I just have a very strong memory of walking up the stairs, looking over and they're singing and hugging each other! And I thought, "Oh no, I need to get in on that!" So I went in there and crashed the class. And I just love that memory.
Tell us a little bit about your journey since graduating from SOLES.
After I finished the master's degree, the professors were very supportive of my continuation towards a doctorate degree. It was always in the back of my mind, but I needed a little break. I had just had a baby and I was a school principal, so I had to work full time. I had to make the decision about being a mom, and a having a full time job, and being a student. I did finally come back and it felt good. I love to learn and I love the space and the philosophy; it was like a return to family. And I do miss it now. I miss engaging in the discourse and the dialogue about leadership, because being a practitioner of leadership--I was a principal at the time, and then I became an Area Superintendent for San Diego Unified Schools and I was overseeing 29 of them. And what I learned in theory from Dr. George Reed about toxic leadership, I kept thinking about him as I was experiencing these things. And I wish that I could go back and still continue to learn and to continue to have this level of discourse. I continue to espouse that practitioners need closer relationships with scholars and vice versa. I access some of the professors still. As a matter of fact, I had a conversation with Dr. Joi Spencer not so long ago about critical race theory in schools. I know it's a relationship that I will always love and will always seek out with my practice.
Right now, I am the Senior Director of the Equity Department for the San Diego County Office of Education. I feel the large responsibility of both leading Equity work across the 42 school districts in our city. My department is also the Geographic Lead for Equity for the state of California. I keep thinking, especially with the new doctorate for social justice at SOLES, we definitely need to partner. I would love to continue to work alongside my other USD alumni and think about how we might continue to champion this equity work, because I know I can't do it by myself. I love the philosophy that SOLES people learn, and engage in, and discuss. Being able to explore leadership theory and practice, and what it might mean. And engaging in reflective discourse about the full person; leadership from the inside out.
How has your SOLES education impacted your career and career goals for the future?
I think that it's prepared me extensively to have the knowledge space to propel myself forward. I really do feel that my education from SOLES has helped me, not just career wise (my titles, salary, all of those technical aspects), but I can also look back at my course thinking I've impacted the lives of children in a very positive way, I helped change organizations in a very positive way, I helped impact how teachers see themselves and each other; all of the things that I learned from SOLES I have put into practice. Yes, I do have the title and the salary, but ultimately what I really wanted was to have a positive impact on the education system for San Diego. And that's really what I'm proud of.
What advice do you have for self-care?
Be easy on yourself. People that come into a doctoral program have probably been very successful academically, and so we expect to still have that same level of intensity in our studying and in our writing. Especially if you are working at the same time, it's okay to not read that article right away; it's okay to take the time to slow down. I will also say that if it takes you seven years, it takes you seven years. It's okay to slow down. It's okay if it takes you a little bit longer.
Find what really feeds you to learn about, and find what really feeds you that you want to change. Because that alone will feel like self-care and self-healing because it won't feel like work. When I was doing action research, it felt like work. When I was reading about Latina identity formation, it didn't feel like work.
Any final thoughts?
I really do think of my time at SOLES with a very pink lens of beauty. The excitement and the naivety that comes from being a student and not being out there hustling every single day working. But I also know that it taught me how to navigate being in the world that I'm in. There's little bits of wisdom from the professors and their lectures and the readings that I use on the daily. I will always be grateful for their level of mentorship and intention. That kind of presence and relationship is really beautiful.