SOLES Alumnus Spotlight: Michael Angelo Camacho '16 (MA), Nonprofit Leadership and Management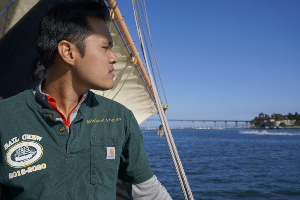 begin quote

I believe education makes a huge difference, just from firsthand experience. Education is a game changer.
Tell us about your degree program and why you chose SOLES.
I come from a poor farming village in the Philippines where 40% of its population experience extreme poverty. This means households may experience malnutrition, children may not live past the age of five, and the ones that do might not attend school. Furthermore, the place where my family settled when we arrived in San Diego was a low-income neighborhood and I can say that I'm very lucky to have been gang-prevented. Because of these experiences, I am a big believer of good leadership within NGO organizations like the Peace Corp because my village is the kind of place where Peace Corps volunteers are sent, and I am a big believer of local nonprofits like Reality Changers because my background is the kind that needed extra support to grow into a productive member of society.
I got my Master's in Nonprofit Leadership and Management from SOLES in 2016. I had tried the Nonprofit Management Certificate program through USD's Professional and Continuing Education, liked what I was learning and wanted more, and so I matriculated to the master's program. I was looking at nonprofit management specifically because I had done some corporate work, and I realized that I preferred working in the nonprofit industry and working towards a cause that I believed in. There are some nuances in working for a nonprofit corporation, but I enjoy all of the nuances.
What was your favorite class during your time at SOLES?
The Community Change class was really good. I enjoyed going out into the community and meeting with different people, hearing about what the different constituencies in the community want, and trying to meet the needs of everyone. I also really loved the advocacy class. The final for the class was going up to Sacramento and advocating for whatever cause you were advocating for. I ended up advocating for nonprofit governance and professionalizing the industry. There was a lot of research, but we did not find a sponsor. Another group in my class did find a sponsor for their bill, so I ended up joining them and speaking in front of a committee on their behalf. It had to do with part-time workers' rights.
Who was your favorite professor from your program?
Dr. Tim O'Malley, who is now retired. He taught a class about fundraising and marketing. He's used to fundraising for big organizations like USD, and it was interesting to hear him share his "war stories" with us. It's good to hear that not all donors are the same and you have to adjust to each donor. I enjoyed his teaching style and I felt like I learned a lot of practical knowledge; every class has a practical assignment. In his class, we did a consolidated fundraising and marketing plan and provided materials to the nonprofit organization that we were consulting for. He had a lot of experience and the textbook that he chose was very useful.
How did you fulfill your international experience?
We went with Dr. Andy Carey to Guatemala. We learned how NGOs function and how necessary they are in civil societies. Dr. Carey introduced us to a lot of government officials. He also connected us to a lot of NGOs that were functioning there. I liked that we went to other parts of Guatemala and didn't just stay in the city. The fact that we saw these nonprofits function doing different things and working with the government to make it happen. That's really what it's about; the nonprofit sector in partnership with the public sector.
Where was your favorite place on campus?
I spent a lot of time in the Graduate Student Lounge in the Student Life Pavilion. It was my favorite place to study.
What is your favorite memory from your time in the program?
To be honest, it was the advocacy class. I still stay in touch with every single person that I partnered with in that class; we were called Team Cockatoo. We used to have drinks after class during the program to unwind, and now we take time to have drinks just to catch up. I've even spent Thanksgiving with them.
Tell us a little bit about your journey since graduating from SOLES.
I've been working for the Diocese of San Diego, and doing some independent consulting on the side. The student consulting that I did at SOLES gave me the inspiration to continue my consulting independently. Consulting has been good.
In addition, I joined the board of Children of the Immaculate Heart (which does anti-trafficking work) and helping them grow in other ways. Not just in fundraising, but also a little bit of program design. I also was consulting for Mary Beth House, which also does anti-trafficking work.
Right when COVID-19 happened, I applied on behalf of 100 separate nonprofit entities for the PPP loan program. When only 10% of organizations in the country were having success getting their loan during the first round, I had a 97% success rate. I brought in millions in loans and saved over 2,500 jobs.
I also recently accepted a part-time position at The VAPA Foundation, an organization that seeks to transform the lives of students in the San Diego Unified School District through visual and performing arts.
I'm considering pursuing a PhD program, but I don't know what I want to study yet. I love education and I love evidence-based programming. Once I figure out my passion, I would like to pursue my PhD. I believe education makes a huge difference, just from firsthand experience. Education is a game changer.
How has COVID-19 changed the way the Diocese operates?
Worship services have changed. A lot of churches are trying to offer outdoor services now. My main task right now is to do financial and cost analysis related to that so they can adjust quickly and smartly to what is going on in the world.
How do you remain in touch with USD and SOLES?
I attend the alumni events. There used to be a theatre event in Oceanside that I would go to. I also engage a lot with The Nonprofit Institute because of my own independent consulting. It's always nice to have other professionals to bounce my ideas off of plus their research is top notch. I've attended workshops that NPI has hosted with the City of San Diego, and pay close attention to the State of Nonprofits and Philanthropy report that they publish.
What advice would you give to a current student in the NPLM program at SOLES?
My biggest piece of advice is to stay in touch with the nonprofit community. That's what is going to be most useful; stay in touch with your cohort and stay in touch with your professors. You get to share your experiences, but you also get to borrow other peoples' experiences and that's amazing. There will be people who will be better than you at something else.