SOLES Alumna Spotlight: Kameka Smith '11 (MA), Clinical Mental Health Counseling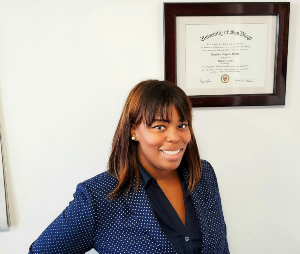 begin quote

My advisor definitely served as a mentor to me. He was one of the reasons why I started the program and why I stayed in the program.
Tell us about your degree program and why you chose SOLES.
I had gotten my bachelor's degree in psychology from SDSU. After I graduated, I took some time off to work in the field; I worked in group homes with kids in the foster care system who were tagged as "severely emotionally disturbed." I kept thinking to myself that there was a lot going on with these kids; I didn't know what I was doing and I needed more training. I happened to have a co-worker who had been a part of the first cohort of the Clinical Mental Health Counseling program at SOLES, and she told me about the program and suggested that I check it out. I did some research and realized that USD was a really good school. I didn't really see many programs similar to the program SOLES offered; I saw more social work-related programs. I went to the CMHC info session, was invited to the group interview, and then moved forward from there.
What really solidified my decision was meeting some of the professors during the group interview. One of them in particular, Dr. Ronn Johnson (who ended up being my advisor during my time in the program), was one of the main reasons why I decided to attend SOLES. He was so knowledgeable and helpful, even just during the group interview. Dr. Johnson was instrumental for a lot of us; he was amazing.
Who was your favorite professor during your time in the program?
Dr. Johnson was at the top of my list. I had several classes with him and he was also my advisor. Dr. Erika Cameron was also one of my favorites. I took multicultural counseling and family classes with her. I learned so much from both of them.
What was your favorite class at SOLES?
The group counseling class with Dr. Heather Dierolf was one of my favorite classes. That was one of the first times we really got to practice our group facilitator skills and also experience what it's like to be in a therapeutic group. There was one project where we needed to develop a group manual or curriculum for so many sessions utilizing evidenced-based practices. That project came in very handy later when I needed ideas for groups later on.
Where did you do your practicum work?
I was at Juvenile Hall, through the Juvenile Courts and Community Schools through the Office of Education. It was a unique experience because there had only been one other student from USD at this site, who coincidentally turned out to be the same person who introduced me to the SOLES program. The site hadn't really been made for mental health clinicians. A lot of it was building our own program, figuring out documents, informed consents, processes and procedures…really building it from the ground up, which was great experience. I ended up using many of those skills of counseling program development in future jobs. I wanted to stay on at the site, but we couldn't figure out how to make it work for the yearlong internship that we needed.
For the yearlong practicum, I went to SCAIR (Southern California American Indian Resource Center), which was also one of the programs that Dr. Johnson had developed. In one of his classes, we had to develop the manual for interns going into the SCAIR program and then present it to the program manager. I went to SCAIR with one of my best friends and we continued to build it from the ground up; it had very little work done since there had only been one cohort before us. I stayed there the entire year, and I was hired on as an employee after I graduated from SOLES.
How did you complete the international experience requirement?
That was probably one of the best experiences for me. We ended up going to Jamaica and we went with Dr. Cameron. This was my first international experience. It was so cool being at a vacation destination but also with other students who were learning just like me. Since we were in that learning mode, we were challenging each other when we were not considering cultural differences. It made for interesting conversation.
One of the other tasks that we did was going to a home for abandoned children, who were mostly female, I think it was called the "Place of Safety"; it's been awhile. Coming from a background in working with foster kids, it was really interesting to see how a different country handled that situation. We were able to interact with the children and spend the day with them on the beach, which is really rare for them. It was a great learning experience, and it was also a lot of fun.
There was also an international conference while we were in Jamaica. We were able to hear from different counselors and educators from all over the Caribbean. Hearing some of their challenges was interesting because there were many similarities as to challenges in the U.S., but also many differences.
Where was your favorite place on campus?
In the beginning, I did not have a favorite place. I tried to stay away from campus as much as possible. Campus was absolutely gorgeous, but I had so much going on; I was working part-time, doing my internship, and I was attending classes. I didn't really have time to hang around campus. But toward my last semester, the United Front Multicultural Center (UFMC) was getting up and running, or at least I was introduced to it, so I did spend some time there.
Were you involved in any student organizations during your time at SOLES?
I was involved with the Black Graduate Student Association (BGSA). There had been one other student who had been working with alumni on getting this group up and running, and we were both in the same program so I agreed to help her out. She ended up leaving SOLES, so I kind of took over the group and grew it to be a little bit more than what it was. I made some connections with the Black Student Union and the UFMC, along with some of the advisors. We were able to have a couple of events and try to bridge the gap between African American students and people of color, with the rest of the campus. I know a lot of them were feeling left out and not included at the time. I don't know that I felt that there were enough support groups for people of color or multicultural groups when I was a student on campus.
I was able to participate in the Black Graduation Ceremony. It was great because it's smaller and more intimate versus being in the pavilion with thousands of other people. My family was able to come and it was more up close and personal.
What kind of mentorship did you have during your time at SOLES?
The only person that we were paired with was our advisor, and he definitely served as a mentor to me. He was one of the reasons why I started the program and why I stayed in the program. We had a lot of discussions about different experiences that I was having while I was there, especially around being a black student on campus. I could say he was always very supportive. Even after I graduated, I still contacted him for letters of recommendation, for scholarships, loan repayment programs, for advice, etc. He always included me--and others--on side projects that he was working on. There was one where he was publishing an article on cultural competence for Native Americans and working with Native Americans. Since I was at SCAIR and helped build the program and the manual, I was able to be part of writing that article. It's a cool feeling to be able to say "I was published."
How do you take care of your own mental health?
I know it seems like a cliche thing to say, but self-care is crucial. Exercise is really important for me. I usually start every day with exercise. I also recently got a puppy; they are great for emotional support and help with self-care. A lot of my stress and anxiety comes when I feel like I don't know something or when I feel like I'm behind. So for me, reading things and educating myself is actually a stress reliever for me and a form of practicing self-care.
When I first started working at my office, it was expected that you respond to a task immediately, even if outside of your typical work hours. I would get emails at 9 p.m. at night, I'd check my work cell phone, I'd catch up on work on the weekends, etc. After about three weeks of that, I couldn't do it anymore. I had to reinforce those boundaries. Once I set those boundaries with myself, it was easy to set them with everyone else. Boundaries are a great self-care tool, as well.
What is your favorite memory from your time at SOLES?
It was definitely going to Jamaica. I learned so much about myself during that trip and I formed some really great relationships, not only with my classmates but also with some of the people in Jamaica that I still talk to. There was one person in particular who was working the conference that we were attending, who had happened to hear us having a heated discussion about religion and the different cultural aspects of religion. They happened to overhear us and inserted themselves in the conversation, but it made for such a rich conversation to have a different point of view from someone who was not American. We were able to have this really great discussion with a complete stranger. A couple of us have maintained a friendship with that person.
Tell us about your journey since graduating from SOLES.
After I graduated, I stayed at SCAIR for about another year helping to continue building the program and get a grant. When I left, I was introduced to more community mental health clinics that were not specific to the Native American population. I worked at a clinic in the South Bay area that focused specifically on transitional aged youth (18 - 25 year olds), which seems to be my passion. I worked there for about three years, building that program, doing outreach, connecting with community partners and agencies, etc. After a while, I started to feel confident in my clinical skills and I was itching for a change.
I was able to accrue the rest of my hours at the clinic in South Bay and obtained licensure in 2016. After becoming licensed, I found out about a new unit that was being developed for the Public Defender's office. They were starting a brand new unit and wanted clinicians to come on board to meet with clients in custody and get them connected with treatment. This tied back to the forensic specialization that I focused on in school. I had always wanted to get back to that field of study, and I thought maybe this would be an opportunity to do that. Never in a million years did I think that I would get hired, because I didn't have a lot of experience working with justice-involved populations--specifically adults; I had only had the juvenile experience. I ended up getting the job, which was amazing, and I'm still there.
It has definitely been a great deal of work in building the unit from the ground up, but I suppose that's another one of my specialties. Myself and one other clinician got things up and running and the end result is working alongside about 240 attorneys countywide. We also collaborate with judges and District Attorneys, in regards to providing education about mental health treatment options for clients that are justice-involved, and problem solving when treatment plans need to be adjusted if a client makes a mistake, has a relapse, or needs additional support. There's a significant gap in the knowledge about the county's system of mental health care and the overlap with justice involved clients from both the justice perspective and the treatment provider perspective. So we bridge the gap and serve as the liaisons to provide information to both sides. On top of that, we meet with clients that are in custody and conduct clinical assessments to understand what clinical and case management services they need and then connect them to the appropriate resources. There are definitely a lot of different moving parts. Every day is different, but it's got the challenging aspect, which is what I love most about my work.
I also really love the collaborative nature of my work, especially with the recent increased focus on mental health treatment. We have established a reputation for ourselves and the word has traveled to even outside of San Diego about our unit! I went to a forensics conference in 2019 and there was a private psychologist that does forensics evaluations who was there giving a presentation. She gave our unit a shout out saying, "In San Diego, we have this really innovative unit that works alongside the DA and the Public Defender's office. They come up with these great resolutions and treatment…" Sometimes our work in this field can become daunting, but being recognized for a unit that you helped to build is so very rewarding.
I would like to see this program continue to grow, and it would be great if we could have interns there at some point. I would like eventually to go into clinical supervision, so it would be great if I could do clinical supervision in the Public Defender's office and remain in the unit. I just take it day by day and see where I'm at, but I definitely know that clinical supervision will be in the cards for me at some point.
How would you say your education from SOLES has impacted your career and your career goals for the future?
SOLES is the reason why I'm in the positions that I am in now. As I mentioned earlier, other programs at the time did not have some of the same aspects that USD had. Maybe I could have waited and found another program, done an online program, or gone to a professional school, but I don't know that it would have been the same experience for me just because of the environment that SOLES provides. It was the right opportunity for me at the right time.
How do you remain in touch with SOLES?
I still reach out to Dr. Cameron occasionally. I follow the Counseling group on Facebook, and I think that keeps me up to date on what's going on. I recently connected with the two students who are currently running BGSA. I was able to speak with them and get information on what they're doing, and provide them with some tips to grow the group even more and I enjoy that mentorship aspect, especially with other Black students. I also participate in alumni panels which provide additional opportunities to make connections with current students.
What advice would you give to a current CMHC student at SOLES?
The counseling community is very, very small. You never know who you're going to run into again, and you never know what positions people are going to be in later. That can always be used to their advantage, or to your advantage. So keep those connections you've made with people at SOLES and continue to network.
It is important for clinicians to be knowledgeable. When training new clinicians at the clinic, my advice to them was "know your stuff." At a certain point, people trust your clinical opinion and your clinical judgement whether you're licensed or not. Always know what you're talking about.
And have a good time. Grad school was one of the best times of my life, and I think it was because I was able to appreciate it. I knew what hard work was because I was working full time at one point while in the program. I knew what it was like to be stressed out at school because I had been in classrooms of hundreds of people at SDSU. I was able to appreciate the small classrooms at SOLES and being able to interact with people on a more personal level. I just had a really good time. I got my work done, but I knew how to also implement self care practices and live it up.