SOLES Alumnus Spotlight: Eric Mill '12 (MA), Marital and Family Therapy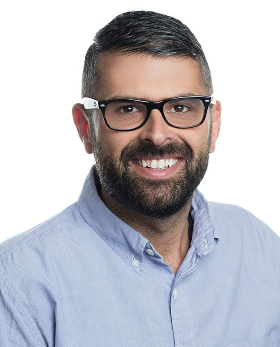 begin quote

The MFT program put you in this mindset to think professionally from day one and that set me light years ahead in my career.
Tell us about your degree program and why you chose SOLES.
I was working at a therapeutic preschool, where I had 14 -28 month old kids in my classroom. I saw the systemic nature of trauma, abuse and neglect for communities in need. In my time there I would get to know the families of the children in my class, and they told me they were told to be afraid of supportive services so I began to see the systemic nature to what these families were going through in the classroom, and that made me want to deal with the family system as a whole. That's why I chose to pursue marriage and family therapy; it was working with the family system and seeing problems through the lense of the family that got me excited about change. This is why I chose USD because it's really one of the few MFT programs that actually does marriage and family therapy. Many counseling programs don't address the systemic nature of individual suffering, but USD does. The program is also AAMFT accredited, and there's not many of those around. So that's a huge deal.
I toured other campuses and USD was just light years ahead in terms of their teaching, and training, and how they took care of their students. Guaranteed practicum? Other universities didn't even guarantee a placement to get your hours. You have to get 3,000 hours to get licensed, and I came out of the USD program with around 1,000 hours. I supervise students now who come out with half of that; they just don't have the head start that we had at USD, which was pretty amazing. All of those things really made the MFT program at SOLES stand out.
Who was your favorite professor at SOLES?
All of the MFT faculty were amazing. Dr. Todd Edwards, Dr. Lee Williams, Dr. Joe Ellen Patterson, and the adjunct faculty like Dr. Larry Chamow and Christy Turner. I got the opportunity to do research work with Dr. Edwards and we had an article published in the Family Therapy magazine, which was a great opportunity. The program seems small enough that students get a lot of contact with the core faculty. I got to work alongside Dr. Williams at the couples clinic at the VA, which was a unique opportunity.
What was your favorite class at SOLES?
For the Human Diversity course I took, we went to the UN School for Peace in Costa Rica. We spent a week there learning peace and conflict resolution, and we went up to the cloud forest and an environmentally friendly school to learn about mindfulness and peace work. That was special because Costa Rica is one of the most peaceful countries and it was cool to see a model for conflict resolution that was really systemic in terms of the government, and then schools teaching families.
Where was your favorite place on campus?
The plaza outside of SOLES and Bert's Bistro. There's a long fountain that looks out over the ocean. I would bring a breakfast burrito from Roberto's on El Cajon in North Park and get to campus early so I could sit out there. I would take in the view with my breakfast before my day of classes. It's not a bad spot. I remember watching an eclipse from that same veranda and seeing fireworks one Fourth of July.
What is your favorite memory from your time at SOLES?
A lot of my favorite memories are from the study abroad opportunities the program offered. Our Family Systems I class went to Hong Kong for 10 days and we got to learn from Wai Yung Lee, a principal student of one of the fathers of family therapy, Salvador Minuchin. Salvador Minuchin developed structural family therapy. We got to see Wai Yung Lee do a live session of structural family therapy at an eating disorder clinic. It was enriching to meet family therapy students from Hong Kong and work and learn alongside them. From that experience I was able to co-author an article for Family Therapy Magazine with Dr. Edwards, Dr. Williams, and another Hong Kong University student. We wrote an article about international education for marriage and family therapy students.
Did you take any other international courses?
Just Costa Rica and Hong Kong, which seems like a lot for a graduate program.
Tell us a little bit about your journey since graduating from SOLES.
I finished my hours in San Diego at an early psychosis clinic (Kickstart), working with teenagers who were experiencing the early signs of psychosis. I worked with them and their families to limit stress and to teach them about psychosis. The research this program used actually limits and prevents psychosis from getting worse. I don't think a lot of people realize that things like schizophrenia or psychosis are preventable if you lower stress in a teenager's brain. Before starting at Kickstart, I had never imagined working with schizophrenia. I think a lot of students are intimidated with more severe mental illness because there is such a strong stigma attached to them. Through my time at Kickstart, I realized the stigma was very damaging and psychosis--when caught early--can be very manageable.
After that, my husband and I moved to Oakland where I finished my hours. Since moving up here, I now wear a couple of hats. First off, I work with a company, Well Clinic, in San Francisco where I am the HR director, I see couples, and I supervise students in training. I also have a private practice in my neighborhood in the East Bay.
The biggest life change came last year when my husband and I adopted our daughter; we started the adoption process a year before we were matched with her. She just turned one in June.
A lot of professional and personal life accomplishments have happened since graduation. It's been eight years, but it feels like yesterday. Eventually, we'd like our journey to take us back to San Diego where we can put down our roots.
Excitingly, I am teaching Introduction to Family Counseling this fall at USD. I'm excited to be back in the classroom at USD teaching students the skills and theories that I use; it feels like coming full circle.
How long did it take for you to get licensed after graduating?
That's one of the reasons I chose Kickstart, because I wanted to get licensed as soon as I could. I had to wait nine months after finishing my hours until being able to take my exam, which was way too long and way too common for those who were in my class. I think now it's two or three months, which makes the process take less time. After all was said and done, I finished within two and a half years of graduating.
How would you say your education from SOLES has impacted your career and your career goals for the future?
This is something that I tell everyone who is looking into graduate programs; I think being at SOLES made a huge difference in the trajectory of my career, in terms of my skill set and my knowledge base. As well as preparing me to think critically in an evidence-based way. I felt like USD was a top tier education and I feel fortunate to have chosen SOLES.
The MFT program put you in this mindset to think professionally from day one and that set me light years ahead in my career. I'm really grateful for Dr. Edwards, Dr. Patterson, and Dr. Williams—they're respected voices in the field, so to learn from them and from the textbooks that they wrote felt pretty amazing.
How do you remain in touch with SOLES?
As I mentioned, I am teaching Introduction to Family Counseling for SOLES this fall, and I am excited to reconnect in such a direct way. Additionally, I have colleagues with whom I still keep in contact with for consultation, we're going to each other's weddings, and reconnecting by getting our kids together over the holidays when I come to San Diego. Every now and then I talk to Dr. Edwards and Dr. Williams to see how they're doing. I continue to network with people from the program. The professional network is a big way of keeping in contact.
Do you have any advice for a current MFT student at SOLES?
Savor it while you can. This is a quick ride, and it's going to be really rich with a lot of good experiences and information. Slow down and savor it while you can. It really feels like a one year program because you're in practicum the second year and just as soon as you get the hang of it, you're signing up for graduation.