SOLES Alumna Spotlight: Taylor Valdivia '18 (MA), Marital and Family Therapy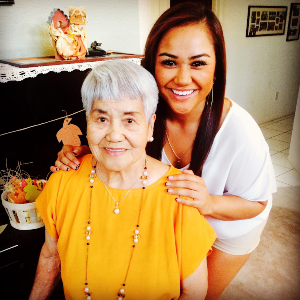 begin quote

It was very empowering to be in classes where students wanted you to do well and the professors were there every step of the way.
I am honored to dedicate this spotlight to my Grandmother:
I am so blessed to have had the honor of being your Granddaughter. Although I will no longer hear your voice, my heart will continue to have conversations with you every day. To have the chance to be a part of your life and receive your love...I am forever grateful. Thank you for being my inspiration, supporter, and hero. My love for you is infinite.
Alejandra Guiang Nanquil, January 18, 1928 - May 31, 2020
Tell us about your degree program and why you chose SOLES.
When I was in college, I knew that I wanted to be somewhere in the helping field. When I first started college at UCSD, I did a summer bridge program and I had an academic transition counselor who was so incredible. To have someone to be able to bounce ideas off of, both emotional and educational, it was a very culturally competent program. I fell in love with the program. I was able to become a counselor, figure out that I wanted to do specifically mental health, and then at the end of my third year I started thinking about what my next options were. It was either a PhD with a psych degree, or MFT, or clinical counseling. I wanted to stay in San Diego; because I was born and raised here, I wanted to give back to a community that gave me so much. To get into the mental health field, to be able to help others and be a part of their life, was something really touching and really inspiring to me. For MFT, specifically: working with relationships with others, their families, their relations to other things; that's why I honed in on the MFT program.
I chose SOLES because I loved the diversity statement within the mission statement. That was something that was really important to me when I was looking for a program. I am half Filipino and half Mexican, so I grew up in a bi-cultural house learning about different things and being very open. Growing up in Chula Vista, California, it was always very culturally diverse. When I was looking at the practicum sites that the SOLES MFT program had to offer, they were all in communities and parts of San Diego that I just love. Also, the smaller class sizes was something that was really different for me; I think my smallest class size at SOLES was five or six people. I thought it was fantastic really getting to know the professors and the members of my cohort, who are still some of my closest friends today.
Who was your favorite professor at SOLES?
I have two favorite professors: Dr. Larry Chamow, "Dr. C.", and Dr. Florencia Lebensohn-Chialvo. Larry is very well-established in his time as a therapist. He taught one of my first theory classes, and he was also my first practicum supervisor. Literally anything that came out of his mouth was wisdom; it was gold that he was able to share with other people. There were moments when he was able to pick up on certain things, and I would think "Wow, that's something that just comes along as you continue to practice". He was always present, which I appreciated. In every class, in every moment, in every supervision, he was there with you and there to encourage you to grow. But also challenge you on your weaknesses, which was okay because we were just students in our first year and we're always continuing to be students as therapists. It was terrifying to be challenged in that aspect, but to have his feedback was so validating and so inspiring. I just respect him so much. He's so awesome. And then Florencia, she was also one of my first individual supervisors. She was such a light; always positive, very was invested, and so kind. She would grow with me, and allow me to grow and give me the space to grow. For both of them, they brought in that cultural aspect to all of their classes. And that was important to me. When I was at Catholic Charities, I was serving Latino/a and minority cultures and it was nice to be able to have a cultural lens to be able to work with.
What was your favorite class at SOLES?
I really liked Dr. C's Theories II class. It was applicable to everything. It was a good mixture of lecture and getting information and being well-versed in theory, but also application. I think that was something really important that I found specifically in that class, but also in a lot of Florencia's classes as well. The balance between I'm here to learn and I'm here as a student, but also how can I apply that in my future time as a therapist. I'm at Kickstart right now and we have practicum students who would bring up certain interventions and I would say, "Oh, that's from Dr. C's class!" And they would ask how I would remember that. And it was just nice to be able to apply things and see it through. Also, Human Diversity and Trauma; that was neck and neck with Theories II because they are more specialized in specific areas that I have gravitated towards throughout my time. They both allowed me to grow.
Where did you go to complete your international experience?
Our class went to Madrid, but unfortunately I wasn't able to attend. Instead, I did an individual experience and went down to Guadalajara. I have family down there. My aunt, who is also in the behavioral health field, showed me around their mental health system. I didn't have the same experience going abroad as my cohort did, but to be able to see it with the community that they had. They also had an integration of care that was very fascinating; to see how smoothly it worked in their transition down there was nice. I was very thankful to be able to have that experience down in Mexico, but it was hard not being able to go with my cohort. The support that I had in finding alternatives to the class experience was great.
Where was your favorite place on campus?
I really liked the graduate student lounge in Mother Rosalie Hill Hall. I would go there in between classes and just hang out. That was the spot my second year. My first year, it was probably outside on the West Plaza. I didn't really venture out much to the rest of campus.
Were you involved in any student organizations on campus?
I was one of the SOLES Ambassadors for the MFT program, which was a lot of fun. It was really awesome to be able to chat with prospective students. When I was interviewing and applying to the program, I was able to check in with current MFT students. To be able to pay it forward by being accessible and able to share how incredible this program has been, all of the things that I've learned and all of the growth that I've done, and all of the connections and relationships that I've made…it was nice to be able to share that with other people. It was just so impactful.
I was also the CMFT representative for the SOLES Graduate Student Association. It was nice to see the other programs and all of those different representatives to see their world and the things that they were doing. To see how the teaching programs were, and the PhD candidates, and leadership studies; it was nice to see that balance of seeing SOLES as the whole school. It was cool to meet all of these other people and creating those relationships was also something really valuable. I was also on the SOLES Diversity Committee; I attended those meetings with the Dean. That was really interesting to hear about how we were functioning in SOLES.
Did you participate in the MFT mentor program?
Yes. My mentor was super awesome, and then it was fun to take that role and be a mentor myself. I was very fortunate to have a very good mentor and a good mentee. Now, I still keep in touch more with my mentee.
What are some of your fondest memories from your time at SOLES?
Probably just our first day. I remember it like it was yesterday; I know who all of the alumni were that were there and the friends that I met on the first day. It was very comprehensive in how they formatted it. "Mother Rosalie Hill Hall is going to be your home for the next two years." We explored the rest of campus, but it was clear that when I come back as an alumna, this is home. That was really comforting. Also, the Latinx and Asian American graduates celebrations were really, really special. That was nice to have both of my cultures represented. Those two are the most that stand out.
The events that were the most challenging were preparing for practicum. It was very intense and I think I was more worried and stressed out about practicum than some of my tests. I learned so much that prepared me for applying for a job once I did graduate. Going through those interview processes, making sure that my resume is up to date, knowing what questions to ask, how to be prepared, and what to expect. That was one of the most challenging experiences, but definitely one of the most beneficial experiences.
Tell us a little bit about your journey since graduating from SOLES.
The journey has been wild! It's been great. I was at Catholic Charities for my practicum, and I felt like I had a really good experience there—incredible experience there—and a good chunk of my hours done. I was kind of counting down the days until I could get my transcript so that I could apply for my associate number. I had my applications lined up and ready to go out, so once I got my associate number I input the number into my applications and sent out 13-15 applications in mass. I got my associate number on a Wednesday and I sent everything out by Thursday. I just wanted to start! I wanted to have these opportunities and continue to go forth. I applied for all these positions and I heard back from 10 of my applications. I decided to interview for four of them and, thankfully, I got offers from all four. That was really awesome. And those interviews were all within two days of one another, so it was very, very hectic! And they all wanted responses very quickly. I called Lily Vistica and Dr. Lebensohn-Chialvo to ask "What do I do? How do I even do this? They're all really great programs." I was just so thankful to be able to talk through what was going on in my head and to share my excitement. And to give a lot of my appreciation to them because they were so helpful. I chose Kickstart, and I've been here ever since! I've loved it, and it's been fantastic. Going into my MFT graduation, I thought I would never work with severe mental illness but I couldn't have been happier with my decision. I've learned so much at Kickstart and I'm very thankful for everything I learned at USD and in my training now. I finally got my hours approved, so I'm just waiting to take my licensing exam next month, which is wild. It's been fantastic. I kind of hit the ground running once I graduated and I continue to look forward.
What do you do to take care of your own mental health?
A lot of the professors in the program preach a lot about taking care of your own mental health. Dr. Lee Williams talked about that in his first lecture to practicum. And we thought, "Okay, Lee…we'll make sure we take care of ourselves." And then practicum hits, and you're wondering what am I doing for me? For me, it's definitely a lot of family time. Thankfully, all of my family is in San Diego so I'm able to check in with them. Going outside and seeing the sun…I think there were months where I would go to work and just run around inside, and by the time I was done it would be dark and I'd be really sad. So being outside. Also, getting out and exploring different places in San Diego. Even though I was born here, there's still so many places that I haven't seen. Taking time each week to find a new place to go walking, where haven't I explored, or what coffee shops would be fun to go to? Finding little places and hidden gems in San Diego has been fun.
How would you say your SOLES education has impacted your career and career goals?
I think it was the very well-rounded experience. It was nice to see that the MFT program hit all areas. What I really appreciated about our program was that it was so different from my undergrad because it wasn't competitive. It was very empowering to be in classes where students wanted you to do well and the professors were there every step of the way. It was very collaborative, very compassionate; it was a completely different vibe, setting you up for success with your academics. That was really, really nice to be a part of. Knowing that everything we were doing was for a reason; I knew that whatever I would learn, they were things that will come up in my work as a therapist. In addition to me being 100% there, so were the professors. To see how their work within their populations, in their communities, and there experience…it was nice to see that they're just always up-to-date on everything. These are the topics, these are the hot things right now, and these are the things that you're going to want to continue to look at for. They were very present in everything that I needed to get done.
How do you remain in touch with SOLES and/or USD?
I email Lily and Dr. Lebensohn-Chialvo; those are the people that I've kept in contact with the most. I'm thankful to continue to be in contact with Dr. Williams for the alumni panels for the MFT program, the open houses, or just being there for the end of practicum, as well. That's been really cool to continue to stay in touch with professors and colleagues. It was so nice coming back last fall for the open house; that was a lot of fun.
What advice would you give to a current MFT student at SOLES?
One: trust the process. A lot of times in our training, we're told to encourage our clients to trust the process of therapy. But for an MFT, to trust the process that you're going through. It's going to look different for you than someone else in your cohort. Find those support systems within your cohort; those are the only other people who are going to know what going through practicum or studying for comps is going to look like. This journey is so incredible. I grew so much in those two years at SOLES. There are parts that I was and wasn't ready to address; some were harder than others. But trust that the things you learn at SOLES in the MFT program are applicable, not only in the classroom, but out of the classroom as a student, as a person, as a therapist, as anything. So trust the process.
Two: breathe. We know to do it; we teach deep breathing and managed breathing. Know that it's okay to take a step back and reflect on the moments that we're experiencing. I call it the doing verses being. A lot of times I think about what I need to be doing, but am I really present and being able to be me, and breathe, and be in this really, really special moment. I think being a therapist is one of the greatest jobs. You get to talk to people throughout the day; it's awesome! You get to be a part of someone else's life and you get to be in their process, but you're also continuing to grow every day. I think that is just so incredible.