SOLES Alumna Spotlight: Cynthia Sistek-Chandler '07 (EdD), Educational Technology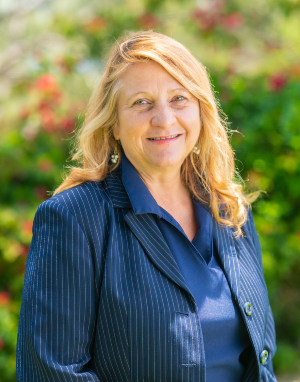 begin quote

Really immerse yourself, especially in research, and take every bit of mentoring that you can obtain from your professors.
Tell us a little bit about what led you to SOLES.
Integrating technology has been in my "soul" since I've been a classroom teacher. My early introduction to educational technology began during my days as a first grade teacher in a one computer classroom in Paso Robles, California. After I received my master's degree in curriculum and instruction from Cal Poly San Luis Obispo, I left the classroom to work for software publishers and became a Software and Curriculum Expert; this is when software, and later CD-ROM, became "the way" to deliver curriculum. As a consultant, trainer, and writer of curriculum guides for software, I began to notice the promise of technology as a tool for teaching and learning. I worked in the industry until the mid 90's.
In 1993, I began teaching teachers at Cal State San Marcos; it was the class that helped teachers integrate technology into the curriculum. As a teacher, coach and professional development specialist for technology initiatives, I worked for many school districts and for the San Diego County Office of Education.
At this particular time in my life, I wanted to pursue my dream of obtaining an advanced degree in Educational Technology. I learned about the program at SOLES in 1999, and in 2000 I started the joint doctoral program with SOLES and San Diego State and finished 7 years later in 2007. It took me a while, (ha ha). We were the very first cohort for this joint doctoral program and I believe it took us awhile because we were still attending classes face-to-face, even though we were creating blogs and using digital materials; we even created websites to establish our professional presence. There was very little blended learning in those early days of the web. 20 ago, you had to FTP everything to a server, not like today where everyone can publish on the web. Fast forward, I really am one of the pioneers of EdTech and of online teaching. Did I tell you I've been teaching online since 1999?
What made you choose the program at SOLES versus other programs?
Being that is was in San Diego, it was very convenient. And I always had an affinity for USD. I was just delighted to find out that it was a joint doctoral program. Receiving an education from two separate institutions, each campus and respective professors had a unique perspective.
How did a joint program with another university work?
There were about 25 of us who started…half of us were focused on Literacy, and then the other half were focused on Educational Technology (EdTech). The EdTech courses were primarily taught by San Diego State professors. We went back and forth between the two campuses for our classes. That was enjoyable because you were really able to get the perspective of two different streams of thought; we had some professors who even co-taught from both institutions, which was a lot of fun. We had a real "mixed bag" of people; we had someone who was a director at the Scripps Aquarium, we had K-12 classroom educators, we had some school administrators, and some educational technology consultants. It was a nice demographic and a great group of thinkers to work with. The older people (40+) kind of gravitated together. I started the program at age 42 when my twins were two, and then one of our cohort members had triplets. It was an interesting journey with twists and turns and life cycles.
The program was a lot of work, but I always knew that I wanted to obtain my doctorate degree. I felt that it would give me more "credibility" among my peers. I also knew I wanted to write and, until 2005, I was a contributing editor for Converge Magazine (magazine writing is not exactly academic writing). Little did I know what a writing endeavor the dissertation would become.
Who was your favorite SOLES professor?
Dr. C. Bobbi Hansen was my mentor and an inspiration throughout my graduate journey. The interesting story about Dr. Hansen is that she was one of my professors when I attended Cal Poly San Obispo for my credential and my master's degree in the 80's. She inspired me to continue on with my education. Dr. Hansen did not teach in the doctoral program, but I did become her graduate assistant; we worked together on an NSF grant and we drafted a book project. I could not believe that I was reunited with her after our Cal Poly experience. This program at USD was really "meant to be". She joined my dissertation committee and guided me through the dissertation process.
Dr. Fred Galloway was also just an incredible support as my dissertation chair. Before coming to USD, Fred and I had a circle of mutual friends that we knew together and socialized with. Two other professors, Dr. Jerry Ammer (USD) and Dr. Vanessa Dennen (formerly SDSU) were also so inspiring. They co-taught and had a really interesting dynamic. The class was all about new ways to look at discourse through electronic media--using blogs and using threaded discussions, so it was really "right up my alley" in terms of online learning which I was immersed in as an adjunct faculty. Dr. Vanessa Paz Dennen (now at Florida State) is a role model for EdTech. I continue to follow her work and have met up with her at conferences.
Do you have a favorite class that you took on the SOLES side of your program?
It was a literacy class on exploring our personal history and journey with literacy. Everyone prepared a presentation/demonstration that really got to the heart of who we were. We identified our beliefs and philosophies of education. Everyone did something different. There was one woman who had spent time in Japan, so she did a flower arrangement (all in Japanese) talking about her life using the metaphor--using the actual flowers--and arranging these flowers as she was talking about her life. That was just phenomenal! This class gave us the freedom to really put our personal stamp on who we were and how we were moving forward. It was one of the first classes we had at USD, and there was one member who came out with their sexuality and talked about their personal stories; it was a very heartfelt class where we were really able to be…personal…and ground that personal with the professional, as well as explore the supporting academic literature connected to the field literacy. It was incredible. Oftentimes when I was at San Diego State, I didn't feel that kind of connection; I didn't feel that cohesiveness and that ability to really personalize our education. USD really afforded us that space because it's smaller and just had more intimacy. Later on, we did break up into smaller classes--and that was a great experience.
Where was your favorite place on campus?
When the Joan B. Kroc Institute for Peace and Justice opened, we had a couple classes there. It was and is so beautiful. Many of us returned for the opening of the Mother Rosalie Hill Hall...what a gorgeous and majestic facility!
Tell us a little bit about your journey since graduating.
I did return to USD as a guest speaker, co-taught a few classes with Dr. Hansen, and taught a leadership and technology class with Dr. Rich Thome. A group of us also participated in the NCATE Accreditation. By that time, I was full-time faculty for National University—I worked as an Interim Department Chair for the School of Media and Communication, and I am now in the Sanford College of Education.
In my heart, I always thought I would work for USD, however the positions that have opened were for Assistant Professor and I had already become Associate Professor. In 2019, I became Full Professor which is a huge accomplishment. Over the last 13 years, I have delivered a hundred presentations locally and internationally. Most recently, I've been publishing; I have written book chapters on many EdTech topics, on Mindset and Motivation, journal articles on the "Role of the Instructor in Online Classes", and just published and edited a book for IGI Global, "Exploring Online Learning Through Synchronous and Asynchronous Instructional Methods". This coming year at National University, I will become a program director for a new Master of Arts in Social and Emotional Learning. I am very excited about this direction for our college and for the university.
My involvement with the educational technology community has also surged. Since the mid-80's, I've been engaged with an organization called CUE (formerly Computer Using Educators). I was a board member for my local affiliate for 23 years, President for 3 years, and before that I was a member. For over 35 years now, I have been a member of this professional organization and it's kind of funny that I am considered a "pioneer". For my lifetime contributions to the EdTech community, I received two distinctions from CUE: in 2001 a Gold disk, and then later in 2014 a Platinum disk. In 2019, I was again honored with the "Making IT Happen Award" from CUE and from the International Society for Technology and Education (ISTE). It was a huge, huge honor! In May this year, Ed Tech Digest awarded me the 2020 Higher Education Technology Leader of the Year. I am so humbled by this recognition as I am continuing to make my mark and grow as a contributor and leader in this field.
How have you remained involved with SOLES since you graduated?
Because two of my four doctoral committee members were from USD, I have a close affinity to USD. Dr. Fred Galloway and Dr. Bobbi Hansen are both still in SOLES. I actually invited Fred to be an external evaluator for a National Science Foundation grant that I applied for on behalf of National University; it was on CyberSTEM. Bobbi and I worked together for the California Math/Science partnership and became STEM certified. Continuing to work on local STEM initiatives with her has been an enriching experience.
As for our cohort, I am actually a catalyst for staying in touch with people, but we kind of never really created a Facebook page (until last fall) and we never really had a cohesive way to stay in touch with each other. Social media has helped a little with this. I would certainly like to re-connect with people, especially our professors.
If you could offer a current SOLES student advice, what would it be?
Really immerse yourself, especially in research, and take every bit of mentoring that you can obtain from your professors. Really take time see some of the unique attributes that our institution can provide for you (like getting involved with organizations and seeing where the intersections occur—such as Character Education with Dr. Ed DeRoche). Keep in touch with your professors; they are your mentors and they're your mentors for life! Through Bobbi Hansen and Fred Galloway, USD has opened a lot of doors and has given me great pride to continue on learning from these incredible mentors. Engage in academic endeavors, making sure you're connected with professional organizations, such as AERA, and really just stay in touch!
Do you have anything else that you might want to add to your spotlight?
I will always remember the way USD honored us when we obtained our doctorate degrees. There was a special brunch and two receptions. USD really enveloped us and honored our accomplishments. The speaker at the brunch noted that we were in the 2% club, meaning that only 2% of all American's hold doctorate degrees. It was really a big deal and I felt very, very honored. I was also very honored that both my mom (from the Central Coast of CA) and my dad (from Ohio) were at that crowning moment of my dissertation defense, and they, along with my committee (Dr. Fred Galloway, Dr. Bob Donmoyer, Dr. Bobbi Hansen, Dr. Cheryl Mason from SDSU) made it all worthwhile!