SOLES Alumnus Spotlight: Anthony Franco '17 (MA), Higher Education Leadership Studies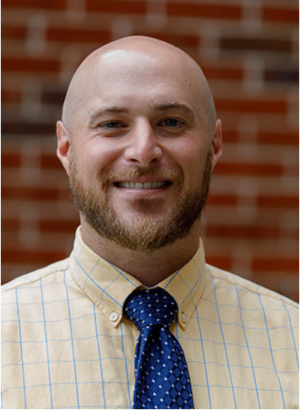 begin quote

If you're thinking about social justice, social equity, or equity in any shape or form, USD is the school for you; but within USD, the programs at SOLES force you to have those conversations.
Tell us about your degree program and why you chose SOLES.
I originally applied for the Leadership Studies program and was admitted to that program. But then the director of graduate admissions asked if I also wanted to apply for the Higher Education Leadership Studies program, just given my background. So I thought, why not? Because I work in college admissions, on the high school side of college admissions, as a high school college counselor. I kind of read between the lines on that one…you're not going to reach out to somebody who you probably would deny access to that program. So I applied to the Higher Ed program and was admitted. At the time, I was working at a boarding school in Ojai, CA, and I didn't really want to go back home; I'm originally from Massachusetts and I wasn't ready to leave California. I decided to deposit because I had always envisioned moving to San Diego.
What was your favorite class?
I have four that really pop out, and all for different reasons. 550…I think everybody hates it, but I think everybody hates it because they actually like it and they don't know how to articulate why they like it. It's like the matrix; when you're in there, you just have no idea what's going on. I think it builds an appropriate foundation for the rest of your time in the program. I think therefore because of that class, I really enjoyed the class with Dr. Zachary Green that I'm pretty sure was called Group Relations or Organizational Leadership Theory. Dr. Green is an incredible human being and, because you are dealing with all these things in 550, you learn to deal with it in his class. The way he forces you to introspect is potentially life-altering. I still stay in touch with him because I admire him deeply and look up to him so much.
My two other favorite classes, largely in part because of the professors, were global classes. I took the Northern Ireland class with Assistant Dean Linda Dews and Dr. Lea Hubbard. It was awesome because there was a great group of us, but it was also awesome for me because I'm Irish. At the time, I had an uncle who was dying of cancer, and I had the opportunity to be on the street that his mom was born on. I took a picture of it and sent it to him while he was in the hospital. And it was great to be able to do that and be more connected to my roots. But I think the group experience was awesome because my friend and I were the only two on the trip that were from the Higher Ed Leadership program. Everyone else in the group was from the Learning and Teaching program. We were engaging with people outside of our little bubble in higher ed, and that was just awesome to collaborate. Relatedly, I took a class with Dr. Erika Cameron in Japan; that was with the Counseling department. That was really cool because I wasn't really "othered" in any way shape or form. I didn't have the text for some of the terminology that was being used, so I had to think on my feet. But it was fine because they would give me a quick synopsis on what we were talking about and then we'd move on. It was also fun to be there because Dr. Cameron opened up her family doors to us; her dad and her brother were there. That adds another element to why we all fostered such close bonds, because she was vulnerable with that. It was the first time she had been back to Japan since her mother's passing less than a year prior, so there was a lot there. Similar to Dr. Green, I just think she's an amazing human being. She made the class that much better.
Those are the four that really stick out to me, because they are seminal to who I am and they were impactful given the relationships that I built with people in the class, as well as with the professors.
Who would you say your favorite professor was during your time at SOLES?
I think I've pretty much alluded to them already, but who I haven't spoken about is Dr. Christopher Newman. I know he's no longer at USD, but he was my advisor and he taught the race, gender, and culture class. I actually use that syllabus for a class that I teach now; it's called Race Relations in America. I borrowed some of the stuff we did in that class, and I moved it over to our class for the high school level. I really think the top three were Dr. Green, Dr. Newman, and Dr. Cameron. They were the most influential for me.
Linda Dews and Dr. Hubbard are also excellent educators; they made the class relevant, while also enjoyable and loose. They were integral to my time at USD. I'm especially grateful for Linda's support as she recommended me for one of the jobs I had while I was down in San Diego.
Were you involved in any student organizations on campus?
I was part of the Dean's Student Advisory Council (DSAC). I think it was Dean Ladany's first year. It was really hard to be engaged with campus or feel part of the community if you were a non-SASC person, because you had to forcibly have a touch point with someone at the university. That was fine with me, because I had built relationships with people in SASC and the professors. But if you're quieter person or shy, it's a lot harder to be engaged or figure out how to engage.
Where was your favorite place on campus and why?
My favorite place to study was definitely in the basement of Copley Library…all the way in the corner away from everybody. My favorite place to observe nature was behind the IPJ in the Garden of the Sea. Anything in that area was just beautiful. Also, if you walk straight through the Shiley Center for Science and Technology building, there's a little seating area that overlooks Linda Vista Road. I would do work out there because it was a little secluded; you could see the road and see nature at the same time.
What is your fondest memory from your time at SOLES?
My favorite memories of SOLES are being in the classes that I've mentioned. Trying to figure out 550, and being eight weeks in and still not knowing what's going on. The experience of traveling, being in another country, and experiencing what it's like to be an outsider and being with other people in a shared endeavor. I had been outside of the country, but I had never studied with other people outside of the country. I think there is a shared experience in that, despite all of us being outsiders. In Japan, I didn't speak the language, I didn't know anyone in the class, and I'm learning in a setting in a field that's not my specific field. But at the same time, all of us were part of USD, all of us were learners, all of us chose to do the experience; so there were some shared things. For me, my fondest moments were of those traveling experiences and how shared opportunities allow for people to come together. I think there is a distinct difference between community and culture. When you're in those experiences, you're trying to create a culture within the larger culture of that experience. And I think those are the moments that I'll remember from USD.
Tell us a little bit about your journey since graduating.
In my final spring semester, I was applying for a bunch of different jobs. I was jetting across the country back and forth because I had done a nationwide search for a job, even though I really wanted to stay in southern California. I was offered two different jobs, and I chose this one and to move back to New England. One, because of the name of St. George's (I know that it carries a lot of weight in the boarding school world), but also because of the people who I interviewed with; it looked like a great opportunity to be a part of a really good team. And, I'm only an hour and ten minutes from my mom and my nana. I was raised by a single mom; that's also why education is important to me, because I was the first in my family to go to college. Being close to my mom and my nana is super important. I had been far away from them and I wanted to stay in southern California, but I also knew that it was important to be closer to home. My nana's not getting any younger.
So, I took this job at St. George's school as the Associate Director of College Counseling, and I just finished up my third year. I work with a caseload of about 30 high school juniors and seniors. I counsel them about what colleges they might be interested in and advise them on particular programs depending on what they say in our meetings. I also co-teach an elective class, I'm a dorm parent in a dorm of thirty guys, I'm an academic advisor, and I coach football and baseball. My job is full tilt. I do everything under the sun until summer hits, and then my job is pretty laser-focused on professional development; either in the residential life sphere, in diversity and equity sphere, or college counseling. I rotate every summer; most years it's college counseling and res-life, or college counseling and diversity, because most of the college counseling programs are in the summer.
That's kind of what I've been up to. It's been a lot of professional development, which builds off of my personal development and my time at USD.
How has your SOLES education impacted your career and your career goals?
SOLES is the reason why I am that much more devoted to equity and inclusion in the job that I have. My job is kind of middle management in many ways, but when I throw my weight behind things it is in large part because it is some conversation related to diversity, equity, and inclusion. Though that was part of who I am prior to SOLES, and prior to the jobs I had before attending SOLES, SOLES is the reason why I am so much more confident in what I'm doing when it comes to that. I have the background now because of SOLES, but also I have the language and I am unafraid to say whatever I have to say. I'm so much more confident and it's all because of SOLES. That's such an undercurrent of what is being taught in that degree program, and I really latched onto that in my time there. If you're thinking about social justice, social equity, or equity in any shape or form, USD is the school for you; but within USD, the programs at SOLES force you to have those conversations so you can figure out when you're on the right side of history or not. I owe a lot to SOLES on that. I am on a council here at St. George's, and I am unabashedly vocal about it because I know that I have the language because of SOLES.
If you could offer a current SOLES student advice, what would it be?
One, take classes outside of the Higher Ed track. Find a way to take it. Two, don't be so myopic about your next potential job. It doesn't have to be within student support services, but it can be under the umbrella of education. It doesn't even have to be within higher ed specifically. Three, just continue to challenge yourself like you've already challenged yourself. Continue to challenge yourself every day while you're still in the program, because if you don't, then what was the point of the degree?