SOLES Alumna Spotlight: Angelica Sleiman '13 (MEd), Curriculum & Instruction, '18 (PhD), Leadership Studies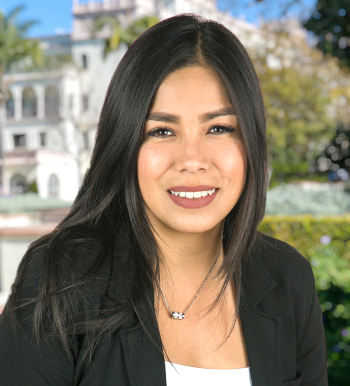 begin quote

The caliber of students and the caliber of faculty are what attracted me to USD to begin with. I have yet to be proven wrong, from both as a student and as a teacher in the program.
Tell us about both of the degree programs you participated in at SOLES.
I received my Master's in Education, in Curriculum and Instruction. At the time, our district was pushing a three month master's program at a different university; it's purely during the summertime, you don't have to deal with classes while you're working simultaneously. At the, time I was a teacher and the biggest need I saw in the classroom was in mathematics. My students were doing a lot of things procedurally and I wanted to make sure that I knew how to teach them in a conceptual manner. So I sat in on a couple of classes: Dr. Joi Spencer's class and I sat in on one of Dr. Lea Hubbard's classes. What attracted me to the program was how small it was, first and foremost; it capped out at 15 students and I was looking for more of that one-on-one time with professors, more of the cohort model, and I thought that programs at other universities didn't compare to the caliber of students and the caliber of teachers and professors that were at SOLES. I decided to go that route and go to USD. I applied to USD for my undergrad and unfortunately did not make it in during my undergrad; in high school I also didn't have the grades and I would say "the dedication" towards school work. It had always been a dream to come back, to go to USD. I can't speak enough about going through the Action Research at the end. Well, the Capstone project--that truly transformed me as an educator. It really helped me to see what I could do with interventions to put in place to teach my students mathematics in the conceptual manner and Dr. Spencer actually ended up being the person that was my mentor during that time.
Did you start the PhD program right after you received your MEd?
I took a year off. I was actually debating between an EdD and a PhD since the majority of administrators in my field tend to get the EdD. I started looking at different schools. I looked at USC, for instance. They have a remote campus in Orange County, so I thought that could be something that I could do. But then again, I also liked the small cohort model that they had at the time at USD --I think they admitted 17 students. I was looking to brand myself differently. I had done everything in education and I wanted to look at something that, if I wanted to become a consultant not only in the educational field but also in organizational management etc., so I knew that if I continued to pursue another education degree in order to market myself, it would be a lot harder to do. In the end, I went the route of the PhD in Leadership Studies. Also, I did want to be involved in academia and just having the ability to publish. I knew the PhD route was going to educate me more on different research methods than the EdD would.
Prospective students often ask how feasible it is to complete the PhD while working full-time, can you speak to how you navigated that?
It's not impossible. It's definitely difficult, I'm not going to sugar-coat that in any way, it is difficult. I think if you start forming strong time-management skills and also know that it's impossible to read everything, and be ok with that. I think that took me an entire semester to find out and I wished somebody would have told me that from the beginning it was not possible to do so. Even if you don't read every single thing that they provide to you, take advantage of the discussions that you're going to have. It is possible, and your time-management skills are going to be of the most importance. I started getting to the point where I'd ask professors, "I am working full-time [...]," they knew my situation, "[...] this week we have six readings, which of those should I prioritize?," and so that was something I would constantly be asking my professors to do, that way I just knew what to prioritize with the time that I had. But it's possible!
Who was your favorite professor during your time here?
For my MEd, Dr. Spencer and Dr. Hubbard were one of the first classes I took in the Master's of Education program. For Dr. Spencer, The Socialization of Education I believe is the class I took, and then with Dr. Hubbard it was Educational Reform. For me, they became two pivotal figures throughout my time at SOLES just because, again, I wasn't looking to just go in, get a degree, and get out. I recognized the wealth of experience and expertise that they have and so I was constantly setting up meetings with them. I would say Dr. Spencer more during my MEd program--she had more of the STEM specialization and I was transitioning to a school, the one that I'm currently at, that has a STEAM and a STEM focus. I was really seeking her out as I was making that move. For my doctorate program, it was Dr. Hubbard. She became the chair of my dissertation committee and she really was pivotal. At the time, she had a joint partnership between the Learning and Teaching Department and the Department of Leadership Studies.
What would you say your favorite class was from each degree program?
For the PhD, hands down, it was led by Dr. Zachary Green and I believe it was Leadership 500. Every single doctoral student had to take it at the beginning of the program and we were all essentially in a big classroom in Warren Auditorium, and we would split up into different groups. The purpose was to addresses the biases you brought in as a leader-- and how do you counter that, knowing that you are in a leadership position or want to be. That for me was instrumental. In the Masters of Education, I would say Educational Reform was definitely the class that helped me to continue to look at the populations that we serve and address the biases that you have. Those were two pivotal courses.
How did you complete your international experience requirements?
At the time of my MEd program, I was applying for citizenship and so during the two years that I was in the program I couldn't travel outside of the United States. I was allowed to do something unique where I actually went with Dr. Inoue to his Japanese school at Eastlake High School that he leads every Saturday. I got to experience that, but didn't get to travel to another country. I did in the doctorate program.
During my doctorate, I went to Northern Ireland with Assistant Dean Linda Dews and Dr. Lea Hubbard. It was to look specifically at the conflict between the Catholics and Protestants in the area. It wasn't an education class but it was in a time of social conflict essentially.
How do you apply knowledge from your action research to your role in education now?
I would say action research is more practical because, in my opinion, you can apply it to any field. Action research is just taking a problem that you have within your field, adding a couple of interventions in place, and then looking to see the effect of the interventions throughout a period of time, and gather data again to see if it's working. If not, then readjust and introduce other interventions. So I would say that we do that on a day-to-day basis, maybe just not calling it action research, but it's just more of a methodical way of keeping track of the interventions that you're putting into place and seeing whether they have an effect or not. I think in the classroom, as a teacher or as an educator, it's paramount to know that you have that skillset because you are constantly trying new things as a teacher. One day, what might have worked for one of your classes does not for the following year for your classes, or even day-by-day or week-by-week. I think it just provided me a very objective way of taking a look at my own classroom and my own data, and seeing what I could do to be able to help the students reach X goal at the time. I would say it could be used anyway. It's a practical research method.
Did you have any mentorship during your time at SOLES?
I honestly chose my dissertation committee because they each were mentors to me during that time. Dr. Hubbard--I was meeting with her probably every single week. It may not have had to do anything with my dissertation, it was just to bounce ideas off of her. Also, I had Dr. Cordeiro and Dr. Lattimer on my committee. They were both instrumental. I would say I consider all of them mentors.
During my MEd program, Dr. Spencer was definitely a mentor. As a former educator, and especially because I had such a passion of looking and improving my pedagogical skills in math, I would say it was definitely her as this was her area of expertise. I actually invited her to my classroom, outside of doing anything with my action research, just for her to come and observe me and provide me with feedback.
What is your fondest memory from your time at SOLES?
Very early on with all of our professors and all of our students, there was a family feel; they really made it a priority. The second that we interviewed, to our first classes, the professors made it a point that it really is a cohesive program; it's not "my class and that professor's class and that professor's class." They tried to take us to happy hours once a quarter to really make those connections and build community amongst us. I was say, more than anything, it was the connections, having that feeling of, "this person has my back," and "this person actually wants to get to know me and wants to help me," and that was something that I definitely felt across my cohort and across all of our professors, as well.
Tell us a little bit about your journey since receiving your doctorate from SOLES.
Halfway through the doctoral program, I took the position that I'm currently in with the Chula Vista Elementary School District. I'm an Associate Principal now and I have been in that position for the last 4 years, and with the district for about 11 years. I have also taught at SOLES, both in person and online. I have also started jumping into consulting. I've started working with a couple of companies here in San Diego. I have served as a consultant for a company to help draft their core values and their purpose as an organization, and that was something that I was very passionate about. I want to continue to pursue consulting, definitely. I want to expand my dissertation now that it's been some time; I want to expand the topic a little bit more, going on the route of publishing.
What kind of distance learning have you put into place at your school?
We are operating off of a blended model, it looks a little different by grade, but essentially we want every single grade level to have the same curriculum that is taught, it should not be the roll of the dice--"because I got Mr. So and So, I'm going to have a better program than X person." We are really pushing all of our teachers on prioritizing connectivity with their students. When this started, we told them, "your main goal is not to teach right now, it's just to call up every student, whether that's through Zoom or a phone call, just make that connection and see what they have available to them." We serve a very underprivileged community so we have rough idea that about half of our students don't have access to internet or to devices at home, so part of us reaching out before we implemented distance learning was seeing what each student has at their disposal, allowing us to cater our plan a little bit more to the needs that they have.
What do you do to keep up with your mental health?
I feel like you have to lead by example since we're always telling our teachers to take care of their own mental health. I love running, so that's something that I do at least five days a week. Prior to COVID-19, I was get up at 5 a.m. to go for a run, or I would go after work depending on what my day looked like. I also enjoy reading. Between reading and getting a little activity in--well, reading what I want to read, because in school you're just reading what your professors are telling you to read. Ha ha.
How has your time at SOLES impacted your career or developed any career goals?
Both programs changed me completely, as a person, so they definitely had a huge influence in the way that I approach problems. I'll keep going back to that first course we went through as doctoral students, with Dr. Green--it really helped us to take a deep look inside and look at the good, the bad, and the ugly. I feel that that made me aware of a lot of things that, prior to that, I don't think I would have dug so deep. It really was a course that truly transformed me. As much as I hated the process, it really was helpful. Because of that, and because of that course, I started to look into a leadership position, "I can do this." Halfway through the program I ended up applying for a leadership position; I think it just helped to push me out of my comfort zone more than anything. I can't really distinguish what the program has done for me as much because it's become part of who I am.
How do you still remain involved with SOLES and/or USD?
I didn't initially start looking into getting back into teaching or anything, but I did miss the classroom and teaching at USD kind of came about organically. Dr. Reyes Quezada is someone that I had kept in touch with because of the MEd program, and it actually came about because he often holds input sessions, especially now that one of their programs is going through accreditation. He asks from input from different districts that have USD student teachers, so he had reached out for us to come onboard and provide him input in terms of available preparation that their student teachers received. Through that conversation, I kind of gave him my ideas in terms of the level of preparation that I feel that USD student teachers have, and so it was just organic from there. He invited me to come onboard and teach in the program. Both courses that I have taught have been in MEd program. The first one was an online class; it was Family, Community, and School Partnerships. Then I taught Educational Psychology in person this last fall. I wanted more, and I did explain to him that after teaching online--though I loved the online—I was a former teacher, so for me I wanted to have that ability to connect in person. I really enjoy teaching Educational Psychology and I think it's something that I would teach again this upcoming fall. To me, more than anything, being able to have some sort of an influence on the student teachers and pointing out things I wish someone would have pointed out to me at the beginning of my career, or things I should have looked out for. I'm really trying to act as somebody that gives advice as much as possible and I encourage all of my students to, if they want to, come on campus, if they need help with interviews since a lot of them will interview and everything else. I don't want to be just a teacher in the program, I want to be as much of a resource as I can to them.
Do you keep in touch with your students from these classes?
Yea, I do! More so online through Twitter. I mainly encourage my students to get Twitter within the first week that I'm with them because it's used vastly in the education field; you can make so many more virtual connections and get so many resources online. I've kept in touch with almost all of them on Twitter and now one of them is actually at my site as a student teacher.
What advice would you give to a student in either program at SOLES?
I would say, hands down, network. Network, network, and network. I'll keep going back to the caliber of students and the caliber of faculty are what attracted me to USD to begin with. I have yet to be proven wrong, from both as a student and as a teacher in the program. I would say to network as much as possible with your professors; they are a wealth of knowledge and really do bring so much to the table that you can't even begin to imagine. Meet with them outside of office hours and build that connection. And same thing with the students. Every single student, even from my master's program and everything, have gone on and have great careers. I would definitely say network, from day one, and don't stop networking.