SOLES Alumna Spotlight: Dailyn Brown '18 (MEd), TESOL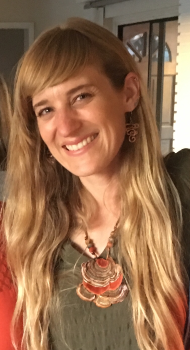 begin quote

My SOLES education has changed my life. I am doing what I dreamed of, working at San Diego community colleges with English language learners, and surrounded by a community of educators that I met because of USD.
Tell us about your SOLES degree program and why you chose it.
I earned my MEd in TESOL, Literacy, and Culture. I am a San Diego native, but could not believe how perfect the program was for me. I did not even have to leave home. I chose this program because I found the curriculum and focus around culturally responsive teaching to reflect my own interests within the field. I also wanted to study abroad and expand my understanding of how other countries teach English. I had been teaching for almost ten years in the field and wanted to be able to deepen my knowledge on a subject I had grown very passionate about. I had the practice under my belt, but I didn't have a lot of theory and understanding of different types of pedagogy.
Who was your favorite SOLES professor, and/or what was your favorite class?
My favorite professor was Dr. Molina. Before applying, I had read about some of the research she had conducted thus far in her career and was excited to work with her. She is a wonderful professor, and I learned so much from her.
My favorite class was EDUC 549P, Practicum in TESOL. I feel like this class really prepared us for our first jobs out of the program. We not only had time to practice our teaching, but also to draft CVs, create a professional website, and support out fellow cohort mates with our shared curriculum development.
Where did you go to complete the international requirement while you were at SOLES?
I studied in Tokyo, Japan. The course was EDUC 510i, Cognition and Learning. I conducted a cognitive case study on the importance of teaching culture in the English language classroom. I was able to talk to students, university students studying to become teachers, and even the school board in the town we were working in. It was an enriching experience that expanded my understanding of another culture and still impacts how I teach English today in San Diego.
Where was your favorite place on campus and why?
The Mother Hill Reading Room in the library because it felt like I was being transported to another place and time. I also like to study in a quiet place and it was the perfect place to experience beautiful architectural craftsmanship and silence.
What is your fondest memory of being at SOLES?
My cohort. We were the largest of any in the history of our program. And, we were mighty! I loved the two years I spent with that group and still keep in touch with some of my classmates today.
Tell us a little bit about your journey since graduating.
I have been working all over San Diego county since I graduated. I started at San Diego Mesa College, then Grossmont College, and eventually San Diego City College, and MiraCosta College. For a little while, I was at all four campuses during one semester! I had the pleasure of speaking at the regional CATESOL conference in the spring of 2018 about raising intercultural awareness while teaching target culture through film, and I hope to continue to share best practices at future conferences. I have continued my studies, as well. I am lucky to be able to take courses for credit through SDSU. It has been a great opportunity to connect with other professionals in my field, to collaborate, and to continue to learn about learning and teaching.
How has your SOLES education impacted your career and your career goals?
It has enriched my career in many ways. It has connected me with the San Diego TESOL community. I had colleagues who have become friends that I communicate often with, share ideas, successes, and failures. My SOLES education has changed my life. Now I am doing what I dreamed of, working at San Diego community colleges with English language learners, and surrounded by a community of educators that I met through, and because of, USD.
How have you remained involved with SOLES since you graduated?
I have the pleasure of mentoring a graduate candidate in one of my classes this semester. I plan to continue to be involved with SOLES in this way. I love mentoring teachers as much as I love teaching students.
If you could offer a current SOLES student advice, what would it be?
If you want to teach at the college level in San Diego after you graduate, become a Graduate Tutor during your studies. You can get paid to do all of your observation and practicum hours while also gaining valuable insight from your mentor teacher, networking at the college where you have been placed, and in turn, having a place to conduct your research. When you graduate, more doors will be open for you.