SOLES Alumnus Spotlight: Troy Williams '15 (MA), Leadership Studies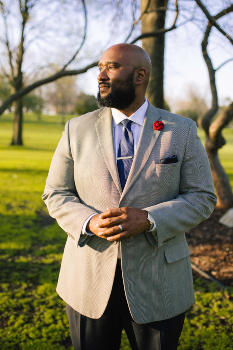 begin quote

With the work that I'm doing now, with the program evaluations with the implications that are coming from my research, it's literally changing the world, and if it wasn't for the University of San Diego, that would not be happening.
Tell us about your degree program and why you chose it.
I was a non-traditional student. I started a business right out of high school and I didn't start college until I was 24. That business was event planning and event promotion based in Atlanta, Georgia. Around 2008 when Barack Obama was running for president, he said, "I think all Americans should have a college degree," and I thought I might as well give it a try. The first semester I didn't do that well; I didn't have the techniques for studying. I started taking classes that taught me how to read effectively (the abstract, intro, and conclusion things that folks do) and I just started doing better and better. I switched my major from business to sociology, really got engulfed in sociology, started studying abroad, and just became a lifelong learner after that.
For graduate school, I knew I had to leave Atlanta. I conducted a study during undergrad at Clayton State in Atlanta with Dr. Rafik Mohamed. It was on Black college drug dealers, and one of the gentlemen that I interviewed--actually I didn't get to interview him yet, I was preparing to interview him--was murdered. That really scared me so much that I had to leave Atlanta. "Scared" is the wrong adjective, but it was so traumatizing and so shocking. We weren't best friends or anything…he was one of my best friend's best friends, so he was often at our house. So when he was murdered, it just shocked me. I said, "I have to leave Atlanta". USD was the first school to actively recruit me, so USD was top of my list. I applied to Chapman and Georgia State as well. I got into all of those schools but I decided to come to USD because I met Dr. Zachary Green and he just blew my mind during the visit. He told me, "You can choose those other programs, but this program will shape you and benefit you." He said it so eloquently that I knew that I had to learn from him.
Can you tell us about the documentary that you filmed during your time at SOLES?
My focus in the program was community engagement. So while I was there, another student and I were the only two master's students who chose to write a thesis. Along with my thesis, I filmed a documentary, which is actually how I started getting recruited by so many PhD programs. My master's research was on Black men from low-income/high-crime communities who don't commit crimes but are accepted by criminals. I interviewed people from Compton, California, Duncans, Jamaica, and Atlanta, Georgia, but I primarily did all the filming in Atlanta. A lot of the sociological theories out there state that, in order to be accepted by criminals you absolutely have to commit crimes. By reading all of these leadership theories, I saw that all the young men that I was interacting with and the young men from my community who I grew up with, never committed crimes but they were accepted by criminals. I examined what leadership theories they were using to kind of navigate these communities. After I began writing my thesis, I said, "I don't want this to just collect dust on a library shelf, it would be much more helpful if I could put this in video form." I scraped together my money from my savings and a lot of my checks from my assistantships and filmed a documentary, and it did very well.
What was your favorite class during your time at SOLES?
I had multiple…can I choose more than one? 550 and 551 are the Leadership Theory in Practice classes; that was the one in the summer and the one for the entire semester. Those classes really, really shaped me! I'm a program evaluator currently, and even in my current program evaluation (when I'm working with CDC federally funded folks) I still use some of those theories, those terms, and the wisdom that I gained in those classes with clients. Also, I should state this: moving to San Diego was the very first time I had been in class with, or interacted with, a white person, at all. I somewhat interacted with white people when I studied abroad in Jamaica but it's a different territory in Jamaica because it's an Afro-Caribbean country, right? So the majority of the population are of African descent. So actually being in San Diego was very, very, very different for me. Couple that with the 550 class, it was a lot.
I took the class with Dr. Terri Monroe. Now, I'm a star student and a dean's list student and I read all this stuff before class (she gave articles for us to read prior to arriving). So I get there on the first day, ready to engage, and she sits down and asks , "Where do we begin?" Someone yelled out, "I found this reading interesting," and she says, "Why do you think that's important?" And someone else says something else from the readings and she says, "Why do you think that's important?" Everyone just literally sat quietly for another five minutes.
My second favorite class was Dr. Green's class; it's right up there with 550. He really pushed me. I really felt like that class really set the tone for what I am doing right now professionally. I was used to being the CEO of a very successful company, my company grossed over a million dollars when I came right out of high school. However, the skill sets that I was utilizing in my business, I wasn't able to utilize that much in college at all. When I was in Dr. Green's class, I was able to really push through my specific leadership skills: rallying people together, being very detail-oriented, and being very, "Okay, you take this task and you take this task". I really think our last project working with the Bayside Community Center really set the tone for my PhD, my professional career, and so-on.
What faculty or staff members would you say really shaped your time at SOLES?
Dr. Chris Newman, the actual chair for my thesis. I'd say Dr. Green. John Loggins, of course, though he wasn't a professor; he was a TA in my 550 class. I would be really confused with what just happened in 550 and John would just talk with me for hours, and hours, and hours about, "Okay, have you considered this…?" I don't even know how to put it, but when you're Black in an all-white space, it's very difficult not to see things through a very racialized lens. If someone stepped on my shoe and didn't say excuse me, I would think, "That was a microaggression and that happened to me because I'm Black," and John would just say, "Hold on, let's wait a minute and stop and unpack that. Why do you think that?" and it was just transformational in my thinking. I'll give you an example; one day after 550 one of my classmates came up to me and said, "Troy, this class has been great. Prior to starting this class, I was terrified of Black people. Being with you and interacting with you has helped me navigate that a lot more." So for her, that might have been very cathartic and liberating. But for me, I thought, "Well, what do I do with that? I'm still a Black man." This was around the time Trayvon Martin was just murdered and Darren Wilson was just acquitted, and all these other things were just happening, and that was just very difficult to hold. When I would talk with John, he assisted me with navigating that with much more ease and I appreciated that. I will say this about our department, because we admit so many students, it's very difficult to develop the types of relationships that I needed while I was navigating that experience. However, Dr. Zachary Green and Dr. Chris Newman and John Loggins did an awesome job with helping me get through it. Also, the Black Resource Center and Dr. Ashley Barton. I won an award, called the Trailblazer Award, through the Black Student Resource Center when I was a student for my commitment, leadership, and perseverance, for the Black community at USD.
How were you involved on campus during your time in the program?
I participated in the Black Grad Student Association. One of the things they organized, they'd say, "Hey let's go to this meetup thing." I ended up meeting my wife because of that! I didn't organize anything, but I attended programming that they would put together. Also, more so than anything, my colleagues and peers, the friendships that I developed, were very central to me translating what was happening there. Friendships and peers I developed from that program…if it wasn't for those friendships, I wouldn't have been able to do it. I would have dropped out.
I was also a Resident Minister on campus and that was a really fun experience. I was a Camino Resident Minister and lived there. I don't want to say I oversaw the RAs, because that's what RDs do, but as a Resident Minister I offered counsel to them; untraditional counsel. I gave them advice and also worked collaboratively with my students, held weekly Emmaus groups, and organized community building activities, as well. Even as I transitioned over to my PhD program, I am very into building these types of spaces and environments were folks can just talk, chat, and get to know one another.
How did you complete the international experience requirement?
John Loggins, myself, and another student, in partnership with the Mulvaney Center, created a study abroad opportunity for graduate students to go to Jamaica. The program primarily focused on community engagement and how to engage with community partners and such, and understanding the culture of Jamaica. I actually supervised/oversaw that program three times; one time I went as a community consultant and the other two times I organized and recruited people to come and facilitated community engagement while I was there. That was my global experience.
Where was your favorite place on campus?
I spent most of my time in the library, the one right next to SOLES; Copley Library. Hours, and hours, and hours, and hours. My wife was working on her PhD at UCSD when I was working on my master's, and that's literally where we fell in love. We would spend from 5 p.m. in the afternoon until they closed together almost every week. My friends would make fun of us and say, "We don't even have that much to read," and I would say, "I'm literally reading every word. They are assigning 800 pages to read per week. I have to be here in the library to read this." Copley was my favorite place to study.
My favorite place to sit is right behind the Peace and Justice building, the IPJ. Also, offices where the Mulvaney Center is, I used to hang out there. And also the Black Student Resource Center, when it was in the basement. Those were great spaces. Like I said, moving from Atlanta to San Diego was extremely difficult. I even ended up working at UC San Diego after graduating from SOLES. I worked in their Black Resource Center and I began to notice how different USD is from the rest of San Diego. I think that was an awakening for me because I thought, "Oh, this is the way everyone in San Diego is, this is what I'm supposed to experience here." But very much later on, I realized that it was just a subset of the population here. I mean it wasn't bad, but it was very different. When I was in the Black Student Resource Center at USD, when I was in CASA (the Mulvaney Center) that was a peek into, "Ok, these are the amazing things that are still happening on this campus that you can take part in, you just have to seek out and find this community."
Tell us a little bit about your journey since graduating.
At the end of my time at SOLES, I was focused on finishing my documentary, writing a 100-page thesis, and conducting this research. I didn't put much time into applying to jobs because I thought it would be easy. I came from being an entrepreneur; I wasn't used to searching the job market, especially in a place where I didn't know that many people. It was kind of challenging for me to find a job. One of my colleagues in SOLES was the executive director of an elementary school and she asked if I wanted to work at her school. I said I had no interest in being a teacher, but I would give it a shot. She actually had a grant from the Children's Defense Fund to have a Freedom School in her school. I worked there for a year and a half, and that was actually my very first time working in the community, really hands-on like first responders almost. As a teacher, I was seeing what people were experiencing, seeing first-hand the pain of poverty, and that was a lot to experience. I would drive to work some days crying in tears just thinking about my students, and thinking about their families. Then, the Black Resource Center at UC San Diego opened up a position and I ended up getting a job there. I worked there for about a year and that work was extremely difficult. In that position, I was helping students out if there was anything racial that happened to them, like if there was some type of hate crime. Then on top of all of that, I was doing all of the higher education things, like putting on programs and such.
In 2016, I became a RISE Fellow, and I loved that! We had to create things called "community action projects," so I worked with two other guys to create a nonprofit organization (which has since dismantled since we've all moved) called The Crime Resistance Institute. We created a space for practitioners, activist, creatives, poets, artists, singers, and musicians to come together in fellowship. One of them is still doing it in San Diego; it's called Soul Sunday. Soul Sunday is I guess, is kind of like a talent show, but very particular about what artists are picked. With our event, my role was finding community partners so that after a person performed, we would then have a community partner come up and explain "This is what I'm doing in the community, this is how I'm trying to push things/people forward, if you're interested in donating to my cause please donate," and people were able to give! It really created this amazing environment where people were entertained while being educated simultaneously. So in RISE we created an environment to really see that, just because people are "woke" people doesn't mean they don't want to have fun. We created an environment where people could be educated and also entertained…way more entertained than educated. So yeah, it was a great experience. Tony Young and Dwayne Crenshaw created the program along with seeking guidance from Dr. Green. I was going to write my dissertation on that, specifically looking at how small organizations are able to impact entire communities. If you look at the lineage of things and the impact that RISE had (they've gotten people elected to city hall, and one of my colleagues has opened up a coffee shop)...that experience set the tone for my current work in my PhD program and my current position. Throughout that program, I learned that you have to listen to the community, you have to listen for the silence, and sometimes things may take a little longer than expected, but that's fine. When it happens, when the program actually develops and gets to where you want it to be, then you can look back and laugh and smile at all of the mishaps that may have happened.
Also in 2016, I started sending my documentary out to academic conferences and one of the conferences that I went to was the Pacific Sociological Association; I went there to showcase my work and I showed my documentary. After I left that conference, UC San Diego and UNLV suggested that I apply to their fully funded PhD programs. Dr. Green, who saw my post about it, said, "You should apply to our PhD program." I also had three other schools that were actively recruiting me to attend their PhD programs. It just so happened that I saw the program that I'm in now, the Civil Society and Community Research Program at the University of Wisconsin-Madison. Their graduate program director saw my work and showed it to someone on their staff, and they flew me out to Wisconsin; they just really rolled out the red carpet. When I arrived there, I thought, "Gosh, this is where I'm going to be." I've never attended a Research One university; it's literally bar-none. People were asking me on my visit, "Hey, I have this million dollar grant, would you be interested in being a part of this million dollar grant that I'm on?" Or "Hey, I have this opportunity to write this paper would you be interested?" And this was just during the visit! People were saying, "Even if you don't want to come here, I have all these opportunities for you." I ended up coming to the University of Wisconsin-Madison in 2017 and getting trained as a Community Based Program Evaluator, which is what I am now. I've evaluated programs for the state of Wisconsin through the Department of Health Services, and through the CDC, I am evaluating the education programs at Wisconsin Public Television. Right now I'm the director of a program called The P.O.W.E.R. Collective (it's a group of students of color conducting research and working in the community). I'm also a Graduate Fellow at the Institute for Research on Poverty. I'm working on publishing in high impact journals and working really, really hard so that when I move back out to the west coast, it's a much smoother transition than it was for me when I finished my master's. Looking for post-docs, looking for other jobs and things…hopefully it's a smooth transition.
Currently, my research is on African American opioid use in Wisconsin. Right now in Wisconsin, (there's about five other states like this) Black people are overdosing on opioids at much higher rates, but it's underreported. So that's what my research is going to be on: what are the conditions that are causing these overdoses and this use? I plan to talk about the infrastructure that could prevent it. While I was in SOLES, I looked at how conditions shape individual behaviors and things, currently I'm looking at what government officials, business owners, and policy makers are doing to build the social infrastructure in Black communities because the opposite of addiction is social connection. The more isolated someone is, the more likely it is that they will be abusing drugs. So in Wisconsin, Missouri, West Virginia and these states and places with very high rates of drug overdoses of Black residents, my research is exploring what is creating these conditions that have been absent in social infrastructure that are making people resort to drugs rather than living a healthy life.
What kind of roles are you looking for once you finish your PhD program?
I would really like a post-doc at a school so I can continue to further my research on opioid misuse in the African American community. Or, a dream job would be working with a company to evaluate their social impact. My wife is from Los Angeles, and a lot of her friends and family are in the film industry in some shape or form. My father-in-law was a firefighter stationed at Universal Studios, my wife has friends who are writers, attorneys, and agents at large studios. Its like an entire economy based off of creativity and entertainment, its very inspiring to see. Because I was also in the entertainment industry before, I would like to work with people in the entertainment field doing community engaged work. I'm sure you've seen people handing out backpacks, doing all these social enterprise sort of things where they are making efforts to improve the social conditions of people. I'd like to utilize my programming and evaluation skills to actually measure what people are doing. If I don't have lights, running water, or hot water, why do I need a backpack? If I'm attending a school that does not have books to take home, what do I need with a backpack? I would like to measure the types of social impact that these large movie studios are doing so we can make a better calculated decision in our efforts. Kind of like what the Mulvaney Center at USD does, but at a large corporate organization. That would be something I'd absolutely love to do.
In my training, we learned to begin with the community. Instead of organizing these backpack giveaways, why don't we go into these communities and ask them what they need? How can I help you? How can we move this forward a little bit? Instead of assuming that everyone needs backpacks, or care packages, or anything like that. I think we should start with the community and understand that these people have voices. Dr. Green told me this story once about a community that he worked with, that had some development practitioners placed there to solve their problems. One of the first things that they noticed was, "people walking to wells every day, walking for miles and miles and miles." They decided, "Why don't we just build a well closer to their homes?" They went into this community and built this well, but people were still walking the miles and miles to go and get the water because, during those walks, they were able to socialize with one another. That's the way they built community, that's the way they were able to check on each other and organize. So if you aren't beginning with the community, those types of efforts are not as beneficial as you were looking for. So that's what I would like to do, kind of get into these spaces where they're putting millions and millions of dollars into these efforts, but allowing the community to dictate what's happening rather than saying we have to be in control--that would be a dream job.
How do you think your SOLES education has impacted your career aspirations and your focus?
Right now, I'm in the School of Human Ecology and I like to say I'm a systems scientist; I examine and explore systems. That idea of actually "going to the balcony" is something that we learned a lot, and seeing the entire system has impacted me in ways that I can't even verbalize. In fact, a quote that I'm actually trademarking right now that was planted in SOLES and truly developed in my Ph.D. program is, "There are no solutions, there are only responses". Meaning that a lot of times we think "This is the solution to this issue," but if you're thinking in a systems type of way, and if you're understanding complexity theory, you understand that once you create a solution to the issue, someone else is going to create a way to respond to your solution. We can only respond to these types of issues that are happening throughout the world. In SOLES, I learned that as a leader, we have to think of the responses as impactfully as possible to be able to navigate our lives in the most efficient ways. That seed began in SOLES, which I'm very grateful for.
Is there a moment from your time in the program that you still look back on?
In November 2014, Darren Wilson had just been acquitted for murdering Michael Brown, and a week had gone by and the Black students on campus, well not just the Black students, but students on our campus were confused, wondering, "What does this mean for our world? What does this experience mean for Black people? How can I be an ally to you?" This wasn't being discussed on the larger realm of campus…no one was talking about it. Myself, another SOLES student who had an assistantship at the BSRC, and Dr. Ashley Barton all came together and said we have to organize a program right now. Even though we are still processing these emotions, we need to do something right away to address this issue. Our students are lost, we're lost, and we need to figure out what this means for our university campus and what does this mean for our students. We put together this program--we were expecting 20 or so people, we weren't even expecting a huge turnout, but over 200 people came to this event. It was standing room only in the basement and very packed; we had to break up into small sessions. Within the sessions we organized, we all were able to impact and explore how our university assists with these issues and how to navigate them in a more effective manner. That was a turning point, if you're looking at the decade in its entirety. November 2014 was a turning point; there were riots around the United States, there were people in the streets literally saying, "What does this mean, do I matter?" Black Lives Matter was created maybe a year before, so for us to come together as a university campus--people from all other nationalities, from all different geographical areas--and to be a part of the team that helped facilitate that was something that really said, "Okay, I can do this, and I will do this and help people to understand where they fit in in this world."
If you could offer advice to a current SOLES student in your program, what would you tell them?
Get out into the community. San Diego is an amazing place! Explore San Diego, like the actual communities in San Diego (City Heights and Southeast) explore those. Write a thesis, even though it's more difficult to do. I don't even know if that's an option anymore, but writing my thesis put me light years ahead of my current PhD colleagues. They had to learn how to conduct research, but I learned that in my master's program because I was one of the only people who decided to do that. One of my mentors told me this, "Don't let school get in the way of your education--there's so much more to learn outside of what you're taking in in these classrooms." Especially in a master's program; it's an amazing opportunity. Don't let school get in the way of that much larger education that you can pick up on while you're in graduate school.
I would also tell them that they have to take 550. Please take 550! When I was at ARNOVA in the fall, I was talking to a current student who's getting their PhD at SOLES and I told them to take 550. Also, I would say attend conferences! Attend and present at conferences! Publish articles and try to get a grant. When you try to enter the job market, those three things set you light years ahead of people. That's something I wish I would have done more in my master's program. Even if I would have been the fifth author on something, I think it would have been much easier to figure out life. When people are in their graduate programs at my school, I tell them, please write a paper, present your research at a conference; even if it's a paper you wrote for a class, present that at a conference and try to get a grant. Even if it's a blind grant and you don't get it, that being on your CV (that you were a finalist on a $100K grant), that looks good on your resume. People see that and think, "Wow, this person is willing to put themselves out there."
Do you have anything else that you'd like to add?
I'm so thankful for USD; if it weren't for USD, I wouldn't have met my wife and I wouldn't be doing what I'm doing now. I'm thankful for the professors who gave me the freedom to create and explore, and even be quiet! In Dr. Green's class and in Dr. Monroe's class, they often pushed people to speak but I often sat back silently just writing things down, processing what was happening. I'm so thankful for that freedom, because when I arrived at that next level, RISE, I was really able to ask questions that I didn't have the bandwidth to explore in that classroom. I'm really thankful for SOLES. Thinking back to Dr. Green's wisdom, and on John's wisdom, this is a process, this is a marathon, and you have to run it at your own pace and you cannot compare yourselves to your peers and people around you. If it was not for that class I would not be doing what I am doing now, and right now I am happier than I have ever been in my life. With the work that I'm doing now, with the program evaluations with the implications that are coming from my research, it's literally changing the world, and if it wasn't for the University of San Diego, that would not be happening.