SOLES Student Spotlight: Gina Guaderrama (MEd Student), Dual Credential Program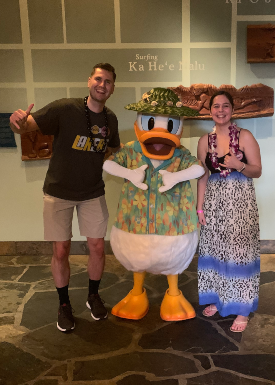 begin quote

The Dual Credential Master's Program is a combination I find extremely valuable and necessary for anyone that wants to pursue teaching.
Tell us a little bit about yourself.
I moved to San Diego to join USD and I have been loving living here! I also got married in January and my husband works in Santa Clarita, so we are a long-distance married couple!
Tell us about your SOLES degree program and why you chose it.
I chose the Dual Credential Master's Program at SOLES because I wanted a teaching program focused on equity and inclusion. There are very few degree programs that integrate special education and general education and it is a combination I find extremely valuable and necessary for anyone that wants to pursue teaching.
Who has been your favorite SOLES professor, and/or what has been your favorite class?
My favorite class so far at SOLES was the Psychology of Education class I had with Professor Ramirez. We had insightful and provocative conversations that left me with a greater understanding of providing meaningful and inclusive teaching.
Have you completed your international requirement? If yes, where did you go, what did you study, etc? If not, where do you plan to go?
I plan on going to Belfast for my international requirement. I was originally going to go this year but I deferred for next year. The theories behind the effects of post-conflict teaching environments in Ireland is one that I feel can be applied to the schooling environments in many districts in Southern California.
What do you do to you maintain a healthy work/life balance?
I keep an organized and strict schedule in which I stop working at 9pm and I include moments for reading, exercising, and watching movies/TV.
What are your post-SOLES goals and aspirations?
I plan on working in the local school districts in Santa Clarita as a special education teacher. The districts there are sorely lacking in special education teachers and many schools are trying to move towards a model of full inclusion or co-teaching. I want to be a part of loving the district forward.
If you could offer an incoming student advice, what would it be?
Go to your practicum site as much as you can in the Fall semester so that you are ready to take on more responsibility in the spring.