SOLES Alumna Spotlight: Judy Wai '17 (MA), School Counseling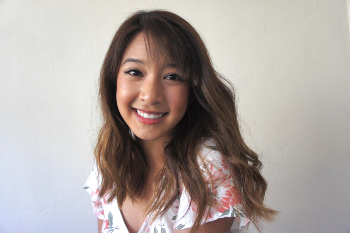 begin quote

For me, community is a really big part of my pedagogy. When students were commenting about the school climate and community, that really stood out to me about SOLES.
Tell us about your degree program and why you choose SOLES?
I graduated in 2017 with my Master's in Counseling with the PPS credential and I did the two year track (48 unit track). I chose SOLES because I had always wanted to be in San Diego and that was the school that stood out to me the most when I was doing my research and looking at the different programs. SOLES just caught my eye, not only with the international component, because not every program had the ability to travel abroad, but I think also SOLES had a really good image with their faculty. I was reading through the Student Ambassadors page back then and a lot of the students commented on how intentional the faculty were, how hardworking and dedicated they were to the students…and for me, community is a really big part of my pedagogy. Wherever I go, I hope to build community and be a part of a community. When students were commenting about the environment, the school climate, the community at SOLES, and how the faculty really participated and were hands-on and intentional with their students, that really stood out to me about SOLES.
Who was your favorite professor during your time at SOLES?
That's tough! All of them offer different things and they are all unique. It's hard to say who my favorite was because they were helpful in different ways. I think Dr. Cameron and Dr. Martin…Dr. Martin was my advisor and he made me feel like he was supporting me in my journey as a counselor and was willing and open to answer any questions that I had. I don't particularly have a favorite but I felt support from all the faculty. Also, I think Peggy Hetherington, the internship and fieldwork coordinator at the time, was super intentional and I really appreciated her guidance.
What was your favorite class at SOLES?
Career Development Across Lifespan (COUN 510) was well taught. It was a course taught by Dr. Martin and we learned various strategies and techniques to prepare students for college and career readiness. I remember Dr. Martin brought in middle and high school students for us to meet with and put our strategies to practice! This course provided great hands on experience.
Did you complete the international requirement while you were at SOLES? Where did you go, what did you study, etc.?
I went to Tokyo, Japan, during the spring 2016 semester. I took two courses: Research Methods in Counseling and Organizational Student Support Systems led by Dr. Cameron and Dr. Martin. The trip was really interesting. We got to travel to schools, interview the school counselors that they had there, and I think the purpose of this trip was to gain more knowledge and expand our worldview with what counseling could look like outside of California. It was interesting because it really introduced different types of counseling to us. Japan does not particularly have a school counselor in the same way that California or the United States does. That was really eye-opening because we realized that their school counselors were psychiatrists, or nurses, or psychologists, and they didn't particularly have a therapist role. It was more a psychiatrist combined with nursing. That was eye-opening because it made us realize how special and unique counseling in the United States was in comparison to international countries like Japan, where they did not have school counselors. We had a lot of questions for them and it was just nice to engage in dialogue with the psychiatrist or the school counselors/nurses that they had there, and asking about their training and more information about their background, and how they came to be where they were, and visa-versa. We got to visit schools, we visited elementary schools, the classrooms, got to interact with the students for half a day and we visited a variety of different places. It was interesting to see Japan from a tourist perspective, but also from a school counselor perspective, and comparing the two countries.
Tell us a little bit about your time with the SOLES Graduate Student Association (SGSA), as well as if you were involved with any other student orgs or leadership roles.
SGSA was one of my favorite parts of SOLES! I got involved my first year as a School Counseling representative, and then my second year I was the president of SGSA. I loved SGSA mainly because I got to interact with students across all departments. I think with my year, we were the first year in a while to have a representative from every single program from SOLES--that was really special because I got to meet students from all programs. It was a really great time. We were kind of like a mini family because we would hang out, they would come over to my apartment, play board games, have dinner, and it was a really great way to expand my community outside of School Counseling and hear about different programs and different activities. Every program had different activities happening throughout the week and, because we had students in all of the programs, it was nice to hear what was happening as a holistic campus rather than us getting stuck in our own individual School Counseling program. I still keep in contact with a lot of my board members and we FaceTime, or check in, or hangout. SGSA was one of my favorite parts about SOLES.
I was also a SOLES Student Ambassador and I was in CSI (Chi Sigma Iota), but not as heavily involved as the representatives. I was just a member of them. I was on the Dean's Leadership Council. And I was a part of the USD Dance Company. I was the only grad student in it! We'd perform on the basketball court; that was fun!
I was definitely very involved at school but I enjoyed doing those things as they enhanced my overall view of the campus. It was great that USD offered these opportunities to get involved.
Did you have a favorite place on campus?
I did! On the complete opposite side of campus from Mother Rosalie Hall is the Student Services area on the first floor of the Student Life Pavilion. Students can go and it has the Graduate Student Lounge…that was my favorite spot. There was a microwave and lots of open seating there, I think there was yoga (like sunrise and sunset yoga) when I was a student there, and it's a very quiet spot. Not too many people go there even though it's an open space. President Harris has his Fireside Chats outside that building, and that spot is nice, too. A lot of events are held there but individual students didn't use it too often when I was there.
Tell us a little bit about your journey since graduating from SOLES.
I started my job search in March and looked for positions all over. I mostly applied to jobs in Sacramento, the Bay Area, and the LA/SD area, but I was not picky and was open to relocating for a job. I got a position as an elementary school counselor up in the Bay Area. I work for the San Mateo Foster City School District and have been for the past three years. I work as a n elementary school counselor now which is my career dream come true!
Right now, my focus is developing the school's counseling program in San Mateo. I have thought about returning to San Diego…San Diego is a very fond place for me. I enjoy the environment in San Diego, but I think right now my heart is in staying in San Mateo and really fully developing the counseling program here.
What is your fondest memory from your experience at SOLES?
I don't know, I have a lot. I definitely enjoyed myself at USD. I think it was meeting and being a part of my cohort. Those people are experiencing the same classes as you, the same teachers and professors as you, and they really understand what you're going through. So I guess my fondest memory is hanging out with my cohort and really building those relationships with them. I still keep in touch with people from my cohort, too. There are a few counselors up here who work nearby. Many of them are still really good friends of mine.
How has your SOLES education impacted your career and your career goals?
I think the fieldwork experiences were the most impactful, your practicum and your fieldwork, because you're in a school and can see firsthand what the school environment is like and how a school counselor can fit into a school climate. The classes give you good insight into the theories and how to learn about the history and things like that of the counseling profession, but I think the bulk of my learning was solely in my fieldwork and my practicum. That's what supplemented my learning the most compared to my classes.
If you could offer advice to a current School Counseling student at SOLES, what would it be?
I would say get involved and feel free to reach out to alumni or your current cohort. I think, being in school counseling, it's okay to ask questions and to get involved. I think being in School Counseling, people have a heart of kindness and I think people in counseling are very willing to help. It's okay to ask questions and get involved and be brave with what you'd like to do. Explore! You have enough time. It feels really fast and long at the same time, but enjoy it. It's a really great opportunity to grow yourself personally and professionally!