School of Education Alumnus Spotlight: Stuart Grauer '89 (EdD), Leadership Studies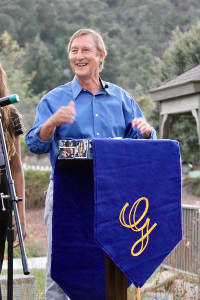 begin quote

SOLES was called the School of Education at the time, but they had created a revolutionary program in organizational leadership that enabled me to have a broader impact. 
Tell us about your School of Education degree program and why you chose it.
As an educator, the focus on the individual student is always the most important thing for me. However, I chose the SOLES doctorate program because I wanted to focus on the whole organization and upon the impact the organization is having in the world. And I wanted to bust out of the constraints of "regular" schooling. SOLES was called the School of Education at the time, but they had created a revolutionary program in organizational leadership that enabled me to have a broader impact.
Who was your favorite professor, and/or what was your favorite class?
Dr. Joseph Rost was my advisor and dissertation chair, and he became my mentor not only in this program, but in my life. I learned from him that great teaching, like leadership, is mentoring that cannot be contained to a class--it is a life changing relationship. Dr. Rost was a truly great, transformational teacher; the best I've ever known. I suppose my favorite class was his "Leadership" class. I really should give a shout out/remembrance to Dr. Bill Foster, as well--he sadly passed away young, but anyonne who experienced the inspiring discussions in his leadership classes won't forget them.
Where was your favorite place on campus and why?
The old School of Education building is gone, but I do love the new SOLES building. And I love the Kroc Peace Studies building. The Student Center (Hahn University Center) is spectacular and the first time I ever went there it had just opened that month. I presented my doctoral defense to the committee, went out for a break to the new Student Center almost across the street, and got so enthralled in it that some of the examination committee left! When I finally got back, the remaining examiners and my chair, Joe Rost, told me they passed me on my defense in about five minutes, it was so strong, but they had no idea where I had gone. I only meant not to be presumptuous, to give them ample time. So my last day as a student was my most comical, and a little bit embarrassing!
Did you study abroad during your time in the program?
There was not an international requirement at the time. However, I came to USD straight from five years as a teacher and principal overseas in Switzerland. In fact, the first day I arrived in San Diego, I started in the doctoral program. My dissertation was on international education, and my dedication to this has never flagged. In fact, I have started some study abroad exchange programs for Grauer School students.
What is your fondest memory of being at USD?
Dr. Rost's classes were so inspiring that sometimes it was overwhelming. But some of my classmates were equally inspiring, too. They have gone on to be school superintendents, found leadership institutes, write books, consult, and more. I thought many of my classmates were brilliant. These leaders and quite a few others had a huge impact on me and they are all significant parts of my life.
Tell us a little bit about your journey since graduating.
Wow. It has been over 30 years. The year after I finished, I decided to bite the bullet and do what I said I had come to San Diego to do: found a school. Teens did not, and do not, have an ample voice in their own education or in their communities. I founded The Grauer School based upon the essential purpose of giving teens the voice and agency they need to come of age as articulate, confident, purposeful human beings. Since then, the school has acquired six incredibly beautiful coastal acres in Encinitas, is capped at 170 students, develops great teachers and leaders (some from USD and SOLES), and travels the world every year with students doing service and school visits. We're a UNESCO school, which we consider to be a great honor, with 176 partner schools. A couple years ago, Outside Magazine named us one of the top 10 best places to work in the United States--boy, did that ever bring resumes! Those were great honors, but I think perhaps the biggest honor I have ever received was USD's own Author E. Hughes Career Achievement Award. I was stunned and humbled beyond words. In addition, I still surf almost every day, and still play old-time style 5-string banjo.
How has your School of Education impacted your career and your career goals?
I'm going to go full taboo here and say that, truth be told, I had little idea about the full purposes of the leadership program when I enrolled. I thought it just was school administration, but in fact, leadership came to mean a great deal more to me. I am inspired every single day, no exception, by the idea of "leadership", the kinds of relationships it has enabled me to form. Leadership means developing influence relationships you can use towards the pursuit of the universal values that add meaning and purpose in your life. Honestly, there is no limit on how impactful and transformational my studies in leadership have been in my life.
How have you remained involved with USD since you graduated?
I am in the Puente de Oro Society, which means USD is in my will. I try to give money when I can. And I have addressed the SOLES graduating classes several times on the topic of careers in education. And, I'm an evangelist!: I've referred many people to USD SOLES and, this year alone, I think at least five Grauer School students have been accepted by USD.
If you could offer a current SOLES student advice, what would it be?
Know your style and purposes. I am an "Intuitive" type--I do things that move me or that evoke a strong sense of knowing. I have rarely made a "decision"--I feel like access to my intuitive knowing is more important and I am thrilled when I can access this kind of knowing. Sure, I do the analyses and crunches, and I have the conversations--but I act based upon some kind of deeper connection, a thread that gives my life purpose and meaning. I understand that that is not everyone's style, though. Joe Rost used to tell me, "Advice is bad news!" I've seen his point a thousand times, and it's made me a much better listener--the hardest, essential part of leadership.
Is there anything additional you would like to add?
I have an article publishing in the Phi Delta Kappan Magazine this month called "The Thief of Childhood". I write a blog about liberating education that I would love everyone in education to see. You can subscribe here. Also, I have two fairly recent books, "Fearless Teaching" and "Real Teachers." These books infuse the profession of "teaching" with the sense of excitement and passion that I find I can only get from the greatest teachers. Email me at stuart@grauerschool.com, or they are available on Amazon.