SOLES Alumnus Spotlight: Vincent Anthony '13 (MEd), Special Education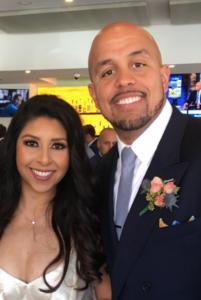 begin quote

If you are really, really passionate about the work, you'll be successful in changing the lives of children--we teach human beings, we don't just teach Math, we don't just teach Language Arts, we teach the holistic human being.
Please tell us about your SOLES degree program and why you chose it.
I was a business major as an undergrad at Marist College, and a year after graduating became the west coast admissions recruiter for Marist College. Marist plays the University of San Diego in football. The first time I saw USD was when the Marist Admissions Department threw an alumni event here at USD to support the Marist football team. When I saw the campus, I thought, "oh okay, this is the spot for me." I was in a place in my life where I was ready for a change. Moving 3,000 miles across the country to San Diego seemed like the perfect thing to do at the time, and it was. I was actually applying to USD to pursue Higher Education. However, I had a change of heart and switched my focus to Primary Education with a focus on Special Education. I was accepted into SOLES and that's when my life changed for the better.
When I got here, that very next month, I had a grad assistantship with housing. I was an assistant resident director for The Vistas. For the first year, I was working in residential life. I actually did a three-year program here because I didn't have any educational credits beforehand. I did the Master's of Education in Special Education, but I did a dual credential in multiple subjects, as well.
So why here? Well, we know this school speaks for itself. One, it's beautiful. Two, the reputation…it's known world-wide…That's why I picked SOLES.
Who was your favorite SOLES professor?
Dr. Jerry Ammer was big for me. I had a limited amount of knowledge when it came to special education, and the legal systems within it. There was a lot of terminology that I didn't know because it's a master's level course; the expectation is that you usually have had been in this field for some time, but I was only substitute teaching in New York for a year. Dr. Ammer knew his stuff, that's for sure; I always appreciated that about him, regardless of what class it was. If you had Dr. Ammer, you knew you were going to get something out of it. I always appreciated that. He's just a great guy. He's funny and he just keeps your attention. He often went above and beyond in helping me out. He always worked with any student who needed help. That's what I liked about ALL the professors here--all went above and beyond for the students.
There were some great instructors who I still talk to today that helped me big time. Dr. Helene Mandell and Betsey Gibbs…were essential to my success here. And I'd be remiss if I didn't mention Assistant Dean Linda Dews…she's right up there, too. She is a great mentor and took the time to direct me towards the path that was best for me. Those people were huge for me.
I felt that the transition, not only to a new field but to a new school and place in the country, it was helpful because the most important thing was that my academics were in place. USD has a HUGE place in my heart for that, for sure.
What did you do to complete the global requirement? Where did you go, what did you study, etc.?
I was supposed to go to Japan with Dr. Inoue. It was at a time when a natural disaster hit, so the course was cancelled. Instead, we went to Tijuana and saw their schools. We saw that the school system in Mexico was different than here in the US. SOLES did an amazing job finding a replacement for the global requirement. But I was ready to go abroad so bad. Unlucky, but it's all good, it worked out.
What was favorite place on campus and why?
Honestly, right out here on the west side of the building, where you have the shot of the ocean. I did a lot of studying out there, especially when I was living on campus. You can just see everything, being on top of the hill, it's beautiful--you have a perfect view! It's just a beautiful campus all around, it doesn't get much better than this.
How were you involved on campus during your time in the program?
I was really involved with Res-Life when I first came, so that took up a good amount of time. I enjoyed collaborating with the resident directors and the RA's to support students at USD. After that first year, I moved off campus and then it was mainly student teaching during the day and then I came here at night.
Did you have any kind of mentorship when you were a student here?
Yes, I had Dr. John Mosby, who is no longer here. He was an assistant director in the graduate admissions office, and then Assistant Dean Dews--those two were the ones I could always bounce questions off of. They really helped me understand my path to where I wanted to be. When it came down to the field of education, Dr. Helene Mandel and Betsey Gibbs. Betsey and Helene were the perfect pair. Those people were really instrumental to my success.
How does a student connect with Assistant Dean Linda Dews, when they are not experiencing a hardship or in her class?
My thing is that I've always been one to try to get around people who I would like to be like one day, I guess you could say. Her position here at SOLES was something that I was attracted to in the long run. I always try to have a backwards plan. Dr. John Mosby and Assistant Dean Dews, those two were pretty well connected together. He heard what my aspirations were and told me that I should meet Linda. I told him, "Oh, I would love to meet Linda!" So that's how we got connected…never in trouble. Ha ha.
Tell us a little bit about your journey since graduating from SOLES.
Dr. Mandell and Betsey Gibbs are two people who really had a positive impact on my life here…I should say my whole career. I was doing the student teaching portion of my program and I wanted to be in upper elementary education. They told me, "we have a good school for you, I think the spot is going to be in kindergarten, first, and second grades"…I'm 6'4'' and all the kids are really little tiny ones, so that was funny. The teacher was tiny, too, but needless to say I actually got hired at that school (Mueller Charter School) after I graduated, which was great because I loved it there. I was there for three years teaching 3rd and 4th grade and then I moved on to teaching 6th grade. Then I got my leadership credential from Point Loma Nazarene University, then got the Dean of Students position, which I currently have. It's my second year in that role. I've been at the same school the whole entire time, all because SOLES placed me there. It was funny because I knew I wanted to be down south for sure, but I wanted to do upper grades. But Helene and Betsey knew what was best for me for sure.
We have about 4-5 teachers at Mueller that went through SOLES at some point (some earlier down the line than me), and we have a lot of student teachers and a lot of students who complete their practicum requirements with us. Most of our student teachers are from USD. Our thought is, "everybody is welcome to learn." Our teachers are very welcoming, with an open-door policy, so it's nice.
I unfortunately don't teach at all anymore. We have awesome teachers at our school, so I primarily focus on student behavior. My goal is to go from punitive to restorative. "You have to go see the dean of students, you're in trouble" is not my vibe. I try to be more proactive than reactive and try to meet students where they are. If I know a student that is one of my "frequent flyers" that has behavior issues around math time, I'm going to come sit or check in with you during math class. Or, to get to your point as far as teaching, maybe I will come in and teach character development or something, hopefully creative, that students can feel that "it's nice to see another face". I try to put a positive spin on my interactions with students. When students see me, it's not always because something negative has happened. I don't like being Mr. Dark Cloud on campus.
My wife and I got married at The Immaculata last March. And we took our pictures right down here off of the balcony of SOLES. So it was a nice tribute, back around memory lane. I am also considering the PhD in Education for Social Justice from SOLES, but we'll see what happens. I'm a brick and mortar kind of guy, I just cannot do mostly online. I think one of the benefits that SOLES afforded me was the great relationships with professors and people who did their life's work in the field (that I wanted to go into) who had stories and also connections, too; that network here. I'm living proof that if you work hard, things can happen in your favor. I appreciate all the things the professors here did for me. I'm excited about the doctoral program, though! You can be a principal with a master's degree, as long as you have your administrative credential. So now I wonder, "what's the professional trajectory of where I would like to go?". I'm in year two of my administrative role, I'm still a baby in that, so I have some time to figure it out. But an actual baby may be coming in the future, so I think, "should I get it done now?" because everyone who has a doctorate is telling me, "Do it before you have kids!" We'll see. I'm excited about it, though. It's going to be a good challenge. No more school OFFICIALLY after that.
Is there a difference between the schools in San Diego County and schools in New York, where you were a substitute teacher?
Here in San Diego, and also because we are so close to Mexico, you have access to amazing cultures. From language, music, foods, and history…so there is just presence here. Especially along the South Bay. In New York you would have to be close to the city in order to experience so many different cultures. Due to so many different cultures here in San Diego, we have an instructional focus of teaching students where English is their second language. Where I was at in New York, there wasn't as diverse of a population, so that wasn't our instructional focus.
However, the students themselves at both locations have just a wealth of knowledge. Their experiences are fascinating, and many motivate me to continue my work. Some have environmental factors that have made life hard, but they still persevere. I think that's the biggest challenge--trying to assist those students and their families in overcoming those obstacles. Where I was previously at, not so much.
The architectural designs of the schools themselves were also different. This was of course due to the weather. In San Diego we have open air schools. Due to the seasons in upstate New York, there were enclosed campuses. In New York, I was in a relatively affluent area, but there's just a uniqueness about it because we were along the Catskill Mountains.
What is your fondest memory from your time here at SOLES?
The Black Grad Celebration that happened for graduation. I thought that was really, really nice, and I think it struck a deep chord with me because my grandmother was able to be there and she passed a couple of months after that. It was just really cool to have a small intimate setting and celebrate graduation in that way. I thought it was a beautifully organized opportunity that the school provided for students that are a part of an underrepresented population here at USD. I thought that was a really, really sincere "thank you" and "we're here if you need us" kind of sendoff, and that spoke volumes to me. So now, in my position, I collaborate with people in SOLES--Dr. Medina, Dr. Heather Michel, and Mr. Charlie Padilla--to put students in their practicum placements at my school. We still have a really tight bond. There's still a bunch of USD grads that are teaching at Mueller, and are also employed at the Chula Vista Elementary School District.
What advice would you give to a current SOLES student?
I would say do your due diligence of where you are trying to be, like backwards planning. But also when you're in that space, remember that eyes are on you at all times, and you never know when an opportunity will fall in your lap--so be prepared--especially in the world of teaching. If you're good, they'll find you! If you are really, really passionate about the work, you'll be successful in changing the lives of children--we teach human beings, we don't just teach Math, we don't just teach Language Arts, we don't just teach Science, we teach the holistic human being. If you are passionate about that kind of work, then you will be fine in education. It's hard work, but the fruit of your labor is second to none.