School of Education Alumna Spotlight: Kim Athans '95 (BA), '00 (MEd), Curriculum and Instruction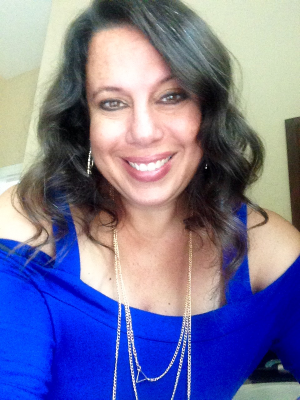 begin quote

The best things in life that are worth doing are those that challenge you and invite you to explore things you would have never thought about doing or exploring…you should be open to opportunities in the midst of that.
What led you to USD and the School of Education? What has your journey through education on campus been?
When I started undergrad, I didn't have a plan in place. I just knew I wanted to go to USD some day. I had spent my first two years at Palomar College, and I was a transfer student, so it was a long-anticipated part of my journey and I knew, "Well, I just want to get my degree…probably get a teaching credential, but I'm not sure." At that time, I was interested in marine science, so I got into the Ocean's Club, and took some marine science classes and loved it, but my heart kept going back to my English classes. So, it was really that first or second year of all my undergrad courses that I took in the English Department that pulled me away from marine science. I realized that this is what I wanted to do: talk about books and writing for the rest of my life. Early on in my undergrad experience, I took World Literature from Dr. Irene Williams, and it was one of those classes that totally changed your lens, your perspective, the way you look at the world, the way you see your position in the world, and your role in everyday life. She taught us how to write speculatively and really look closely at a text and deconstruct it and how to write about it in a more authentic way. I was used to more formulaic writing, but this was more about opening your mind about writing as part of the process of thinking. I did really well in that class, so she asked me to be a tutor in the Writing Center. So I became a tutor, and met Dr. Mary Quinn and Margot Wilding, who were amazing mentors to me. I ended up tutoring at the Writing Center for the rest of my time here. It stirred a passion in me about teaching and about writing. There used to be a quote above the door by Adrienne Rich that read, "You must read and write as if your life depends upon it, that is normally not taught in school", and I remember thinking, "Why not? I am going to change that!" That was the catalyst that made me decide I wanted to be a teacher.
Then I got involved with a teaching internship with Sister Sally Furay at Holy Family School where I tutored in 2nd and 8th grade classrooms. That was wonderful because I was able to be in the classroom and see if what I really wanted to do was work with kids. That led to me getting into the credential program and taking undergraduate education courses. Then I met Dr. Infantino, and the rest is history. I did my student teaching at Torrey Pines High School, and at about that time I knew immediately, "I definitely want to get my master's here". But I got married right after student teaching, and took a job in Las Vegas and teaching 7th grade language arts. After that, we came back to San Diego and I started the master's program and got a job teaching at Vista High School. That was perfect because I was taking the classes, learning about theory, and applying the things I was learning to my teaching. I had that position for three years and that was very humbling for me to try out these new things that I was learning, and really getting immersed in my job and career path. For example, I had Dr. Donna Barnes, who opened me up to a new way of seeing children's literature. Prior to her class II just viewed picture books as children's books, but then I understood the multiple layers of meaning in them and how significant they are to teaching literature and writing to kids at any age.
Who was your favorite School of Education teacher, or what was your favorite class?
My favorite class was Teaching Writing Across the Curriculum with Dr. Infantino, and in that class I wrote a poem about Dr. Infantino. I wrote it on the back of a blue book during my final exam, where I had written 26 pages scribbling front to back, probably writing more than I needed to. I remember it was my last class before I graduated. I remember looking at Dr. Infantino and starting to reflect and feeling sad. I realized, "I'm not going to learn from you any more, now I've got to go out in the real world". I remember looking at him and seeing just the soul and the heart of him. He's such an amazing human being—the husband, the father, the Catholic, the Italian, the guy from Buffalo…just all the things that I connected with over the years. So I wrote him a poem. Dr. Infantino was really into poetry. He wrote poetry, and we published a book in his class and I thought it was the coolest thing ever. I wrote that poem about him and I remember thinking back to everything I had learned and thinking I owe him such a great debt and the poem was to express everything I felt I owed to him. He helped me grow into the person I became. He was definitely my favorite professor. He was the first professor that I had who played a big role in my pedagogy as a teacher, why I teach the way I do, why am I interested in The Writing Project, and why I want to run my classroom this way.
But you know what I really learned from him? To be humble. No matter how smart you are, you can learn from your kids. It doesn't matter if they're 12 years old. It doesn't matter if they are high school kids who act like they don't care what you have to say, who roll their eyes and look down at their feet…they're listening to you. "Pay attention to the souls in your classroom," that was his thing. "The people, you're here for them." You would never look at Bob Infantino and think, "Wow, he's been a professor at USD for like 40 years and has published books and articles, and was a director for The SD Writing Project", and all these things that he's done. He was also the Director of the Learning and Teaching program in SOLES. But he was so humble and down to earth and approachable. I remember him kind of shuffling around on campus, this Italian man with big glasses he's probably had from the '70's. And his smile…he would kind of look down and smile and chuckle (you know, how he does when he laughs), just putting you at ease. And it wasn't just me. I've talked to so many people who have said Dr. Infantino was the person who inspired them to become a teacher. I don't know…it's something I've never been able to emulate. He leads in a covert, inadvertent way; he's not obvious about it and you don't realize until you look back at everything you've done and learned and realize how much you've grown. He's not the type of person that will pack his syllabus with a bunch of stuff. You just look back and realize, "I just wrote a paper that is publishable." I don't know that I've thought about it enough in a conscious way to articulate it, but that's how he is and it's a gift.
Did you participate in any of the clubs or student organizations?
The Oceans Club and Writing Center. I loved that place. I was there every day. I ended up being a tutor trainer and helped to create a video to teach future tutors. I played a big role and kind of became a leader in that regard. I didn't live on campus, I was a commuter. But I would find ways to get involved!
Did you have a favorite place on campus?
The courtyard between Camino and Founder's is one of my favorite places. I used to go out there and read, reflect, and think. The UC had a basement back then, and I had a typewriter at home and didn't have a computer. I would go down to the basement where the typewriters were, and in this dark and dingy little corner, I would go type away. I think I liked it because no one would ever be down there; everybody was in the new tech lab or whatever. I remember reading Life with a Star down there, starting the book and reading it on a rainy day and emerging six hours later to dusk losing track of time.
I remember walking down the aisles in Founders and seeing all the professors' names on the walls and little wooden doors and antiquated little wooden chairs and stained glass, and going into Founders Chapel and praying and I remember just feeling at peace and connected. I used to imagine what my name would look like outside their offices and it was very motivating. Again, I don't even think they realize how much they impacted people, but I remember thinking, "I want to be like that." I would see them in there typing or reading, and they would always keep their doors open and were always very welcoming. But I remember just wanting to turn into their worlds and looking in there and seeing them writing or reading, and thinking, wow, "How did they get to this point? How do I get to where they are?" So that was me, trying to take in everything, breathe it all in.
Do you feel like you had a different favorite place on campus as a graduate student?
It was different as a grad student because I used to teach all day and my classes were 4 p.m. – 7 p.m. I would come down here right after school a few days a week and I'd take my classes. I remember we'd have a little graduate lounge, but I didn't go in there. We were in Harmon Hall--the old School of Education building. That building wasn't really lounge friendly; there weren't a lot of places to just hangout. We did hang out at the tables outside the UC. We would eat and drink and talk and dream about the future.
Tell us a little bit about your journey since graduating from the School of Education.
I remember Dr. Infantino telling me, "You can do whatever you want to do! You can go get a doctorate, you can go teach at a university, you just need to find a program that interests you and commit to it and you can do it!" That really resonated with me because I was kind of following my husband around and having my kids. I remember when we moved to Houston I thought, "I better take advantage of this opportunity and go back to school." I had always wanted to pursue a master's in English. Even though I loved my master's program in education, and I'm so glad I did that first because it made me a better teacher while I was starting to teach. It really did. Everything I've done my whole career, started at USD. They gave me a teacher toolbox, but truly it was so profound. It helped me not quit teaching my first year; because when I went to Las Vegas it was no picnic. I went from Torrey Pines High School to an at-risk city school in the middle of Las Vegas where we couldn't even do our grade books until October/November because it was so transient and mostly English language learners. Most kids were struggling with poverty, most kids were already dropping out by 8th grade; really tough situations. I remember thinking, "Wow, USD really prepared me," but you think of all the ways that have prepared you is your content area and your little tricks to keep them engaged and how to connect with students and things like that, but I remember thinking…I had classroom management techniques and stuff that I've learned but it was really a confidence thing. At USD, it wasn't something they literally taught us, but in all the other things they taught it built my confidence. I attribute that to the fact that I didn't quit my first year, because there were days when I wanted to, to being prepared as a teacher here and thinking, "I have the confidence and I have the perseverance and I have the extra something about looking at the human beings as souls in the classroom." I guess it's that Christian element, I don't know--just feeling like this is my calling and this is my duty and obligation. I'm meant to be here and they are meant to be with me.
I truly believe that the most valuable gift that we have as teachers, that we can offer other teachers and our colleagues and people we're working with in the field, is the narrative of teachers. Our narrative stories; we're just a mosaic collection of stories. When I share my story and someone else shares their story, you share experience. To share the experience, in a socio-cultural type of environment, is what builds and constructs that knowledge. But it's not just knowledge, it's an awakening of shared understanding and a way of knowing, and even a habit of mind, like how to deal with those things and stay afloat and keep your inspiration. Most teachers are totally motivated, and enthusiastic, and energized, and inspired, and ready to go! I've never met a new teacher that said, "I don't want to do this". That's why Erin Gruwell (Freedom Writers) burnt herself out so quickly, because she gave her life to it! Those are the people called to the profession, but they are not super humans! You can share stories to support them and that's what I try to do in practice. I give them "talk time" (15 minutes at the beginning of each class) to vent. When I started teaching, I wanted to be like Dr. Infantino, and I spent my career trying to do that and it really made me a better teacher for it. But now, I realized along the way, now I'm myself and I've evolved into my own teacher persona and learner, but it started and is grounded there, and that's what made me stronger.
After teaching English in Las Vegas for one year and California for four, I taught English at a high school in Texas for another ten years. I also taught composition courses at the community college level in Texas for many years. Now I am a teacher of teachers at Point Loma Nazarene University.
What advice would you give to a current student at SOLES?
Reflect. Take time to soak it all up and let it set in. Really think deeply about what you're learning, what you're doing, and how you're connecting it to what you do in the classroom every day, and what your future goals are. Because when you have a purpose, and you're grounded and you feel connected to the wisdom that you're taking in and how it's changing your practice, and you're very cognizant and aware of that, and you really take time to just stop and reflect, "How did things go last year? What were the high points and what were the low points, and why? Who did you reach and truly connect with? And professionally, what are you feeding yourself? How are you filling your cup?" You got into this profession for a reason, so where are you connecting? Realize that you're becoming a better scholar, a better writer, a better reader of texts, a better teacher of writing. Think of those things and be aware of them. Don't just go for the degree that's going to move you ahead on the pay scale. Don't just go for the experience, don't just go for the networking, don't just go for the position it might get you. Because ultimately at the end of the day, you're doing what you're doing because of the kid that's sitting in front of you. I've had those moments where I've been teaching, and I look up, and I see 30 souls. They're doing something and I'm busy and hurried, and I stop and look at them and they're all just writing and into their own learning. When you pause, and you look and you reflect, and you're still...it's kind of profound. I have 30 kids per class and five classes a day that I can really affect profoundly. What I say, what I do, and how I do it...the relationships that I create, the connections that I make, the way that I talk to them, the way that I look at them, the way that I smile. You don't realize how important your role is to society. Your piece; the piece of the puzzle that you are. So even as you're taking in all this knowledge, and you're learning and connecting, and you're networking and you're making good friends and colleagues, and learning from all of these amazing professors, you have to pause and stop and be still and think about "What's it all about, and what's it all for? What am I going to do with it?" That's what I would say.
There's a little story that I share with my teachers called "Fish Story". And I came across it years ago as a professional growth thing, but I tweaked it. I added to it (that's the writer in me) and I set it at USD. The girl has a lab notebook that she records her observations in and turns in each week. And her teacher keeps telling her it's not done. So at the end of the term, she turns it in, and it's 100 pages. And she goes into his office and talks to him about it. And she's crestfallen and she's thinking about changing majors, because he writes things in her notebook like, "Still not done. Keep looking." And they're talking about what she learned, and he asks her if she learned anything else; did she see anything else? And she talks about what she saw about a particular fish-something she noticed that was different.. And he says, "Now two of us know. You're done", because he pushed her to reach the level that he was at as the professor. I used that story to illustrate to my student teachers that you can motivate students in different ways. Some students would have given up and walked away, so it does depend on the kid. But some students really need you to continue to push, and nudge, and prod, and do all of that, but to let them know that you're still in their corner and you haven't given up on them. It's the gradual release theory or growth mindset: I want you to learn and push yourself. And when you finally feel like you can't discover anything else, and you've done all there is to do, and you know all there is to know, then you know that there is something. And then that confidence and self-efficacy that develops from realizing, "Oh my gosh, I know what my professor knows"; that's a fervent moment.
That resonates with me because Dr. Infantino used to talk about Don Graves and his theory of nudging his students. He would say, "Nudge them. They need to be nudged or they'll never move out of where they are." I remember teaching a class full of 9th graders and we were working on the state assessments in writing, and teaching them how to write their concrete detail and commentary. And everything was stale. And I remember Graves saying "We are all stuck in a stale sameness", and I remember Dr. Infantino talking about that. And I was thinking, "I'm just doing what I have to do, and filling this mold, and getting them to write the way they have to for this thing. They don't care, they're waiting for the bell to ring, they're thinking about what they're going to have for lunch. Nobody's engaged and this isn't the way I want to teach. I thought about Graves, and totally turned my lesson on a dime. I had them take out a piece of paper and write about some silly idea. And I remember they were just writing, and they were engaged, and they were laughing, and they were sharing. And then I wrote something on the board and they helped me and we all edited it together. And then I told them, "Now you do it". And it was nudging and then they didn't even realize that they were being nudged. Those are some of the best moments in teaching: when you just fly by the seat of your pants and say, "this isn't working, no one's really connecting and getting this". That's why I love that fish story, though. It illustrates that sometimes kids think we're being hard on them, or they're confused or frustrated, or they hate it. But they'll realize it, too, someday when they look back at it. Motivation is a huge part of teaching. Teachers have to be motivated, too, because if they're not motivated, and they're done, and they're at the end of their rope, how can they motivate kids?
Do you have anything else you want to add?
Long before I ever stepped foot on this campus, my first mentor was Fred Rogers. He played a huge role in my development as a learner. He has said that his mother would tell him to "look to the helpers", when he was a kid, as a way of trying to understand why God let things happen. She said "you'll always find people helping". And that's how I feel about USD. From the time I stepped foot on this campus, I felt immediately welcomed into a community, immediately part of something. I remember when I transferred to USD and I was meeting with the dean of the College and I told her, "I have this math issue-kind of a phobia." And she told me she would set me up with a professor who's really slow and methodical who explains everything very clearly. And I took that class, and I got an A+. I remember that dean also walking me around campus, showing me where everything was, and telling me where my classes would be. And I remember thinking, "woah, the culture here is so different. It feels like a family." USD's culture is one of helpers. Helpers are everywhere in this place, and I think that's what makes it so special. It's a beautiful campus, but it's really the people who make it beautiful. There are such amazing people here. People with big hearts, people who love other people, and people who want to do good in the world. It's really cool to be an alumna and say that's my alma mater. I believe in how much USD has helped me. I wouldn't be the teacher I am, or the person I am, or the professor of future teachers that I am, if I had never come here.