SOLES Alumnus Spotlight: Dan Lang '11 (MA), Leadership Studies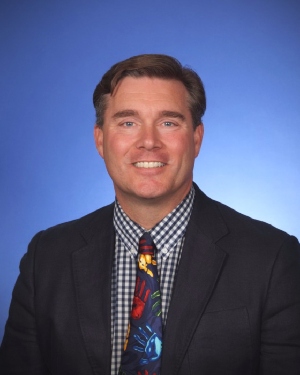 begin quote

The knowledge and skills I gained at SOLES are what prepared me to take up this work. Without my time at SOLES, I would have been unprepared for my current role.
Tell us about your SOLES degree program and why you chose it.
I completed the Educational Leadership Development Academy (ELDA) and the additional studies required for the Master of Arts in Leadership Studies. I reviewed plenty of programs and ultimately chose USD for three main reasons: 1) I align with USD's values around education, 2) the program featured expert current practitioners on the ELDA faculty, and 3) the mentorship with an excellent current principal was something I was looking for in a program and USD offered it.
Who was your favorite SOLES professor, and/or what was your favorite class?
Lead 550 with Dr. Terry Monroe; Lead 555 with Dr. David Herrera; Lead 559 with Dr. George Reed. Dr. Monroe is unlike any professor I have had. The readings for the course were foundational to my practice today and her method of simply asking "Where would we like to begin?" prompted our class to create our learning. Lead 550 felt like both a course and an experiment as we worked through the content and our own group dynamics. Dr. Herrera has a compelling personal narrative of ethics in his own professional life. That narrative, coupled with his guidance, led me to a deeper understanding of not just the content, but my vocation as an educator. Finally, Dr. Reed and Lead 559 - Change is our only constant, and in school world, change is fast paced. I use the learning from this course daily. Whether I am working with an individual student or family, teacher or faculty, or indeed visioning the entire organization, I can not imagine fulfilling my current role without the learning from this course.
What was your favorite place on campus and why?
Watching the sunset from the west facing side of the SOLES building with my coffee from Bert's before class. A beautiful space with a view provided me with a centering moment before beginning the second half of my day.
What is your fondest memory of being at SOLES?
Evening courses after a long day of teaching. The intellectual engagement of my cohort and the faculty guiding us was invigorating and inspiring. While "fondest" may be a stretch, EDLD 551- the Tavistock conference, was by far the most memorable. The conference surfaced out what we all unknowingly brought into the room with us. People argued, grew angry, cried, and laughed all in an intense short weekend. The skills from that weekend are also part of my daily practice.
Tell us a little bit about your journey since graduating.
Shortly after completing my work at SOLES, I had the opportunity to step into a new leadership position at my school as Assistant Division Head. Eventually I was able to move into the Division Head role where I serve today. The tools I gained at SOLES have allowed me to lead a exceptional team of colleagues through significant change in our division.
How has your SOLES education impacted your career and your career goals?
As I mentioned in the previous question, my past two career advancements are directly related to my studies at SOLES. While the formal degree is the evidence to provide to the outside world, the knowledge and skills I gained at SOLES are what prepared me to take up this work. Without my time at SOLES, I would have been unprepared for my current role.
How have you remained involved with SOLES since you graduated?
I have recommended some colleagues to the program; they went through the program and are currently experiencing career advancement, as well. We have partnered with both SOLES and Professional and Continuing Education to provide professional development for our faculty. And we like to bring our faculty to O'Toole's for celebrations.
If you could offer a current SOLES student advice, what would it be?
Value your time at SOLES and your peers. I learned so much from my cohort through both their life stories and professional experiences. "Balance" may not be the best measure while completing your degree, because you are asking more of yourself and your support system than ever before. So, be sure to wall off time for yourself and your loved ones who are supporting you in the journey. You can not find the time, you will have to be intentional and make the time. There is no better return on time both for you and your loved ones than time specifically set aside to be present with them.