SOLES Student Spotlight: Matt Dahlman '20 (MA Student), School Counseling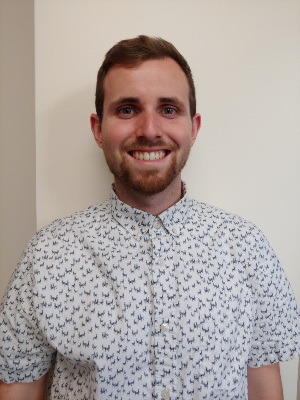 begin quote

Being able to to use my cohort as a support system has been incredibly helpful.
Tell us a little bit about yourself.
I moved to San Diego when I started graduate school from Minnesota where I grew up. I love playing games and sports, as well as meeting new people. I have always had a passion for working with kids and have done so in a variety of ways in the past. San Diego has always been a dream of mine, so I am happy grad school was a good enough reason to make that a reality!
Tell us about your SOLES degree program and why you chose it.
I am a second year School Counseling student. I chose to pursue a master's degree in school counseling because I have always been passionate about youth work and mental health, and this career path seemed like the best way to make a difference in both areas. I chose this program specifically because of the faculty, and I continue to be amazed by their expertise, passion, and collaboration.
Who has been your favorite SOLES professor, and/or what has been your favorite class?
I don't have a favorite professor that I know of. Each professor that I have had has brought a different area of expertise and a different lens to our learning. My favorite class that I have taken has been Multicultural Counseling. I took Multicultural Counseling with Dr. Hall in Jamaica during summer 2019.
Have you completed your international requirement? If yes, where did you go, what did you study, etc? If not, where do you plan to go?
I have completed two international experiences while at SOLES. My first trip was to Santiago, Chile, for Applied Theories and Techniques for Counseling in School Settings. My second trip, I went to Jamaica for Career Development Across the Lifespan, Multicultural Counseling, and Research Methods in Counseling.
Are you involved in any student orgs?
I am a SOLES Student Ambassador and a member of Chi Sigma Iota, the international honor society for the counseling profession.
What do you do to you maintain a healthy work/life balance?
I prioritize sleep and exercise throughout the week to make sure that my mind and body feel good while we are so busy. I also really try to use my time efficiently so that I can get work done early and well so that I don't have to compromise my well-being or personal time later on. Being able to to use my cohort as a support system has also been incredibly helpful.
What are your post-SOLES goals and aspirations?
I hope to be a school counselor at a K-8 school, but would also be happy to work with high school students. I also plan on coaching basketball and trying to stay involved with school counseling research and data to help drive our profession forward.
If you could offer an incoming student advice, what would it be?
Make an effort to get to know the people involved in your program and at SOLES. Becoming connected with your program can help keep a balance and support while going through a graduate program. Also, basically all of my best experiences and opportunities throughout my program happened because I was eager to be involved and to be an engaged student/future counseling professional.