SOLES Student Spotlight: Belgica Crespo '20 (MA Student), School Counseling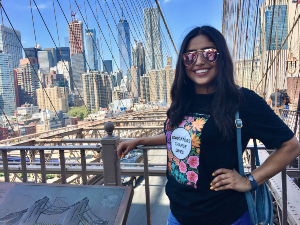 begin quote

When I graduate, I hope to become a high school counselor to be able to continue to mentor, guide, and support students' post-secondary aspirations.
Tell us a little bit about yourself.
I am in my second year in the School Counseling Program at SOLES. I am currently a school counseling intern at The O'Farrell Charter School and Montgomery Middle School. In addition, I also work part-time with the Aaron Price Fellows, a program that prepares highly motivated and diverse San Diego public high school students to be responsible, engaged, and caring members of their community. On campus at USD, I serve as a mentor to two School Counseling first-year students, I am the President of the Latinx Graduate Student Association (LGSA) and the Marketing Director for CSI Sigma Delta Chapter. I have a strong interest in working with underserved populations which are most susceptible to being pushed out of the educational system. I have worked very diligently to develop the necessary skills to become an effective multicultural counselor. I'm passionate about helping others, education, and giving back to the community and I do so by volunteering with the Rotaract Club of City Heights. Prior to transitioning to USD, I worked for College Avenue Compact, a program that serves students and their families in the City Heights Community to improve the educational outcomes of first-generation, low-income students through well-developed comprehensive strategies.
A quote I live by is "Make a statement by making a difference." -Unknown
Tell us about your SOLES degree program and why you chose it.
The School Counseling Program at SOLES stood out to me because of its welcoming community, small cohort model, study abroad opportunities, focus on multicultural counseling, and it is CACREP accredited.
Who has been your favorite SOLES professor, and/or what has been your favorite class?
One of my favorite classes has been Multicultural Counseling. This class allowed me to become more aware of my own cultural values and biases, understand how to approach counseling through the context of the client's world, and establish culturally appropriate interventions. Dr. Hall emphasized the importance of doing counseling from a multicultural lens which allows an increase in personal awareness, skills, empathy, and understanding.
Have you completed your international requirement? Where did you go, what did you study, etc?
In the summer of 2019 I had the opportunity to study abroad in Jamaica. I was able to take three courses: Multicultural Counseling, Career Development Across Lifespan, and Research Methods in Counseling. During our trip, we were able to emerge ourselves and learn about Jamaican history, culture and traditions by visiting local sites, putting together a two-day career development workshop for the community, and talking to locals. Our classes challenged us to think critically about the 'isms', our biases, assumptions, and values.
Have you received any awards or honors as it relates to your time at SOLES?
I was invited to join the Sigma Delta Chapter of Chi Sigma Iota, the international counseling honor society on campus.
What do you do to maintain a healthy work/life balance?
Time management is key! Being proactive helps me get work done ahead of time to allow a work-life balance. In addition, I make sure to schedule time for self-care.
What are your post-SOLES goals and aspirations?
When I graduate, I hope to become a high school counselor to be able to continue to mentor, guide, and support students' post-secondary aspirations.
If you could offer an incoming student advice, what would it be?
Take advantage of every opportunity that is given to you. You never know what doors can open up for your career.