SOLES Alumnae Spotlight: Janedra Sykes '05 (MA) and Jessie Towne-Cardenas '09 (MA), Nonprofit Leadership and Management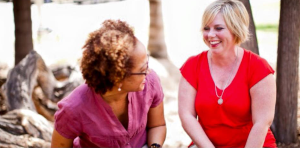 begin quote

I would say, show up completely. I was there for the knowledge and I had a great time and I learned a lot. And I built a lot of good relationships. - Janedra
Tell us about your degree program at SOLES and why you chose it:
Janedra: For me, I was an accidental executive director. I started with a faith based organization as a grant writer and as I pursued grants, what we got was a lack of understanding on the separation between church and state. The grants I was seeking were for community activities, not church activities, but that seemed to be a barrier in getting additional funding for the community outreach that the church wanted to do. So we got the advice that we should become a non-profit and my answer was, "how hard could that be?" Ha! So I started first as an executive director of the organization and the more I got into the task, the more I realized what I didn't know and how dangerous that was. A friend invited me to USD for another program, and in the foyer of the Peace and Justice building was a flyer for the Nonprofit Leadership and Management program. I thought, "This is exactly what I need.". It was application based, it was taught by practitioners, I could use my organization for class projects, it was real life, and it was such a wonderful fit. So I stumbled across USD and ended up being in the second cohort of the Nonprofit Leadership and Management program.
Jessie: For me, when I left my undergrad in northern California, I had never really planned on going to graduate school. But then as I got into a career and doing different kinds of jobs within my work with sexual assault/domestic violence prevention, I started to think that I would like to go to graduate school, and I'd like to update my skills and knowledge of best practices. Along the way, as I would have different jobs, I would look at different graduate school programs like a marriage and family therapist, MSW, and I would look at them and they just were almost right…but not really. Then I really wanted to be working on the prevention side, so I started looking pretty seriously at a master's in Public Health, but that wasn't exactly it either. So, I kept going with the advice of a mentor who said, "Don't go to grad school until you really, really know what you want to do. It's a big time commitment, money commitment, energy commitment, so make sure it's the right one." And then another colleague was looking at the Master's in Nonprofit Leadership and Management program and she said, "You know, you should look at it," and at the time I was in a leadership role at my organization, like many of us who go into the program. I looked at the course list and I thought, "This is it, this is perfect because I can apply it to anything." I couldn't imagine myself not ever really working in the field of nonprofit work (even though we aren't technically a nonprofit), and it seemed like the perfect fit… and it really was.
Let's talk about 550:
Jessie: I'm not sure how it works now, but I know everybody else took the 550 class in the first semester. You took the Nonprofit Fundamentals class (with Pat Libby), and the leadership class with Dr. Terri Monroe. And EVERYBODY would come to class talking about the 550 class. They would talk about it and it would sound so scary. I ended up not taking that class until my third year; so I had heard about it from two cohorts of people. Finally, I went in it and it was one of my favorite classes. In fact, I still want to do that weekend seminar again, all this time later.
Janedra: I loved that class.
Jessie: It's so valuable!
Janedra: I TA'd the class and I've done several seminars; I did one at the University of London. It sounds grandiose, but the Tavistock Method really impacted my worldview. And you know, I use it daily. I really do. I'm at a point right now where I'm finding the urge to get back to that world. I've been in the seminars, I've been a member, I've been a small group lead, and a big group consultant, an administrator. That was absolutely my favorite class. I have so much respect for Dr. Monroe. I know Dr. Green is doing some community work, with RISE San Diego, using group dynamics in Southeastern San Diego, and I've heard wonderful things about that process, so I want to get involved in that, as well.
Would you say that 550 was your favorite class?
Janedra: I loved it immediately! It gave me a framework to manage my emotions as data and connect with my internal aptitude for empathy and connection with folks. I remember the moment when Dr. Monroe said, "emotion is just data; it is just information. Don't try to suppress it, or shame it, or keep it inside. Just take it in and use it to make your decision." And that was just so freeing; it made me become more mindful in situations, to kind of notice when I'm angry, and instead of saying, "don't feel that way," saying "huh, I wonder what that's about." If I have a strong reaction to a person or a situation, to ask myself, "what is that about?" and kind of take it, and hold it in suspension, and then I'll think about it later. Immediately, it made me a better manager and a better leader, because I was able to look at my staff as a group and put some buffer from taking things personally. That's what I really loved about it. After that class, no meeting I went to (in school, in the community, in my organization) was ever boring because I was always looking at "Ooh, who came in late and what's that about?" "Look at this seating around the table, what does that mean?" All that was a whole other level of data to take in and process, making my decisions, I think, higher quality…significantly. That was my favorite class…that and my second favorite class was Program Design and Evaluation. That was taught by Professor Sañudo, currently the CEO of the Vista Community Clinic, who was either loved or hated!
Jessie: That was the other scary class, but I liked it too! It was logical and made sense to me.
Janedra: Right? You couldn't hide from him. You would give your presentations in front of the class and sometimes we would think, "uh oh", because you can tell the people that didn't prepare and they got exposed immediately. That taught me a lot; that taught me, in designing programs, to put evaluation first; that was great work in that class.
Jessie: It was great preparation for program design and also organizational development-- really looking at goals and evaluations and seeing all those really important pieces that all work together. It was the only place where there was also, at that time, some instruction on looking at culture and social dynamics and those being important to program design. But that was the only class where you really got this piece that you needed to look at the unique characteristics of the community that you want to do programming in. It was really important.
And I think the leadership class was an important one for me, too; I mean, a lot of them were, but the ones that stand out to me, is the leadership class (which Dr. Laura Deitrick taught at the time), where I got the feedback on my writing, "Use a period, Jessie," My husband used to edit all my papers by reading them aloud to me and I would say, "Stop! Stop! Stop!" They were all run-on sentences. They were actually worse before they got to her! So I still hear that sometimes when I'm editing, "use a period." So that one, the advocacy class…those were good for me. They were outside of what I had learned before, so they were additional knowledge pieces that I think were important to get a foundation to some things to think about.
What is your favorite memory from your time in the program?
Janedra: I think the most important thing to me from grad school was hanging out with fellow students in the coffee house before class started; when we whined about our day. I loved that because I was a leader of a very small grass-roots organization and I was hearing from my classmates, who were leaders of much larger organizations, senior managers of huge nonprofits across the county, and we were fundamentally dealing with the same problems. I would gasp and think, "I'm not crazy, nor am I stupid! Everybody's dealing with this! It's not like a failure on my part that I don't know enough, it's a structural thing that everyone's struggling with." And that was just such a relief! So when I think back on my USD experience…it's those relationships that I still call on to this day. I came across someone from my cohort, Monica Ruiz-Etching, currently with Project Dulce out of the Scripps Whittier Diabetes Institute--we're doing a project with her organization, and when we saw each other in Sacramento, we screamed like middle school girls! We hadn't seen each other in years and it was like yesterday! That's what the stress of grad school gives you: long lasting benefit. Those relationships that are forged during 3 o'clock in the morning editing sessions. So that was actually my favorite part, the relationships that I still have with the people I had in my classes.
Jessie: And I think besides your cohort, your colleagues that you work with, and carrying their different perspectives from the outside of the organization you're at. I always liken it to getting a recipe book; I had done pretty well on my own but I had to figure things out through trial and error, through hearing what somebody else did. Kind of half the story then figure out how to do it. I did fine like that, but when I got into the program I realized, "oooh, that's how you do it." And so, even though, like food recipes, I don't follow them exactly every time, but it really gave a recipe for all those things I was spending a lot of time trying to figure out that I could have a foundation of best practices to say, "okay, this is the best practice and this is how it's done in many places." Instead of figuring it out on my own, that was really helpful to key in on best practices.
I think my favorite part of the program was the combination of the people…I was at the same organization for 15 years, so it was really nice for me to get the perspectives of other people outside the typical kind of "working together as partners in your organization" where you're not always being honest about what's going on, or being able to hear from different levels or different types of organizations and how they were running. So that outside perspective from other organizations, from other people from different fields of non-profit work, was really important to me and my learning. I think it gave me a much broader perspective, even though I was at the same organization for that amount of time. So that was it. And the recipes!
Did you complete the international requirement while at SOLES? Where did you go and what did you study?
Jessie: The experience of going to Guatemala and studying over there was amazing! That was amazing to learn in another country, what NGOs look like, what their human rights movements were doing, and anti-violence work-- especially around the time that I went, there was a lot of empowering women and girls and civil society. It was just so well planned and we got to learn from all kinds of different people with a well-rounded experience-- not just in the coursework and who we talked to, but also we got a chance to be there, and do things, and experience the culture. It wasn't just like studying all day, we got a good amount of time to go and be in the spaces and talk to people and that was a very important component of the learning. That was one of my favorite experiences for sure! And, the people I went with are amazing!
I used to communicate with our Guatemalan counterpart, so I still have in my head that someday my family and I will go to Antigua and study Spanish for the summer and it'll be totally fine. I don't know if that'll actually be true.
Did you have a favorite place on campus when you were students?
Janedra: Yes, I did. The reflection pool in the KIPJ. I used to go there and just decompress after work before class. And whenever I visit campus I always go there, too. Such a beautiful place. That was my favorite place.
Jessie: I feel like I always rushed in and out of there, I wish I could have gone there. I remember when I was an undergrad, I would go to class and then I wouldn't have another class for like 4 hours. I'd take a nap on the lawn and rest my head on my backpack. I wish I could've done that at USD because it's such a beautiful campus! But, further past the reflection pool, past the lookout over past the Peace and Justice center, it's so pretty and quiet. Of course there's such a beautiful view in that grand balcony kind of area of the SOLES building, but when you went to that extra spot past the reflection pool, it's just quiet and a little different of the same view of the SOLES building. So I liked that over there. But I didn't get to spend as much time on campus as I wished.
What brought your group together? How did you come together to create Arboreta Group?
Janedra: Well, Jess, I, and Cristina, we worked together at an organization in San Diego, and Jaime is my niece so I've known her all her life. It was magical; I was freelancing at the time...
Jessie: We all worked at the organization at one point in time, at the same time, but we weren't working together at the time. Cristina and I still were, but Janedra had gone off and come back. There was a point in time, about a year in 2006-ish, that we all worked together and that's where the three of us kind of...
Janedra: I was freelancing at the time, I got a text from Jess saying, "You know, I'm thinking about jumping out there." And I was said, "Oh yes, yes, yes! Jump with me!"
Jessie: Yes, yes. And I was at a conference and I was talking to a lot of people about program development. I went up to my room and I texted Janedra.
Janedra: And then Jaime was helping me with the video production and basic grant writing before and just kind of fell into place. Now, we did have one partner that didn't work out, but I think that bonded us more together. It's hard to make a difficult decision early in the partnership and I think that that helped us. As my mentor told me, "you guys didn't have a honeymoon period, you had to go straight into a tough decision."
Jessie: We're celebrating our fifth anniversary this month, but we really started unofficially 6 months prior. We started doing some work, we started doing some development, getting the structural stuff down, how we were going to work together, what clients we wanted, what our name was going to be, etc. That all started, then we started to get some clients then we all went down to part-time for a little bit at our previous jobs and then transitioned out. But it has always worked! We've had great clients, done great work, dealt with bumps along the way but figured stuff out (which I'm sure we will always).
How do you think your education at SOLES has led you to be working at Arboreta Group?
Janedra: I think we pull from it daily; there's four of us in Arboreta: Jess and I have our nonprofit master's degrees, our partner Cristina has her master's from Stanford in education research, and our fourth partner Jaime is our youngest partner with a degree in Communication from UCSD. I think the work we do reflects all of our degrees. In my mind, the degree helped me gain such a good foundation. It was academically rigorous enough that I am able to see the gaps in my knowledge and know where to get the answer; whether a person, or the research I've got to look for, or "I think someone is over there knows how to do it." So the combination of the academic rigor, being able to research things for myself, and then it gave me a good lay of the land and relationships that I could call for advice. It doesn't get much better than that! My partners laugh at me when I say, "how hard could it be?" but that comes from the knowledge that, "we can figure it out!"
Jessie: We've got everything we need!
Janedra: We've got everything we need, we've got all the pieces, and we're smart enough to know what we know and what we don't know. We have the connections to go get that help, so yes, "how hard could it be?" has a special meaning when I think back to what that school gave me. Probably one of the biggest gifts it gave me is (back to the coffee house when we were whining about our day), and I think I communicate this to our clients is, size doesn't matter when running a nonprofit. It's efficiency, it's skill level; just because they're bigger does not mean they know more than you, or they are better than you, or that their deliverable is better than yours. I think we bring that to our clients because we tend to work with mid-sized to smaller clients that might be intimidated by the national nonprofits that have outlets all over the county or all over the state. I'm able to look them in the eye and say, "trust me, they're dealing with the same issues you are."
Jessie: And I think when we work with some of those larger nonprofits, we know that it's accurate; what we're saying is true.
Janedra: Exactly! We're just human beings trying to do good work… and they bring their humanness with them when they are doing it. Those sessions in the coffee house at USD changed the paradigm for me; "okay, it's a matter of education, finding the tools, getting the resources, and doing it!" And having agency and autonomy, we've told clients "you don't have to get bigger if you don't want to. You can just do what you're doing, better...and serve more! You don't have to 'scale up', you can stay small!" And our goal as consultants is to equip them in a way that it's their choice!
Jessie: And not feeling reliant on our work that we're building their capacity unless they want us to continue doing that work as an extension of staff, which we do with them. We might build the capacity of their folks to do that work once they get people in place or funding in place, or something like that. I think the combination of being able to draw on all of our educational backgrounds, including Janedra and I, our relationships, and our relationships with colleagues, but our relationships with one another are what brought us together and is really important in how we do our work. Also, we get consistent feedback that we build authentic relationships with our clients, and they like that. I think relationships, that piece is really important for us.
We wanted to operate differently in business too; we have a flat structure, we're all equal partners, we make lots of decisions collaboratively, big decisions…we make big decisions collaboratively 100%. And I think that's different than how other organization's run; sometimes its slower, sometimes it's faster. I think usually we are pretty nimble because we are a small group-- there's four of us and we're pretty in-tune with one another.
Janedra: I like to think of us more of a jazz band than a drill team. Enough in common that we can make music, but very distinct.
Jessie: Yes, that's a good metaphor! She's good.
What advice would you give to a SOLES student in the Nonprofit Leadership and Management program?
Janedra: I would say, show up completely. Before I started the program, I was really, really scared. I had not been in school in decades. I remember talking to my mentor, thinking "I don't know if I can be a student again." And I made the conscious decision to be there for the knowledge and just show up! What made that easier, I'm a morning person (I've always been), and the classes were in the evening, so my editor was all off! I'd be in these classes completely honest saying, "whaaaaaat?" The filter was off. I was there for the knowledge and I had a great time and I learned a lot. And I built a lot of good relationships. So that's what I would tell them, "Don't hold back, and just show up!"
Jessie: And I think along with that, to practice things. Take risks. Go work with organizations that are totally outside of the field you're used to; particularly if you've been in one place. Practice taking different perspectives. I think that's one of the things, that it's a place you can take risks with the kind of projects you do. One of the things that, going back to the 550 class, because I had heard about it so often, I decided that I was going to kind of watch everything. I'm kind of someone who gets in the thick of things, so that was an important practice for me, taking a different perspective. I think that that's something you can do there. You have your work, you need to do what you need to do at work, but this is a place where you can be in a similar environment and take some risks and do some experimenting, try on some new things and ways of being...and that's the place you can do it.