SOLES Alumna Spotlight: Stephanie Bernasconi '08 (MA), Higher Education Leadership Studies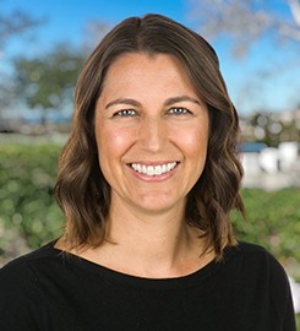 begin quote

My advice to a current SOLES student would be to actively seek out a point of connection on campus beyond academic commitments. It is so worthwhile.
Tell us about your SOLES degree program and why you chose it.
Though I grew up in San Diego, I first really discovered USD through a close friend who attended USD as an undergraduate. During one casual conversation that I still remember very clearly, she shared that she had plans to attend a birthday party for the child of one of her professors that she often babysat the upcoming weekend. That absolutely blew my mind! Attending a large, public university, I couldn't imagine having a relationship like that with a professor and their family. Overall, I had a positive experience as an undergraduate, though as I began to consider graduate schools that would prepare me for a career in higher education, finding a program that would give me the opportunity to engage with faculty and other students in small classes was a top priority for me. Ultimately, I found that in the Leadership Studies Higher Education program in the School of Leadership and Education Sciences at USD.
Who was your favorite SOLES professor and/or what was your favorite class?
That is actually a challenging question! So many come to mind. I really enjoyed taking Ethics with Dr. David Herrera, Organizational Change with Dr. George Reed, and while I certainly wouldn't have called it my favorite at the time, I would have to say 550 with Dr. Terri Monroe would be at the top of my list. It was challenging and uncomfortable – not exactly sounding like a favorite, is it - and I learned a tremendous amount about myself and group dynamics that I continue to carry with me and reflect on quite often years later.
Did you have a mentor during your time in the program?
Yes, Dr. Cheryl Getz was absolutely my go-to when I needed advice and guidance as I navigated my courses, the program, my graduate assistantship, and all the other life that was happening outside of USD. I was at the time, and continue to be, so grateful for the time, energy, and investment I felt she made in each student she was connected with. She genuinely cared and was open to talking through whatever you brought to the table. Cheryl was so helpful in helping me process and make meaning of my experiences in the classroom and beyond throughout my time in the program and even in the years after as I continued on in my career at USD.
What is your fondest memory of being at SOLES?
Meeting and developing a friendship with a fellow student who remains one of my closest friends today. Those late nights working on projects together, helping each other edit papers, having someone to debrief with after a challenging class discussion or challenge my perspective on an issue…I am sure my memory is romanticizing what were actually tough times in some cases! Nevertheless, those shared experiences forged a friendship that I continue to treasure.
What is your favorite place on campus and why?
During my time in the program, the building now known as Mother Rosalie Hill Hall that houses SOLES was built and opened! The Reading Room, right off the Sala on the top floor was my favorite place. I thought it was just magical with all of the bound dissertations and these big wooden tables. I spent a lot of time studying in there.
As an employee on campus and now that I don't spend as much time studying, I think my favorite place is the wooden bench that looks out over the bay right behind the San Buenaventura residence hall. It is right on the edge of the canyon and you can see all the way to the bay on a clear day.
Tell us a little bit about your journey since graduating.
In many ways, I haven't gotten very far! Professionally, I haven't left USD since coming here to start my graduate program in January 2006. I worked in the Center for Student Success as a graduate assistant, and then graduated with my degree in 2008. I continued on in the Center for Student Success and served in several different roles in that department for the next ten years. My partner and I welcomed our son in 2013 who, sure enough, found his way to the USD community when he attended the on-campus Manchester Child Development Center. Last year, I moved into my current position as Assistant Dean of the College of Arts and Sciences.
How have you remained involved with SOLES since graduating?
I have, at different levels, over the years. In some of my positions, I supervised graduate assistants in the same program I graduated from, so I had a natural opportunity to stay connected. At other times, less so though still being on-campus, I am fortunate to cross paths with faculty and staff from SOLES often though there are quite a few new faces among the faculty and staff since I graduated!
If you could offer a current SOLES student advice, what would it be?
When I reflect back on my experience, I'm am so grateful for the job/assistantship I had on campus and recognize the very important impact it made. Without it, it would have been very easy for me to come to class and then leave again without engaging with the USD community. Having that point of connection was critical in ensuring I got to know and built relationships with peers and other USD staff, learned what resources were available to me, and really found a place in the USD community beyond the classroom. My advice to a current SOLES student would be to actively seek out a point of connection on campus beyond academic commitments. I absolutely appreciate the commitments and competing priorities many graduate students juggle, and I know that finding and fostering that connection takes time and effort, but it is so worthwhile. I would encourage a current student to arrive on campus a bit early, and stay a bit late. If you see a lecture or campus event that interests you – go, and ideally invite someone else to join you!
Is there anything else you'd like to add?
USD has turned out to be so much more than a graduate program or job for me. Many people don't know that I met my now partner at USD for the first time through that friend I mentioned earlier who was at USD for her undergraduate education. She was in a theater class and we both came to see her perform. My partner proposed to me in front of Colachis Plaza years later. I've had incredible mentors, found life-long friends and continue to be grateful to be part of such a special community.