SOLES Alumnus Spotlight: Jeffrey Young '14 (MA), Marital and Family Therapy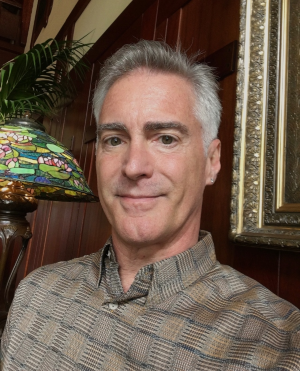 begin quote

I came to respect and admire most of the professors the more I got to know them. Several of them have had a profound effect in shaping my professional competence.
Tell us about your degree program and why you chose it.
I've been interested in the field of psychology since before I started university, back in the 80's, but I think what really set me on the path to wanting to work with families and youth was my experience as a teacher. I taught English at Francis Parker School for ten years, and I worked predominantly with middle-school kids and their families. I discovered that there were communication issues, inter-generational power struggles; also ways in which parents and their adolescent children could be collaborating better but weren't, and I thought, "I could make a difference doing that, improving family relationships." When I got back from teaching English in Mexico, I was looking for my next career move, whether to continue teaching or pursue my passion for psychology, specifically helping families. That's when I started looking for a Marital and Family Therapy program. San Diego has some high-quality MFT programs, yet USD really aligned with my areas of interest, I liked the curriculum design. And of course the quality of the faculty was the primary factor — the fact that USD professors had written and published most of the material that is used in the program. I saw that the faculty are outstanding and have a really solid reputation. Decision made.
Did you have a favorite professor from SOLES?
I came to respect and admire most of the professors the more I got to know them. I was really fortunate to have the experience of working side by side with Dr. Lee Williams when I did my practicum training at VA San Diego Health Care. In the Family Clinic, he and I did couples therapy with veterans and their spouses, which is his specialty, and has come to be one of mine. That was a highlight for me. There are so many more, and several of the professors have had a profound effect in shaping my professional competence.
What was your favorite class at SOLES?
That's a good question. My favorites were the practicum classes—where we would get together and watch each other's tapes and talk about cases: that, to me, felt like the core of becoming a therapist. However, all of the other substantive coursework on family systems, attachment, interpersonal neurobiology, development, couples and sex...I could go on. All, really great.
Did you feel that there were any differences in the way you were learning versus the other members of your cohort? Did you see any difference in how they were taking in information versus you?
I don't know if I would say that. I'm also a teacher, so I notice how people process information. It was more a question of, since I've been around a while, I expected that some of my cohort would look to me for pointers, or to seek out information. I'd say I came into the program with a pretty rich fund of knowledge, ranging from classics to philosophy. I didn't major in psychology when I was an undergrad, but I had already done some graduate level studies in psychology by the time I started my degree. In many ways, I guess, I saw the program through a different lens because of my previous experience. In contrast to coming in on the heels of an undergraduate degree. I have a lot of appreciation for the way the classes were run, organized, how the material was presented, for the different teaching styles of the professors.
What is your fondest memory of being at SOLES or USD?
The one that leaps to mind is February 2014, when we had to sit for our comprehensive exams and it was grueling. It certainly felt like it took all day and we had three components: law and ethics, assessment, and then theories. It was ALL writing; for instance they would give us some question and it was all essay style, the whole thing…a lot of writing. But I think it's a good approach: it's a way to demonstrate how you have mastered the material. I felt pretty confident going in, but it required a lot of preparation and was pretty stressful. So all of us were in the auditorium all day with our laptops typing away. I remember when we all finished up in the afternoon and gathered in the lobby, we were ELATED to be done. I remember my friend and colleague Greg Seibert '14 and I strolling down the hill from Mother Rosalie Hill Hall, and we were like "WOOOO", so relieved. Because those comprehensives, man, they hang over you. Just to be done with that, because after that, it was sit back and enjoy and focus on finishing our training; we didn't immediately find out whether we passed or not, we had to wait a couple weeks, but that wasn't that bad. Just glad to be done for sure!
The Istanbul trip was a super big highlight for me too — I had to sneak in a second one.
Do you have a favorite place on campus?
Yes, I do! My favorite place is that observatory right outside the Peace and Justice building. You go all the way to the end, the look-out area. I love it out there. I've spent quality time on that promontory alone and with friends. If I wanted to convince someone to move to San Diego — or attend USD — that's where I would take them. I worked in the Torero Store, as well, and that is a really cool hub of activity to meet people. I was in the tech department, selling computers. And then, of course, when the semester started, it was all hands on deck, getting students everything they needed, especially their books. Finally, there's the Hall. It's a sanctuary of love and learning. So many moments of joy and understanding.
Did you complete the international requirement while at SOLES? Where did you go and what did you study?
We went to Istanbul! My 2014 cohort went to Istanbul with Dr. Todd Edwards and Dr. Jo Ellen Patterson. We spent ten amazing, enriching days, sightseeing and visiting our sister schools, especially Bilgi University, where we met with professors and colleagues working hard to bring the benefits of family therapy to Turkey. Todd and Jo Ellen guest-lectured at the universities, so we participated in programming and seminars with the universities that hosted us. I think that we grew closer together as a cohort, too, being abroad and building memories. What an adventure!
Did you participate in the mentor program offered through the MFT program?
I was one of six who were admitted to start with the program in the spring. Then, in fall, we had mentors. I liked the fact that, in many of my classes, the cohorts were blended: I did a lot of the course work with the cohort ahead of me, and we learned a lot from each other. So that was interesting, too, because, it's a kind of informal mentoring. I think mentoring is one of the keys to success.
Tell us a little bit about your journey since graduating from SOLES.
Well first off, I will confess that I drove Uber for quite a while; it's not easy to find work as an MFT, it's just not…much less a paid internship. So the VA, some of the other practicum sites actually hired on their trainees as interns…the VA didn't do that. And so, when I finishing up I was looking into options and I ended up working for a small private practice run by a couple people who basically wanted to pay it forward, to run a place where interns can get their training. I was seeing some clients through the Caldwell Clark Center for Relational Growth. I worked there maybe for about ten months, but I was trying to get my hours, because you know after we graduate we need 3,000 hours in total, and by the time I graduated I was a little bit shy of 1,300 hours, so I still had quite a ways to go. I was accruing my hours at a snail's pace, I'm like "At this rate, I'll never get my license".
So I started looking around for something else and I worked for a short while at a community research foundation's clinic called Maria Sardinas, in South Bay. I worked as a psychosocial rehabilitation specialist, again working with clients with mental illness, providing therapeutic services…that lasted for a short while, but it was basically a temp position. When that ran out, again, I was out there looking for work again, and I found a position with the Vista Hill Foundation. Vista Hill runs various clinics and the one I ended up working for is a teen recovery center; it was in southeast San Diego and I provided PEI (Prevention & Early Intervention) services. Again I was working as a therapist and was running classes for them; groups basically. They provide drug and alcohol treatment for teenagers. I did that for about two years and was again, still accruing my hours, and then an opportunity opened up to continue working for Vista Hill but in a regional recovery center, the adult version of what I was doing with teenagers. I worked there for a little over a month and I got an opportunity to go work for the McAllister Institute; the McAllister Institute is the largest nonprofit provider of AOD treatment services to the county of San Diego; they run rehabilitation programs. I was fortunate to serve as program manager for their North Central Teen Recovery Center. I was also managing programs in school satellite sites—so they would go out after school and provide after school treatment and classes for students who had been identified as possibly having substance abuse issues. I did that for about 7 months.
Busy with that, I completely forgot that I had submitted an application to the county of San Diego. I got a call, more or less out of the blue, saying "Hi, this is so and so with the county psychiatric hospital, we noticed that you submitted an application, are you still interested in interviewing?" I said, "Sure!" For a while there, I was sitting in a struggle because I really enjoyed being program manager and it was interesting and challenging, but that came along I thought, "Wow, this is a chance to really, really, REALLY use all of my aptitudes and strengths in a highly challenging setting". Fortunately, I was offered a position.
And, along the way, I became licensed as a Marital and Family Therapist in 2017, fulfilling my goal…and I just renewed my license for this year in July. So, I have now been licensed for a little over 2 years. I started working for the county in June of 2018 and my official title is Licensed Mental Health Clinician. I work in the social work department, so I provide clinical and social work services to our patients. Really for the most needy population in San Diego—a lot of homeless individuals suffering from mental illness, people without health insurance—we're the hospital of last resort. We are the safety net for the whole county. So, when individuals have insurance or they have resources, typically we'll try to get them to a hospital that will accept their insurance. If they don't have that then, like I said, we're the safety net, last resort for them. It's a very challenging environment; I really like the work, it is super important for me to practice some self-care because it can be really stressful, but I am very happy with the job! It's really an honor to work for the County of San Diego.
I can't believe I forgot to mention my private practice! It's such a big deal, it's really what I worked for. I started in 2018. On Saturdays I see clients in my office in Clairemont. I work Monday through Friday at the hospital, and then I see private clients on Saturday; pretty busy guy! It's really a contrast because my work at the hospital is very acute and crisis-oriented, and my work at my private practice is a little bit different, not that the needs are any less clinically significant — it's a different pace and clientele. I see both couples and individuals. I'm not seeing any families currently. Although I don't necessarily specialize, I do have some methods I tend to use, especially with couples. Those who are interested to explore those methods would be best to refer to my website, Jeffrey Young Therapy. I also see adolescents that may be going through school and having some of the challenges I'm really familiar with—that's one population I'd say I specialize in. But I'm interested in helping all kinds of folk. They seek me out. I advertise some various places including Psychology Today and that's how they'll typically find me; or they'll be referred by someone. I get referrals from colleagues, the SOLES MFT listserve, or friends.
What do you do to de-stress and take care of your own mental health?
Most days when I leave work, I don't go home: I go to the gym. First, because I don't want to sit in traffic, and second, it's good for me. I find that a lot of days I really need to decompress through exercise and mindfulness, so I don't carry the stress home with me. I try to get a thorough workout in so I can get a restful night's sleep. Even more importantly, I have a close network of friends I enjoy doing things with, from exploring museums, plays, concerts, retreats, jam sessions (I play bass guitar). I love to share these experiences with people who share my values. Another highlight, about my wonderful colleagues at SOLES: taking them sailing on our beautiful bay, something I've long enjoyed doing. Lots of memories that feed the soul.
How has your SOLES education impacted your career and your career goals?
I think it's enabled and facilitated all of them. I mean, it was my goal to become a Licensed Marital and Family Therapist, and I received some excellent training, so I was fully prepared to take on all of the challenges to accrue my hours and get my license. And I really felt academically prepared. As I've said, I think the practicum experience, working with my cohort and my professors, adding that work experience, sometimes side-by-side with my professors, was invaluable. I would be remiss if I didn't mention my other supervisor at VA San Diego Healthcare, Dr. Rebecca Williams, who honed my ability to do assessments and psychodynamic psychotherapy. Honestly, it makes me proud to recommend SOLES' MFT program to anybody who is looking to pursue a masters degree in this field.
How have you remained in touch with SOLES since graduating?
The SOLES MFT alumni listserve is a wonderful way to collaborate and share referrals with my colleagues at USD, and I have continued to interact personally and professionally with many of my cohort. I have not been back to the Hall or seen my esteemed professors since I graduated, though I think of them with gratitude often. This interview has stimulated my interest in reconnecting, maybe over a Toreros game...or a sail on the bay!
What advice would you give to a current SOLES student in your program?
Develop a support network. Get to know your professors. Plan your work—anticipate when it'll get crunchy so you don't stress too much and burnout. Take care of yourself—get plenty of rest and relaxation. And remember to have fun—you'll be dealing with a lot of serious stuff, people in crisis that they need help with. It's essential to have lots of fun and levity in your life.
Anything else you would like to add?
Go Toreros! I'm excited about this alumnus profile and my alma mater. It's just so cool to see what all my colleagues are doing: we are changing the world for the better.
Anything else?
Carpe diem!