SOLES Alumna Spotlight: Khea Pollard '15 (BA), '18 (MA), Nonprofit Leadership and Management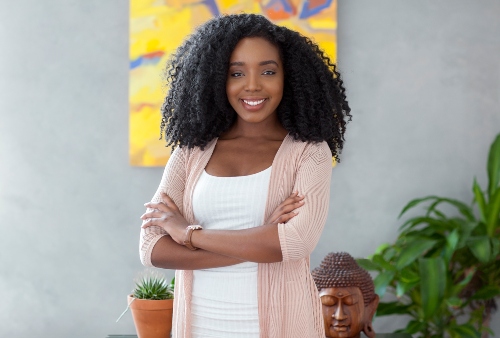 Tell us about your degree program and why you chose it.
I did a fellowship program with RISE San Diego and they have a partnership with the School of Leadership Studies. What they were doing at the time was sending fellows to get their graduate degrees. Sponsoring them, in partnership with USD, and putting together a grant for students. So, I went through the fellowship program and then they asked me if I was interested in getting my graduate degree. So I said, "yeah, sure". If they hadn't helped me financially, I wouldn't have done it. I had so much debt from my undergrad, I didn't think I could have had any more. I chose Nonprofit Leadership and Management because I wanted another skill set and that perspective. I thought it would be the best overall education. Not only am I getting the nonprofit sector, but I'm getting some leadership courses, too. But it was because of RISE, and them wanting fellows to excel and to broaden their knowledge professionally, that I did. I applied to USD and they supported me through that process.
Talk about the transition from being an undergraduate student at USD, to working, and then coming back to campus to get your masters at SOLES.
I thought it was soon, I really think it was soon. I only took a year off, so I thought that was a quick transition. I wanted to work some more and get some more life experience before I went back to school. But, because of the opportunity that came up with RISE, I decided to do it at that time. But it was tough, because I was new in the work force as a professional and I didn't really have my life-work balance figured out yet. I don't know that I do now. I was just adding things pretty quickly.
As an undergrad, I felt like I could really focus on my school work. I'm from San Diego and my house is fifteen minutes away, but I lived on campus, really immersed myself and got to know the culture of the campus. I was a part of campus life, like Black Student Union and The Vista newspaper. I was an editor there. And I was also in the President's Office working there. So all of that makes it a more pleasant experience. Then for my masters, I have a full-time job downtown and I'm coming to school at 6 p.m. to take a class and go home really late. And then I have homework. When do I get to talk to my classmates outside, and not about school? Trying to make those connections, still know your professors well, and have a relationship with them...it was difficult. That was the biggest change for me. I would just come at night and I felt like nobody knew I was there. That was a hard time, I'm not going to lie. But I liked the education and I liked the classes.
Who was your favorite SOLES professor, or what was your favorite class?
I liked Jessica Robinson a lot. She did an organizing class that I took. She was very practical, which is refreshing when you're talking about organizing in the nonprofit sector.
Program design and evaluation (with Marcus Lam and Laura Deitrick) was worth the whole degree! To really understand how to break down your mission and vision in a way that incorporates evaluation components, making it attractive and promotable; this makes it easier to build your case for support. I think a lot of organizations come up with programs that aren't informed by any data or any information. It's rampant. We have so many nonprofits out there operating like that. So, to know how to build an effective program, one that's actually going to address the issues in the community that you want to address – and be effective – is critical. Then, knowing how to evaluate that program and tell your stakeholders about the work, that's everything. Whether I'm in a nonprofit or a for-profit, these are skills that apply to either sector. I took a strategy course paired with that class the same semester and I was like "oh my god, I know everything now and I'm ready to go".
What was your experience in working with other nonprofits during your coursework at SOLES?
That was a really cool thing about the program. It wasn't just theoretical, there was some practice in there. We got to go out in teams and be consultants, really, and help the nonprofits with whatever they needed. Sometimes that meant creating bylaws, onboarding their board of directors, or helping them design a program that made sense with their budget and evaluating it. That real life experience with actual organizations was awesome and I think that actually sets the program apart. I think there was a practice component like that for every course. I can't think of a course where we didn't work with a nonprofit. So that was a lot, and also why it was so hard to manage. I was working, too, when I was doing that, like most people in that program. It was like a second job. You're a consultant, too. At the end of every semester you're prepping to have a consulting product at the end. So now I have a whole catalog of things that I've done and can go back to and reference.
How did you fulfill the international requirement?
I went to Amsterdam and it was amazing. I went over the summer…it was the last thing that I did to finish my degree. It was sort of synergetic with what I do in my day job with public policy, because we were looking at nonprofits across the world. Seeing what context in which they're birthed in which requires an analysis of the government policy, community organizing, and more to better understand how the nonprofit sector realm forms. So that was fascinating. I got to see all the different NGOs, some of which have social enterprises. Some that don't. And I think that really helped me kind of figure out and solidify kind of what Café X would look like, interestingly enough. Looking at different organizations and their structure, and how they model themselves. I like to say that when I got my masters in nonprofit leadership, and then started a for-profit, my masters kind of showed me what I needed and had to put together in order to make a successful model for what I'm doing.
What was your favorite place on campus and why?
The Peace and Justice building. They have a meditation room, and then there was a garden with a fountain that's really long. I loved going in there. I'd just go and sit and look over and see the skyline. It was just beautiful at sunset. That whole building gives me a nice energy.
How has your SOLES education impacted your career and your career goals?
SOLES was unexpected. But when I got there, I think it really expanded my capacity to lead. You're working independently. I really felt like I had another job. Working with nonprofits, and doing that while in the program, and having to learn with other people and occasionally have conflict with other people. And really, going through these experiential pieces of the program made me feel like, "wow, I am a professional. I can work in this space, and I can create something from nothing. And I can lead". I had RISE as an experience that gave me more intention in my purpose and goals. SOLES really helped me put it into practice, in this sector and beyond, because they're transferrable. Social entrepreneurship included – and I did take a course on that at SOLES. I used all of those things to help me find my way in this new venture.
Talk about what you've been working on since graduation.
My fellowship with RISE San Diego is actually where my idea for Café X came from. Because in that fellowship program, they want you to do a community action project (CAP). For my CAP, I thought, it would be cool if I went back to my community in Southeast San Diego. It's a community that's severely underdeveloped, at least when I grew up; now it's getting more and more (developed). But, wouldn't it be great if I went back and we build a community owned coffee shop? Community employees, keep them employed, get some generational wealth building opportunities for the people in that community, and build something that's culturally reflective of the people that live there. It's not a Starbuck's. No corporate chain here, we're just trying to really give opportunities for people to own and operate a business. But also, if they want to be baristas and create their own business one day, or they simply get the skills and they move on. Wherever they are in their life, being able to offer that…and have it be from somebody who grew up there, knows the landscape and wants more healthy collaboration and connection – because I feel that community is very fractured. That was my whole thought process behind building a coffee shop and using coffee as a tool; an economic tool, a conversational tool, a gathering space…That was my CAP.
I did that fellowship in 2015 and I didn't formally start the business until 2018, when I officially filed paperwork to establish it. But it was always in the making because I was drafting documents, I was talking to people. Some people were not feeling it. They said things like, "we already have spaces like the library (Malcolm X Library); go gather there. Or go to the Starbuck's in Market Creek. We're fine." People didn't understand the concept of a cooperative business as an economic driver. There was a lot of discouragement in the very beginning, and still some with cliques, detractors, crabs in buckets along the way. But I think overall, now as the years have passed, people warmed up to the need, saw the need; and that has increased as folks watch the community change. I sensed that people felt they were losing control, community control and community voice, in decisions being made in that community or in those neighborhoods. Now, we're in 2019, and people see it as a great idea and a good thing. It started in Southeast San Diego and next month we're actually moving to College Area because we've got a nice store front opportunity and cooperative partnerships there. We will still be around Southeast though – until our next storefront location emerges there. We were doing popups when we were established in 2018, just serving events and meeting people, gathering the stake holders and the community, and asking them what they would want to see in a coffee shop. Letting them draw and make designs about what the coffee shop should look like. Working with partners and making that happen…it's a lot of work, now that I think back.
We're having a soft opening on October 8 in our new spot. So we're setting up the trainings and all of that stuff up until the 8th, and probably beyond that. Then we'll have a grand opening with the other folks in the center. We're moving to a collaborative space, so there's a yoga studio, a hair salon, and there's an event space that we book for events and meetings and stuff. It's really cool. We're creating a community hub. So we're opening October 8, whether we're ready or not. It's gonna happen. It'll be fun after that, I think.
We have grassroots funding pushes all over the place. We have a GoFundMe to get the operating expenses for our first few months of operating. It's totally grassroots. So contribute there, and check us out on our website ByAnyBeans.org, and follow our journey. It's hard to do this project without these major loans. We're trying to keep our member owners as debt free as possible.
How have you remained involved with SOLES and/or USD since graduating?
One of my cohort members did media for the launch I just had. She did media, and she sent out press releases, and organized that. Then we went on a trip to Guadalajara together with another friend from the program. It was kind of like a centering trip. That's a lot of the time I spent thinking about Café X. They shared words of wisdom, advice, and genuine support. I then I met with Laura Deitrick after I graduated and we talked about the nonprofit accelerator program.
If you could offer a current SOLES student advice, what would it be?
Don't be afraid to try something that's not directly in your realm of work. Because I was in public policy when I thought of the idea for Café X. I'm still in public policy and haven't left it. Then I did a nonprofit program and people really didn't know how that connected. And I was like, "I see it clearly. I don't know about you, but it's obvious". Then I started a for-profit business. People are wondering which one I want to do, but it's all the same thing. You can't have one functioning well without the other. They're connected, whether it's economic, social, cultural, political, they're all in the same realm to me. So, just encouraging people: You can take whatever skills you've got and transfer them. You can mold yourself and adapt yourself in any way that you feel calls you.