SOLES Graduate Spotlight: Georgie Kelly '15 (MA), Clinical Mental Health Counseling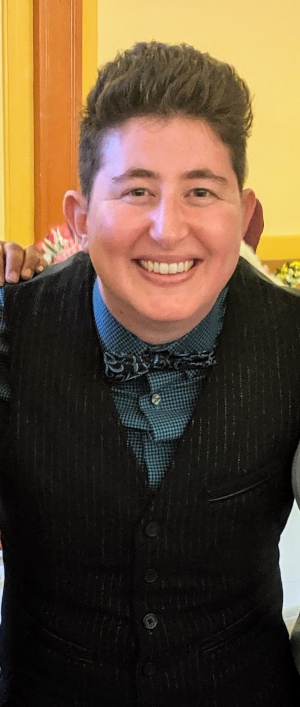 begin quote

Don't be afraid of graduation, because everything you're doing at USD has prepared you for graduation. I think that, even if you feel unprepared, there's still a lot of support at USD for getting you connected to resources.
Tell us about your degree program and why you chose it.
When I went into undergrad, my main goal was to end up doing pastoral counseling. I wanted to be a pastor for a while. Before I went into undergrad, it was more that I just wanted to help people the way I wanted to be helped. I wanted to make sure that I was able to serve, especially youth, in a way that I felt I didn't get served. So when I went off to college, I was thinking I would be a pastor and focus on pastoral counseling. And I was always a psych major, but then realized that religious studies was just not a good fit for me as much. I decided to stick with mental health, and that had kind of always been my helping idea for years. And that's how I ended up in the mental health field.
I already had a bachelors in psychology. I took a few years to do some music classes, I might have wanted to be a music therapist. I worked in an afterschool program in Oceanside and that was in the public school program. I'd never done that before and that was a very intense experience. While I was there, I found out that the LPCC had become part of California's legislature and SOLES had a program that directly related to that. Knowing that MFT was not a good fit for me, and wanting just a masters degree and not a doctorate meant that USD was the perfect fit. Plus, I already lived in San Diego so no need to travel. My mom happened to work at USD, so that was another nice thing. She was already familiar with the campus, and the people, and the culture of USD. The small classes were always nice. I think it was really kind of a natural string of events that led me to come to USD.
Who was your favorite SOLES professor, or what was your favorite class?
That's a really hard question because I enjoyed a lot of my classes. And I know, I read some of these interviews before, and everyone says Dr. Johnson's ethics class. And, yeah, I'd have to agree. That was one of the strongest classes that I had that I still use daily. The ethics and personal identities that you learn in that class is obviously the foundation of our job. So, if you're not practicing ethically, you might as well not be practicing at all. And if you don't practice ethically, you won't be practicing at all. My ethics exam that I had to take, I studied very minimally compared to most people and passed on the first try. Which is apparently a miracle! I didn't know it was supposed to be hard, but I breezed through it pretty easily. I think that was probably more due to the class than how much I studied.
But also, I think Dr. Martin's career counseling class…I really enjoyed that. I liked the art-based activities. I still use some of those in my sessions with clients. Even if they're not necessarily looking for career counseling, I think it's something interesting to kind of examine where they are in life and where they want to go, and how we can maybe connect those two to get them where they want to go. Dr. Martin, I think he was a really good support. I didn't have a class with him until we went to Jamaica. I think he's a very personable, approachable professor and that was really helpful in a two week traveling class. And then I got to do career counseling with him, which was just a wonderful continuation of that experience.
How did you fulfill the international requirement?
My trip to Jamaica was for a multicultural counseling class. It was a really impactful experience. I thought it was fascinating that the girls we met in the group home, we invited them to have a beach day with us. I heard that of the 30 girls that showed up, maybe two had been to the beach before. In Jamaica, because of the resorts, there are a lot of private beaches and therefore, how do you have access to basically where you've grown up to be able to go to the beach? That was really impactful for me to realize how much of that island really depended on tourism, and the kind of detriment it does to people to prioritize that so much. Now you're prioritizing other peoples' needs and economics over your own country, which is really, really sad. A lot of those experiences were very eye opening for me. I grew up in a very white neighborhood, so having diversity around me was a whole new thing. The other thing that was impactful was that a lot of the girls in the group home were pretty tough, and not very friendly, not very approachable. But I felt like I didn't have that experience. A lot of other people kind of got rubbed the wrong way by some of the interactions with the girls. I never felt that way. I felt very connected to them, and I think that also speaks to the fact that I really have a passion for working with youth. These young girls really connected with me well, which was really kind of validating for me in my experience working with youth and realizing that even youth that are having a hard time can really connect with me.
How were you involved on campus during your time at SOLES?
I actually attended undergraduate Pride several times during my time at USD, and I really found connection there. My undergraduate alma mater, they're still struggling to have an on-campus LGBT organization. To have that at all on my campus for graduate school was fantastic and a whole new experience for me. I was really lucky that Evelyn Kirkley and some of the other students really enjoyed having me there. I still stay connected to Evelyn and attend some Pride alumni events. So that was something that really helped me connect more with USD.
Did you have a mentor while you were a student at SOLES?
I would say Dr. Martin kind of filled that role. I was never assigned anyone. My friend Tiki had been in the program longer than I had, going part time, and they graduated before I did. I think it was nice to have someone who had taken other classes before I did to connect with. I wish I would have had more mentoring, and I would be surprised if anyone passed up the opportunity to be mentored.
What was your favorite place on campus and why?
I almost just appreciated the time that I had before class, in the classrooms. Because I had kind of a commute, I would show up early and make sure I was ready for class and sit in the classroom, if possible. It was kind of nice to have that process time with other students in our classroom, because then we're prepared for the class. We're debriefing from the previous class, we're debriefing the homework, and that was really helpful. So, classrooms. Which sounds geeky, but that was where I connected with my classmates.
Tell us a little bit about your journey since you graduated.
Through my psychopharmacology class, Dr. Meyer connected us to Dr. Montross Thomas; they were working together at UCSD as kind of a research group using dignity therapy, which is end of life care specific protocol. I was brought on the team and, with my detailed-oriented self, I was able to do a lot of the editing of paperwork for submitting grants and IRB paperwork. And that was actually really fun, and also I really enjoyed the meetings we had connecting to the research team. That was a really positive experience. So I had that right when I graduated (I graduated in August 2015).
In September I started sending out a few emails and applications to community organizations, none of which followed up. But when I was sending out emails, I was trying to get connected to practitioners who were doing either LGBT or specifically trans and non-binary therapy. So I emailed three or four, I ended up getting in touch with two directly. One is my current supervisor. We met for lunch in October. We had never met before and we were just having conversation; me getting to know her, and what she does, and how she does it. And so 45 minutes into our lunch, she says "would you like to be my intern?" And this is my dream job working with trans individuals in the non-binary community in a private practice, and the supervisor…I already know I love her. So of course I have to say yes, and in my head I'm screaming because I'm so excited! I never thought that would happen, but it did. A few months later, due to me getting my associates number and her kind of getting set up for payroll and other things for having an employee for the first time at her private practice, I started in January 2016 as her associate in private practice. I have worked there now for three and a half years and my caseload is finally almost full, which is so exciting! I'm over halfway done with my hours and I am kind of rolling right along with getting new clients right now, which is really exciting. I feel like the work that I'm doing is really impacting the community. My supervisor is really active in the community, and I feel like that is a good background to have in a relationship. I think that I just fell into something that was the perfect fit, which has been so amazing. Call me lucky.
How has your SOLES education impacted your career and your career goals?
For one thing, I only applied to USD for graduate school. So all of my eggs were in one basket, and thank goodness that worked out. But I honestly wouldn't have a masters degree at all if I hadn't gone to USD. I'm really glad I got the internationalization experience. I think that was really helpful in kind of shaping my awareness of regional issues, both there and in the US, and everywhere else, and how blind I had been to a lot of things. I was open to, yes, racism exists. But also, I had no idea how powerful that experience is all over the place. I also think that my ability to focus my projects on the LGBT community throughout the program was helpful. I think that made me find clearer and clearer purpose in serving that community, and being able to focus on the trans and non-binary communities after graduation kind of fell in my lap. I was startled that it did so easily, but I think the work that I had done in graduate school really prepared me for a lot of that. I think that some of that could have been presented more specifically in some of the course materials. But at the same time, I felt like everyone was open at least to learning from what I had to say and what research I had done.
How have you remained involved with SOLES and/or USD since you graduated?
I do keep in touch with some of my friends from graduate school. I think that's been really nice. It's a good community to be a part of and to continue to keep in touch with. I really enjoy keeping in touch with USD in general. I like being able to just be on campus and, I don't know, USD is such a gorgeous place, inside and out. Classrooms or otherwise. It's just such a wonderful environment and I'm glad I got to contribute to that.
If you could offer a current SOLES student advice, what would it be?
Don't be afraid of graduation, because everything you're doing at USD has prepared you for graduation. I think a lot of people are nervous about what happens after you get your degree. But I think that, even if you feel unprepared, there's still a lot of support at USD for getting you connected to resources. I think USD really prepares you for what's afterwards. I think also, taking up as much time as you can and really figuring out what you want to do population-wise after graduation. Focusing your projects like I did. Even if the first two classes you do your projects on something different, I think that will help kind of narrow it down. Kind of like having GEs in undergrad, being able to experiment with what you have originally with your different interests, and then being able to focus in on that as you go through your program. I think that the practicum is also a really valuable experience, because it allows you to do some more exploration of what clients do you fit best with, what clients don't you fit best with, and knowing that for the future. And, once again, being prepared for life after graduation.