School of Education Alumna Spotlight: Lynn Anderson Scherer Keough '70 (BA), English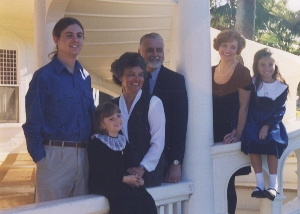 In this alumna spotlight, we are featuring an alumna from the College for Women. The history of the School of Leadership and Education Sciences began in 1962. With a different name, it was an academic department within the University of San Diego's department of Education in its College for Women. SOLES took on its present-day name in 2005. Please enjoy a look back into the early days of what is now SOLES.
Who was your favorite professor, or what was your favorite class?
My favorite professors were Mothers McHugh and Furay and Dr. Ghougassian. As an English major with a philosophy minor, I was privileged to study with these excellent professors; their continuing influence in my classroom and in my home is a happy and life-giving reality.
What is your fondest memory of being at USD?
My fondest memory of being at the College for Women would be the library: I fulfilled my student work-study there under Mr. and Mrs. Holleman and Mrs. Murphy; it was truly a haven of quiet, and grace, and learning, and collegiality. At that time, the western windows looked out over the lawn; far off was the ocean. The western windows opened onto a sunny patio garden. The mezzanine above was lined with more bookshelves and graceful windows. Wooden parquet floors, heavy oak tables and high-backed chairs; the quiet thunk of the wooden drawers of the card catalogue closing; the day's newspapers suspended on the wooden dowels.
What was your favorite place on campus? Why?
If not the library, I would have to say Founders Chapel--such a treasure. It was shaded, and cool, and a pool of quiet in the midst of the busy campus. A brief stop in the chapel re-set priorities and offered encouragement and confidence. Another happy memory is of the main gates to the College for Women's campus. Lime green, metal gates opened into one of the campus quads. Each year in May, the star jasmine that covered the ground climbed up the gating, and burst into bloom just as final classes and exams were happening. To this day, the marvelous scent of star jasmine puts me in mind of hard work finishing, and happy summer days to come!
Tell us a little about your journey since graduating.
Now seventy, I spent my professional years teaching: from pre-school through senior year of high school, I taught in various schools in the San Diego Diocese, and in public schools in New Jersey. My heart will always be in the excellent St. Didacus Parish School, in Normal Heights. Personally, I married a College for Men graduate who was teaching at then-University High School, which was situated across Linda Vista Road from USD. He, too, spent his lifetime administering and teaching in Diocesan schools. Our friendships were those we had formed at USD, and for many early years of marriage and babies and first homes, USD was the common bond. We were blessed with four children, who grew up in San Diego and in New Jersey--today the youngest is a social worker; my son works in the UC system, and the remaining two daughters both teach in Catholic schools.
How has your College for Women education impacted your career and your career goals?
My years at the College for Women have had an enduring and life-giving impact on both my personal and professional lives. I realize that specifically, it was individual persons who continue to shape my thoughts and decisions. There are words and life truths and attitudes gifted by these teachers that continue to echo in my own classrooms and in my family home.
If you could offer a current student advice, what would it be?
While at the College for Women, we were told that the founding Mothers of the Sacred Heart believed strongly that when speaking of education, one does well to "draw them in with beauty, and then hold them with truth". I find this a powerful and effective guide, equally relevant to the work place, the campus, and the home.
How have you remained involved with USD since you graduated?
I so admire my friends who have been closely engaged in University life and events through the years. For me, raising our four children, volunteering in the parish and Scouts and Little League, teaching for nearly forty years, being actively involved in grandchildren's lives, living simply--these commitments have consumed my time, my energy, and my treasure. This enduring sense of personal and community responsibility has been my ongoing pledge and commitment to those who raised me: my own parents, and my schools.
Is there anything else you would like to share?
The College for Women and the Academy of Our Lady of Peace together created in so many of us the sure and certain conviction that we possessed a quiet inner strength and perseverance. We would endure, and we were worthy. In both good times and in dark days, such a grounding in one's Faith and in oneself carries the day--now THERE is a living call and response between a university and its students.