SOLES Alumnus Spotlight: Danny Romero '14 (MA), Nonprofit Leadership and Management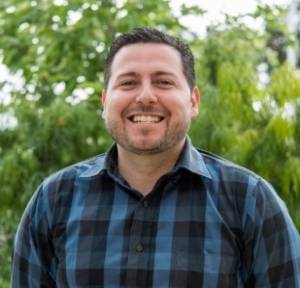 begin quote

If you are considering being in the nonprofit sector in San Diego, there's not a program out there locally that really allows this kind of freedom and independence. And it has a very reputable name within the nonprofit community, as well.
Tell us about your degree program and why you chose it.
The program that I chose was the Nonprofit Masters in Leadership and Management. I was considering a few different schools and a few different backgrounds but after going to an open house, it was the first time I was really considering coming. I had the fortunate experience where my supervisor at the time had gone through the program as well, and she had given me a heads up of what the program looked like. And then after going to the open house and meeting some of the professors and understanding a little bit more about the program, and how a lot of it geared towards applied projects that allowed you an opportunity to rub your shoulders with other nonprofits in San Diego, was why I thought it was an ideal fit. In my career, I was at a point where I was in management jobs but never really considered for director opportunities until coming into this kind of program. And so it was just kind of a natural progression of where I was and looking for an opportunity to get to better understand San Diego nonprofits as a larger whole.
Who was your favorite SOLES professor, or what was your favorite class?
I had a lot of great professors. I think one I felt most at home and felt like what I was learning was something that got larger than my own neck of the woods was a collaboration class that I had during intersession with Professor Liz Shear. It really was one of those classes where you can think of a term like collaboration and think of it terms of we're meeting and we're collaborating, but to kind of understand the breadth and depth and the different approaches behind it. That was one of those classes that you don't exactly understand what you're learning when you're learning it. But then when you're finished with it, you have that knowledge in your background and you can pull it out when it's needed. At this point right now, I oversea a collaborative - the San Diego Military Family Collaborative - and we're about 200 organizations strong. So a lot of the different techniques of engagement and learning and trying to further a collaboration of efforts across different providers is something I do on a regular basis.
There's been a lot of different classes that have been a part of my learning at USD where I've taken a lot from. A lot of time when I'm working with interns and the staff that I have, I pull from a bevy of different things, including our leadership class offered through SOLES with Terri Monroe. It was a different way of being exposed to learning, where you can walk into an uncomfortable situation and not want anything to do with it. But it's another thing to stay around it and learn from it. And I learned a lot by feeling uncomfortable in my skin sometimes. A lot of those core principles of leadership I still utilize. And it's fun to see it through other peoples' eyes when I kind of explain concepts to them and have them think about things in a different light.
Patti Saraniero did some aspects where it was value statements, and vision statements, and mission statements, just to have an understanding that if you're going to create one of these from scratch, or if you're going to adopt one as your own, you have to have some of these core principles and these core foundational pieces and that's what this kind of a program taught me.
Did you have a mentor while you were a student at SOLES?
I did remain in contact with my supervisor, who did shift gears during my program years. She was an alumna of the program. She gave me an opportunity to continue to ask and to have different perspective on what I was learning. And to see whether or not I was applying my own learning in a way that she had maybe done something similar. Or perhaps she may have enlightened me on something that I wasn't considering at that point in time. There were a few different alumni that I would connect to to get that kind of perspective. I think that it does help to have someone who can share their insights with you. The more you're able to create those relationships, brings you further into your education.
I think it was in one of those moments in the 550 class that I kind of really understood that there is a lot of diversity that's at SOLES with regards to what people are learning. But we're not all learning the same thing, and we're not all taking in information the same way either. One of those classes allowed me to meet with folks who maybe were further along in their masters program, even if it wasn't connected to the nonprofit program. And I think it was just an opportunity to kind of understand that, while we're all learning the same concepts, how we apply those concepts is drastically different. I always found value in making those kind of connections because you only know what you know until you're faced with something different. This intentional piece (The Mentor Collective) I think will help a lot of students to better understand how to navigate the systems.
What was your favorite place on campus and why?
Mother Rosalie Hill Hall at SOLES...you hang your hat there all the time. There was always something to do or see. But as a working professional, more of my days were spent working and then coming in the evenings. And so I always just enjoyed being at a cafe, or Bert's, or anything that really allowed time and space. Part of that is just finding time and space to read and process things, so I just enjoyed being around MRH Hall. Even sitting outside, reading a book, catching up...there's something nice about being in your home building and feeling like it is your home.
Did you go on an international experience while at SOLES?
When it came to the global requirement, the nonprofit program does offer opportunities to go binational over to Mexico, and it's a great opportunity. I just have done it though, with family, going abroad. And it was something I wanted to push myself at. And so there was a few of us in my program that actually had a relatively rich background in being abroad. So we decided that we would try and do an independent study, and we did an independent study that brought us to Argentina. And we created an opportunity to meet with different business sector leaders and try to figure out "what does their nonprofit community look like" and doing a cross comparison. It was an opportunity to check out diverse landscapes. Andy Carey had set up an interview for us over there, we did a few different ones. And I think that, you always wonder where you are as a sector, in terms of having a measuring stick to figure out, "Well, how diverse are we? How progressive are we as a sector?" And you can go to different countries and different places and find that, you know, actually there are some very progressive things that we are accomplishing as a sector here, and some of it's specific to San Diego and some of it is specific on a national spectrum. But I don't think necessarily other countries are too far behind in kind of starting to see there are needs that can be addressed through non-governmental agencies. Everyone looks at an NGO to do everything that the government won't, but I think that our sector looks very different. Some are small nonprofits, some are larger, some are based on different basic needs, some are very specific to ethnicities. And so there is kind of an ebb and flow of what we have here; there's something for everyone. I learned, at least in that experience, that a lot of it does eminate with different religious organizations and then kind of filtered through a combination of government and churches. It was an eye opening experience, but in a good way.
Tell us a little bit about your journey since you graduated.
While I was in the program, I was at San Diego Futures Foundation and I was one of their managers with educational programs. My supervisor at the time was the director. During this program, she went on to another role and there was an opportunity to assume an interim director role at the organization. I wanted the experience, and then it's like learning as quickly as possible through academia and through practice because there's still work that needed to be done. That's why remaining in contact with USD alumni really does help because then I was juggling a new job, even though it was the same organization, plus trying to figure out school at the same time. It was a learning process that you can't really replicate until you do it. And so when I finished the program, instead of being an interim I was made a director. I assumed that role for some time. Part of my world has brought me into things like affordable housing or different communities across San Diego. And I just felt like I needed another challenge, another opportunity. So I had been looking for different job opportunities, and I had done one collaborative project while I was in my collaborations class with the San Diego Military Family Collaborative. Because of that project, I reached out to see if this was something I had the ability to do, although I'm not military myself. The individual was like, "I think you have the qualifications. I can't really tell you which way, but I can tell you that your application will be due on Friday. So if you're interested, get it in sooner than later". And I thought, my father had served and I've always been curious. You know, growing up in San Diego many of my friends' parents were military connected, mine included. But his career was way before I came along. And I thought, why not? Let's just throw my name in the hat. And in time I became the candidate, through about three different interviews, and then assumed the role as the Senior Program Director. Little did I know that that meant eight plus programs and quite a lot of different things to come up to speed with in terms of culture, lingo, heirarchies, different chains of command. Learning all of them was something that I needed to challenge myself in and fully immerse myself in. In the past, I had opportunities in working with Latino communities, I've working with African American communities, looked at different socio economic backgrounds, and it was just one of those that I haven't touched. It's always been something on the peripheral and never really immersed myself in. I've humbly tried to learn what I can, and I'm still learning. But it's a community that's very gracious, very giving, and really would give you the shirt off their back if you're in need. And it's very rewarding.
How has your SOLES education impacted your career and your career goals?
I've never been the type of person when asked "What do you want to do when you grow up?" to ever have an answer, or a clear answer, or just an answer that I actually meant. So the way I describe my nonprofit career is that I stumbled into it. I came back from my undergrad and expected to work border relations. I have a poli sci degree and with Spanish as a double major. At the time with the political climate and everything else, I just didn't feel like it was the right fit. So I started with AmeriCorp, and it allowed me to get to know the communities on a different level, a deeper level. And at the time, I continued to grow and seek out new opportunities. But I did kind of always feel like, unless you logged time at that job or you have a certain background, those opportunities aren't made available to you. I continued to scan what was out there...I think when you work in the nonprofit sector for so long, I think there's this idea of I'll build myself into a future executive director or a CEO. I think the program allowed me to understand that those aren't the only things you can work yourself into. There's a lot of different levels and layers along the way. I think it allowed me to see that there's this vast environment where you can be on the executive level or the senior leader level, but you don't always have to be the executive director. And I think that allowed me to see that there are transferrable skills, and that it doesn't just have to be the nonprofit sector that I look at and look towards. I've been approached by other for profit institutions to see if I was willing to make the switch. I just haven't had that opportunity that I would really want to make that switch for yet. With SOLES and my career, it's opened new perspective and it's allowed me to see the different dynamics that occur across San Diego. Some of the work I've done regionally has allowed me to see that north county, and east county, and south county are very different entities. But I wouldn't have even started considering the differences without getting into a program where I got to meet other nonprofit organizations where they are, and get a better understanding of the type of work they're doing. SOLES has broadened my horizons and I think that it's pushed me continually to be an ongoing learner. To understand that it's okay not to know everything, but to continually work towards better understsanding others by challenging myself. It's allowed me as an adult and as a professional to continually push, so that's what I do. It's been a great ride.
How have you remained involved with SOLES and/or USD since you graduated?
A lot of my cohort left San Diego, which is not a bad thing. In town, I still keep in touch with a few folks. I have a cohort member also working at a military-affiliated service organization, who I've had the ability to talk more about the things we're working on and look for synergy in our work. It's always nice to have someone that you got to know on a deeper level, through schooling, in order to kind of continue growing. And it's nice to have a soundboard. It's nice to have those folks who I'm still able to call upon if needed. You just never know.
Due to the nature of my work, I've been able to kind of create more relationships with members from USD in different ways, as well as the Caster Center. The Caster Center worked with the collaborative that I oversea, as well as another group called the San Diego Veterans Coalition. Together, all three entities worked pretty diligently last year in helping to asset map the different resources available to different military and veteran families. It's been a great opportunity to have an academic partner really get behind someone's work. We can do things as a nonprofit community member, but it doesn't always receive that distinction that someone from academia receives.
If you could offer a current SOLES student advice, what would it be?
I think the best piece of advice is to understand that those who you are in classes with ultimately turn into some of those key individuals following these types of programs. Take the opportunity to get to know one another and other organizations on a deeper level, because the more you know, the better opportunities you'll have in the future, as well. These types of programs - masters programs...what you put in is what you're going to get out. If you have the ability to get to know others and to challenge yourself in the program by trying something new...I'm big on piloting. Looking at what the current landscape is and finding your ability to be creative in these types of programs, I think, is really what makes your experience unique. I think the creative side, at least while I was connected to it, really does allow you to do a lot with your program. I think that USD offers something special where you have the ability to create your own experience. Take this opportunity and make it into something great because you'll be surprised how much you can apply these learnings in the future.