SOLES Alumna Spotlight: Christine Enger '93 (BA), '94 (Single Subject Credential)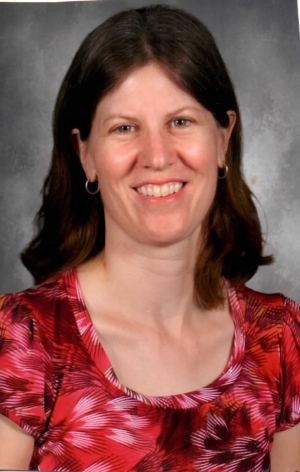 begin quote

The professors supported and encouraged me and prepared me well for the profession I have spent the last nineteen years committed to and have enjoyed.
Tell us about your degree/credential program and why you chose it.
My degree is in English, and I have a Business minor. I started out on the Business Administration program track but, after two years (and with a Statistics class on the horizon), I decided business wasn't what I wanted to do. I switched to an English major, as I liked to read and analyze literature. I still do! I enjoyed the various literature courses that I took at USD. As for my teaching credential, I was fortunate to be offered a graduate assistant coach position for the women's basketball team which allowed me to stay a fifth year and earn my single subject credential in English.
What is your fondest memory of being at USD and the School of Education?
My fondest memory was my senior year when our women's basketball team won the WCC tournament in 1993 and went to the NCAA tournament for the first time in school history. We played Santa Clara in the WCC championship. Santa Clara not only was our conference nemesis, but also a team we had lost to by twenty points just a week before. It was an amazing game where each of us played our individual roles flawlessly. In sports, people often talk about an individual player being "in the zone" during a game. This was a whole team being "in the zone"...I can still envision the stunned looks on the faces of the Santa Clara players. We won by twelve points and my dream of making the NCAA tournament was fulfilled.
As for the School of Education, I have fond memories with my mentor teacher, Kate Neale, who is also a USD alum. I was a student teacher for her 8th grade class as Kroc Middle School. She was direct in her feedback, yet encouraging and taught me quite a bit. It was an invaluable experience being in her classroom. I remember and apply many of her wise words and techniques in my classroom today.
What is your favorite place on campus and why?
Though I spent a large portion of my time at the gym, I loved sitting outside, especially at what was back then the deli patio area, having lunch and studying. It was a great place to relax and enjoy the San Diego weather!
Who was your favorite School of Education professor or class?
I remember Dr. Infantino's kindness and dedication toward his students. I also remember all my education classes that provided the foundation I needed to be successful in the classroom.
Tell us a little bit about your journey since your graduation and receiving your credential.
After I graduated from USD, I did not want my basketball career to end. So I looked for places to play overseas and, through various USD connections, landed on a team in Ipswich, England. Along with playing for the Bobcats, I had the opportunity to go into schools and coach basketball to mostly elementary aged children. I also ran various clubs and even coached an inexperienced high school boys' team. That will prepare you for any classroom! I lived in England for four years. I feel that experience matured me and prepared me for the classroom in ways I wouldn't have been able to back home.
Upon my return from England, I decided to try to make basketball a career. I coached various middle and high school teams, worked for the Vista rec department but it wasn't enough to make a living. So, I started to substitute teach in the Vista Unified School District. Since I grew up in Vista, it was odd to be back and see former teachers and even more odd to call them by their first names! It was during my substituting that I found I enjoyed middle school students.
I applied for various jobs in and around San Diego North County and filled out an application for a middle school position in Murrieta because I figured it would be good practice if I got an interview. I firmly believe God directed my path here as I ended up being offered the job in Murrieta teaching 7th grade English. That was nineteen years ago. I have been in the Murrieta district ever since. I have taught primarily 7th grade with some time teaching intervention classes like Read180. I currently teach 7th and 8th grade Strategic LA for students who are a grade level or two below in their reading ability. I love to encourage, motivate, and teach these students. Each year I see students who came into my room not believing in their ability or themselves leave my class with a greater confidence in who they are and what they can achieve.
How has your School of Education education impacted your career and your career goals?
My classes through the School of Education were the solid foundation I needed to become a good classroom teacher. From writing lesson plans, to classroom management, to interacting with students, I apply much of what I learned at USD to my classroom today. The professors supported and encouraged me and prepared me well for the profession I have spent the last nineteen years committed to and have enjoyed.
If you could offer a current USD/SOLES student advice, what would it be?
I would tell a current student to be open to learning as much as he or she can from the professors, classes and master teachers. The more coachable and open to feedback, both positive and constructive, the better teacher he or she will become. Also, a great lesson plan will only be successful amid a safe environment. Classroom management is key for any successful teacher. And don't forget in the climate of an abundance of testing, data analyzing, and high expectations, to have fun with your students!