SOLES Alumna Spotlight: Susan Payment '93 (MA), Counseling, '03 (EdD), Leadership Studies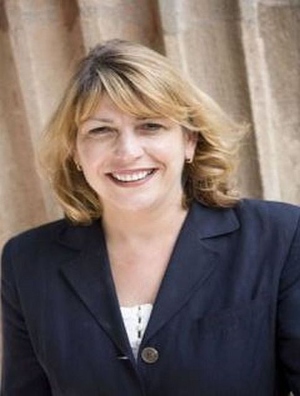 begin quote

I will forever cherish my USD experience. It is truly a special place, providing students and professionals an environment to live, learn, and grow.
Tell us about your SOLES degree programs and why you chose them.
I chose to enroll in programs offered in SOLES for a number of reasons:
The course offerings and content were directly related to my field (higher education administration) and helped provide me with the foundation that I needed to be a better advisor and resource to the students that I served. I had originally planned on pursuing a career path in museum management and curatorial practice. I was a history major at the University of Michigan (where I completed my undergraduate degree) and my first master's degree is in Public History. While I did work in the field for a few years, when I relocated to San Diego from Jacksonville, Florida, I was unable to find a job. When a friend (and alumnae of USD) suggested that I look for opportunities on campus, I realized that this might be an even better fit for me. When I began working in the Office of Student Affairs in September of 1990, I was inspired to pursue a second master's by my mentor, Carol Lyman (who was Director of Student Activities at that time) and learn more about theory and practices associated with college student development.
The ability to attend classes on-campus and apply what I was learning in my everyday work environment was also appealing.
The opportunity to build my personal network and be part of a vibrant cohort of seasoned and emerging professionals was an added bonus.
As a life-long learner, I always knew that I would return to the classroom at some point and pursue a terminal degree. Again, the content and proximity of the Ed.D. program offered through SOLES was exactly what I was looking for! Coursework in policy, assessment, and leadership were instrumental in helping me continue to grow as a professional and gave me the confidence to seek out new opportunities that I might have dismissed in the past. I continue to utilize much of what I learned through my time in SOLES and regularly recommend USD and SOLES to my students.
Who was your favorite SOLES professor, and/or what was your favorite class?
I actually have three favorite professors.
Robert Donmoyer
served as the chair of my dissertation committee. He was patient, kind, and he was instrumental in developing my research and writing skills through his Research Methods course. I enjoyed a number of marathon sessions with him at Peet's Coffee in Hillcrest, reviewing drafts of chapters and exploring ways that my study could be improved.
Fred Galloway
's Higher Education Policy class was eye-opening for me. Materials and assignments included in the course allowed me to gain a new appreciation and understanding of how effective policies can be developed to support stakeholders and affect change. And I was fortunate enough to take Leadership Theory and Practice, as well as the Leadership for Change seminar with
Terri Monroe
. I also served as a TA for one of her courses. Through these experiences, I was able to see the application of theory and the creation and development of organizations within experiential settings.
What is your fondest memory of being at SOLES and/or USD?
There are far too many to narrow it down to just one!
Some of my USD memories include: Attending Associated Students (AS) leadership retreats in Julian and learning more about exceptional students through conversations over dinner. Meeting iconic individuals such as Judy Shepard (mother of Matthew Shepard), Ossie Davis and Ruby Dee (actors and activists), and Betty DeGeneres (mother of Ellen DeGeneres), and watching them inspire students by sharing their stories. Being serenaded in an elevator in the Jenny Craig Pavilion by singer/songwriter Ben Harper. Developing a long-lasting relationship with Alice Crowe (actress, educator, and mother of film director, Cameron Crowe) and introducing her to comedian/actor Jimmy Fallon (who appeared in her son's movie, "Almost Famous"). Having breakfast at Denny's at 2 AM with the AS Concerts Committee to celebrate a successful show. Working with a wonderful group of students and graduate assistants in our office space on the "Garden Level" of the University Center.
Some of my fondest SOLES memories are: Finding a supportive cohort among the master's and doc students, and encouraging each other to be our best selves. Completing the Leadership for Change course and having the chance to learn directly from Ronald Heifitz, author of "Leadership Without Easy Answers." Serving as a member of the School of Education Alumni Board (after completion of my M.Ed.) from 1993-1994. Receiving my hood from Dr. Donmoyer and congratulations from President Alice B. Hayes at commencement in Spring 2003.
What is your favorite place on campus and why?
Without a doubt, my favorite place will always be the Hahn University Center. In addition to being a SOLES student, I was also a staff member in the Office of Student Affairs from 1990-2004. The UC was my home away from home and served as a living laboratory to observe student development theory in practice and allowed for the development of a strong sense of community with faculty, staff, and students that I interacted with on a regular basis. There is a sense of pride and satisfaction when recalling the quality programs and services that were provided throughout my years at USD and the learning, laughter, and wonderful memories associated with those experiences.
Did you complete the international requirement while you were at SOLES?
While the international requirement was not in-place while I was at SOLES, I have enjoyed visiting campuses throughout Canada, Mexico, and Europe on my own, and I encourage current students to look for ways to explore colleges and universities in other countries to gain appreciation for those educational systems and consider how practices utilized by other institutions might complement those currently offered in the U.S. Most recently, I was able to participate in a study tour coordinated through the Association of College Unions International (ACUI) in Scotland in the summer of 2015 and travel to nine different campuses with a group of twenty colleagues. We met administrators and students at each institution and were able to compare and contrast college union facilities, operations, and programs to those offered at our home institutions. We were able to gain additional insight into the National Union of Students (NUS), which allows students from throughout the United Kingdom to engage with political leaders and influence policy and protocol related to higher education. I was also honored to serve as a co-presenter for an educational session on undergraduate leadership programs that are currently being offered at colleges and universities in the United States and how they might be adapted for implementation in the UK.
Tell us a little bit about your journey since graduating.
In 2004, I left USD and accepted the position of Director of Student Life at the College of Charleston (located in South Carolina). I worked with a talented team of full-time professionals and student employees to provide programs, services, and resources to a vibrant student body of over 11,000 undergraduate and graduate students through the Theodore S. Stern Student Center and additional campus facilities. In addition to Facilities and Operations, my office also included Programming and Student Organizations, Late Night Programming and Special Events, Marketing and Media, and Student Governance. The Office of Student Life was responsible for a budget of nearly 2 million dollars and produced or supported hundreds of student-focused events each year. The department was an active participant in institutional assessment efforts and assisted with the development and implementation of the Sustainability Literacy program (a quality enhancement plan launched in 2016 associated with the College's accreditation through the Southern Association of Colleges and Schools Commission on Schools).
During my time at CofC, I also served as a member of a number of campus-wide committees, including Commencement, The College Reads! (a institution-wide program), and the Emergency Management Team.
After retiring from the College in April of 2017, my husband (Shawn) and I have continued to enjoy travel, theater, concerts, and trying out new restaurants in the Charleston area. I also regularly volunteer with the Lowcountry Food Bank (part of the Feeding America network) and assist with packaging and distribution of food at events in the community.
In January 2018, I became an adjunct faculty member in the Zucker Family School of Education at The Citadel and have taught Higher Education Administration and Foundations of Higher Education. Working with graduate students and emerging professionals offers me a chance to share my knowledge and experience with others and to learn more about current issues and challenges encountered by student affairs practitioners.
My involvement with ACUI continues to be a bright spot in my life. I have held a number of leadership positions within the Association (including two terms as an at-large member of the Board of Trustees and as chair of the Conference Program Team for the 2017 Annual Conference). I am currently serving as co- leader of the Community of Practice for Seasoned Professionals and Retirees and am assisting with the development of curriculum for a course offered through ACUI's badging program.
How has your SOLES education impacted your career and your career goals?
My SOLES education gave me the tools and confidence to consider what the "next steps" in my career path might look like, including how I could create a vision for my future as well as a plan to achieve my goals. I am a better practitioner due to the program and have been able to regularly apply coursework to work-related scenarios (including serving a supervisor, managing teams of volunteers, project management, and resolving complex issues).
How have you remained involved with SOLES since you graduated?
Primarily by encouraging current and former students to consider SOLES when they are applying to master's and doctoral programs, and providing letters of recommendations. I also remain in touch with former colleagues in Student Affairs at USD and have connected in-coming SOLES students with offices that have graduate assistantships available. I remain in touch with former co-workers and students and look for opportunities to recognize their work at USD and other organizations by nominating them for awards and honorifics to recognize their accomplishments and contributions.
If you could offer a current SOLES student advice, what would it be?
There is so much going on at USD! In addition to your coursework, take advantage of programs and resources on-campus and find time to engage with others. Look for an assistantship or a job on-campus that will provide you invaluable practical experience, enforce concepts covered in class, and help you create and enhance your professional and personal networks. Don't be afraid to introduce yourself to classmates and faculty members and ask questions - everyone is there to support your efforts as a student and help ensure your success. Finally, explore the San Diego community and find ways to engage in volunteer programs or social justice efforts that will allow you to connect with others.