SOLES Alumna Spotlight: Amanda Gutierrez '02 (BA), '04 (MA), Marital and Family Therapy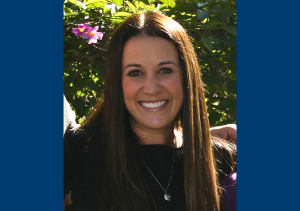 begin quote

With my experience going into a doctoral program, I felt so prepared and so ahead of the game and I really, really thank the MFT program for that
Please tell us about your degree program and why you chose it.
I was pretty set on going to college in California. I had never been to California, I had only seen it on TV and in the movies, but I knew that's where I wanted to go. And USD was the first school I toured, and I didn't event want to go see any of the other schools. When I was in high school, I was pretty confident that I wanted to be a psychologist. I don't know if I fully understood how much schooling that was going to entail, so when I got to undergrad at USD, I double majored in psychology and sociology. And I just loved USD and being here in San Diego, so moving on to get my Masters in Marriage and Family Therapy just made sense. It's a great program. And then went on and got my doctorate in clinical psychology with a family emphasis. And when I started my doctoral program, I definitely felt like I was above the curve in terms of what I already knew, in comparison to other students.
What is your favorite place on campus and why?
When I transitioned to being a graduate student, the SOLES building wasn't here yet so they put us down in the dungeon. I think the Peace and Justice Center was being built while I was an undergrad, the Alumni Center went up while I was in grad school, so it was slowly developing in my time there. Things were starting to pop up. And then I left and came back and was like "what happened to this place?" I mean, it's just so beautiful. There's nothing more beautiful than this campus. But I really love the Peace and Justice Center, the mindfulness room, the pool and the hill back there. It's all just so pretty, so I love going back there when I'm on campus.
Who was your favorite USD professor or class?
I definitely loved Todd Edwards and Lee Williams. They were both really fantastic professors. Someone that really stood out to me was Jo Ellen. I don't remember everyone because there was a lot of turnover in that program. But they were all so great and so supportive. I didn't realize it, but I was learning so much that wasn't being taught in other programs.
Tell us a little bit about your journey since graduating.
I actually ended up taking a hard right. I went to Azusa Pacific's doctoral program because they had a family emphasis. And then I ended up, because of my training at USD, at a children's hospital. I ended up getting a practicum site that most first-year students don't get. So I was at the UCLA medical center learning how to do a therapy call dialectical behavioral therapy, which is like working with chronically suicidal and self-injury prone, self-mutilation, that population. So I started to get trained in that and just fell in love with it, fell in love with therapy, and that population. So that's just kind of where I went and I've just stayed on that track since. Then I was an adjunct in the MFT program at SOLES for a little bit. I absolutely loved teaching. Every now and again I go on the USD website to see if they're looking for an adjunct. I think when I was teaching in the MFT program, I was teaching a psych assessment, which isn't anything I'm passionate about. Or something I feel extremely competent in, and so that was probably exuded in my teaching style in that class. But I think if you got me in a class for abnormal psychology, or evidence based treatments, or something like that, I could take those subjects and talk for days. Now I work in a clinic with five or 6 other therapists. We're a treatment team and we all serve the same population. Team therapy, dialectical behavioral therapy, works primarily with borderline personality disorder. So the same sort of subset of symptoms: chronic suicidality, self-injury, that sort of thing. There's never a dull moment over there!
How have you stayed involved with SOLES since graduating?
I stay in touch with my cohort members. I still have a couple of friends that I see on a super regular basis. And every now and again I'll reach out to Todd and Lee and try to convince them to start a training program with us. We've done a little bit of collaboration working with students at the DBT Center in the past, but not a whole lot or as much as I'd like. So every now and then I'll reach out and shoot them an email to see how they're doing.
How has your SOLES education impacted your career and your career goals?
I think it gave me a really solid understanding of abnormal psychology and theory in that realm of topic. It pushed me in the direction of family psychology and that's how I ended up at Azusa and took a major right turn there. I still do some couples and family work under the DBT umbrella, but it's definitely not my focus anymore. But I just feel like having SOLES as a stepping stone was so huge.
If you could offer a current SOLES/USD student advice, what would it be?
I would just say to soak it all in. Get as much as you possibly can from the professors. They're all phenomenal. And like I said a few times, with my experience going into a doctoral program, I felt so prepared and so ahead of the game and I really, really thank the MFT program for that. Just the level of that program was so superior to what I observed from students coming from other programs. So, I'd just tell current students to take it all in and get as much as they can from their professors, learn it all, and stay in touch.