HRSA Project TeamUP Stipend Recipient Spotlight
Christian Vallido, MFT Trainee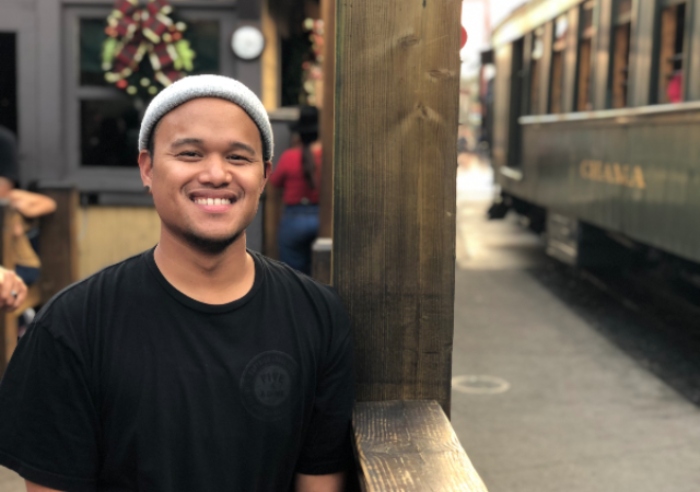 My name is Christian Borge Baldovino Vallido - you can call me 'CV' for short. I am currently gearing up to graduate in May of 2019 from USD's Master's in Marital and Family Therapy program. During this past semester I began my practicum experience at UCSD Family Medicine. What I enjoy most about working there is being able to support and genuinely help the patients. We all work as a part of a care team which means I can refer to nurses, physicians and psychiatrists. Whether it be TCARE (Tailored Caregiver Assessment and Referral) or on-going therapy we make a difference utilizing a short-term, goal-oriented, solution-focused model. We get to know the patients from all backgrounds people and track their progress.
The training I have gained through practicum and this program make me feel like a stronger clinician. I have learned a lot about myself while studying at USD and the hands-on work I do at my practicum site. The friendships and bonds I have made are priceless and it has been interesting to be one of the few men in my cohort group, let alone this career field. The people I work and study with are some of the most grounded, positive people you could imagine being surrounded by. The level of support I received from the faculty, staff, HRSA stipend, classmates and supervisors have made the biggest impact throughout my experience here, starting from the interview process, to studying abroad in Spain, to learning hands-on experience.
Upon graduation I will continue to practice and grow as a clinician. Coming from a military family and growing up just a few minutes from the border, I realized how both the military community and South Bay are in need of proper and supportive mental health services. I know that USD has prepared me to pursue helping these communities in the future. For now, I will continue to gain experience and hone my therapeutic skills in order to reach my future goals and normalize mental health (Therapeutic and empathic memes! It's gonna be a thing).