SOLES Alumnus Spotlight: Marco Amaral '16 (MEd), Special Education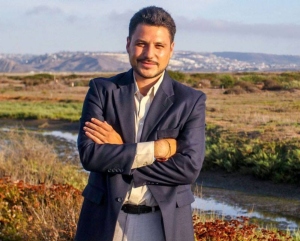 begin quote

The best thing about SOLES is also the worst thing about SOLES — there is so much individualized attention and support. It was hard to come to terms with accepting that support.
Please tell us about your degree program and why you chose it.
I think first and foremost, it is understood that SOLES has the best Special Education program in San Diego County. And I wanted to go to the best special ed program. Also, while I was at Berkeley, I was almost relentlessly anti-private schools. But I wanted to see where I was right and wrong, and fill in those holes to my analysis of education. I wanted to come to USD to set myself in an uncomfortable space. I think I find my most inspiring self and academic self in spaces where I feel uncomfortable. And fortunately for me, I'm a Gates Scholar, so cost wasn't an issue. So I knew I could apply.
What is your favorite place on campus and why?
The law library is super incredible to study in. I loved to study in the law library. I also really liked the area behind the KIPJ, where you could Sea World from. That place was cool. The views on campus are incredible.
Who was your favorite USD professor and/or what was your favorite class?
Once I opened myself up to finding help, it became so much easier to be here. Especially with Dr. Kalyanpur, with Professor Alexandrowicz, and Professor Spencer. Those three women really helped me out in becoming the person I wanted to be. That was the most beautiful thing to me. They were adamant about me becoming the person that I wanted to be. They were amazing guiders. Dr. Kalyanpur is my favorite professor in terms of the guru of special ed. She knows everything that has to do with differentiating instruction, and different means of production, and the universal design for learning. But also, she has the most calming humanity behind her. I feel like her voice and her presence are very soothing. She was the marker of true leadership in SOLES, because she didn't need to demand anything from anybody. Professor Alexandrowicz, Viviana, she was the professor that I could culturally see myself in. The one professor here that I could speak to in Spanish, unapologetically. She was also the one that I had the most personal trust with. She was relatable to me and I felt really comfortable with her presence. If there wasn't a Latina professor at SOLES like her during my time there, I might have left SOLES. That was super important for me to see that representation there. In terms of the academic I wanted to be, Dr. Spencer. She was just an academic badass that I wanted to aspire to. Her whole academic career has been about breaking glass ceilings. Going through her own personal struggles as a human being, going through her struggles as a black woman in the United States, and then a woman in math, and then going through her struggles as an academic at this kind of institution. To me, it was so fascinating, the idea that here is this math genius who is known throughout the country for her mathematical work, engaging in a conversation in a classroom about humanity. That just seemed so diametrically opposed to me before her. The combination of those three women was important for me. I really give SOLES a plus one in terms of its push of really giving women, and women of color, positions of power.
If you could offer a current SOLES/USD student advice, what would it be?
The first thing I would say is that there is always a tomorrow. If you're a person that feels uncomfortable being at SOLES, know that there are other people that feel uncomfortable at SOLES. You're not alone. If you're here, you're here for a reason. And you gotta remind yourself that you're here for a reason. And that reason is for you and it's because of the work that you did, but it's also beyond that. And it's much larger than you. And to remind yourself of that every single day you're here, because that will get you through it. That will get you through those tough moments, because those are going to happen. Not everything is going to be roses and lemonade, right? Really just remind yourself as to why you're here, why you came here, who you're doing this for. Make sure the first person that this is for is yourself. But also, I think many of us who go through tough moments in this situation, we understand that we're doing this for other people as well. I would also say get out of your comfort zone and meet people. I would say that every individual you come across, if there is something inside of you that is pushing you to say hi, then say hi. Do not pass up an opportunity to say hi to somebody that your soul is pushing you to say hi to. That very well could be the person that's going to get you a future job, or just get you through that semester or that day. I would also say ask for help and ask for help in a pair. Find someone else that is also struggling, and go together. The most important advice is that whatever you do, have fun. Be you. Be unapologetically you.
Tell us a little about your journey since your graduation.
I'm super appreciative of the action research. That research opportunity opened a lot of doors for me. Because of that research opportunity, I became a super fellow and, through USD, went to Bolivia after. Did lots of research over there on students, on indigenous communities, on social/emotional well-being, on their mathematical understanding, and on their linguistics understanding, in age groups between three and six years old. I got to interview over 150 people in their homes. It was really awesome because Bolivia is probably the most decolonized country in the whole continent. It was very humbling and beautiful. The culture over there is drastically different. Coming back here, my focus was to be…bell hooks taught me, through her work, that you got to teach your students to be radicals, in what makes sense to them. To push the barriers of truth. They have an academic obligation to keep on trying to pursue a better world. And I think I wanted to be that teacher, not just philosophically, but also in action and in work. That decision has lead me to some incredible highs and some incredible lows. During my first official year as a teacher, the FBI took away my credential for protesting Trump, during my final semester here. I thought the earth had been taken from under me. For me it was one of the worst periods of my life. I went all the way up to Sacramento and people here at USD, people like Andrea Cash, really helped a lot in trying to create an awesome packet to send to the Department of Justice to say why I should be a teacher. My school principal wrote a letter, the superintendent wrote a letter, and I went to the CTC offices. Sure enough, they gave it back to me. The next hurdle in my teaching profession has been the RICA test. I have five years in the classroom, I've taught hundreds of kids, and have some of the highest math scores in the district. I have great rapport with the parents and my students. For me, taking this standardized test is very difficult. Right now, I'm a founding member of Bridge of Love, which is the collective that has been spearheading, countywide, the help in Tijuana for the asylum seekers. I've been arrested 4-5 times in the past two years for illegal civil disobedience, but none the less, every single time it has an impact. I think I really do see myself as part of a movement to change public education radically. We can't accept the notion that we are the richest country to ever exist on the face of this earth, and have the education system that we have. That's why I also chose to run for a political position. To me it was really kind of important to say I'm going to run a very different type of campaign, and we're going to win. We ran the state's first ever openly revolutionary de-colonial campaign for education, and we won. Our campaign tactics and methodology was also very different from standard campaigning. I was the first non-registered democrat candidate to get the full endorsement of the teacher's union, CSEA (California School Employees Association), and the whole labor council of San Diego. Every single day I consult with the community, with the custodian, with the kitchen staff, with the nurse, with the campus assistant, then the teacher, then the counselor. I'm also the youngest school board member in the history of the South Bay Union School District. When I ran for school board, I ran on three main things. First, a world class special education system, where all kids, but especially kids with disabilities, can truly see themselves aspire to something true and dignified in life. Second, I wanted the conversation of ethnic studies and gender and women's studies to go beyond the high school and university setting. I believe that all students deserve to understand who they are as human beings, from a sexual understanding, from a political understanding, from a cultural understanding, from a historical understanding, from a gender understanding, so I wanted to implement gender and women's studies and ethnic studies in K-8. And the third one was dignified salaries and wages for all workers, starting with our lowest paid workers. We knocked on over 2,500 doors in the district. We were the only campaign to host a march. We just did things very differently. We spoke from the heart. I told my volunteers, if you can't speak from the heart and say why you're truly fighting for this campaign, then I just want you to come with me. Don't go on your own. And it worked. We were the first openly revolutionary campaign in the state of California to win, and we're very proud of that. We're already causing some heads to turn.
How has your SOLES education impacted your career and your career goals?
USD is a place of a separate contrast. It holds lots of privilege, it holds lots of power. Many times here, I felt the pursuit of justice was a resume builder. But thanks to USD, I got to present my research in San Francisco at the Creating Balance Conference, which is the top social justice math conference in the country. That's because of USD. Because of USD, I had the opportunity to go to Bolivia. With all of the contradictions that USD poses to you, I found myself even more. And that's a beautiful thing. The reality is, there hasn't been a single employer or potential employer, in San Diego who hasn't looked at my resume and said "Oh you went to USD special ed program? That's amazing! We want you." Therefore, in terms of the name recognition, USD can open up opportunities for you in many spaces. In my cohort, there's only eight of us. And people know that's a very selective group of students. Academically, USD allowed me to understand the necessity and the need for well-rounded research. The result of that research is very gratifying. For me, going through the USD program on a day to day basis was also very gratifying because there wasn't a single day where I didn't learn something new. I recently went to Washington, D.C. I was chosen as one of the top America's New 100 Leaders by Bernie Sanders and that whole group of new congress women. I got to meet several of them. In general, I can't see myself ever stop being a teacher. Regardless of wherever the political career takes me, I never see myself stop being a teacher. It's what I truly love to do. When I'm in the classroom, I feel whole.