SOLES Alumna Spotlight: Laura Smith '06 (MEd), Induction Master's Partnership Program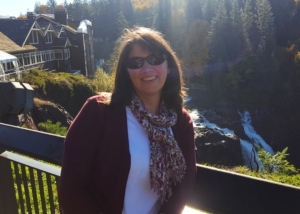 begin quote

The character education class was vital in establishing the foundation for my classroom discipline and it went hand in glove with the "Responsive Classroom" program that was part of our school-wide behavior management policy.
Tell us about your degree program and why you chose it.
I was part of the original cadres that opened up for first year teachers in the SOLES department. I heard about the program through BTSA (the beginning teacher program in San Diego). I received my original Bachelors of Science with an emphasis in Teaching at the University of New Hampshire in 1993, but then only taught for a year before going into the full time ministry. I served in the ministry in Boston, Denver, Phoenix, and San Diego. In 2004, I had the opporunity and desire to return to teaching. I knew that since I had been out of "formal education" (though I was still very active with my children's PTA, local school foundations, the School Board, and other state and local committees), I was going to need an intensive program to get me up to speed in order to be the most effective going forward. USD was exactly what I needed. I was part of the 2006 MEd cohort.
What is your fondest memory of being at SOLES and USD?
Although it has been 13 years since I graduated with my Masters in Curriculum Development, the most powerful memory is the relationships that we built as classmates. During that time, we were seeing each other twice a week and working diligently towards our common goals. There was a spirit of "we are in this together" as we were developing our action research projects. I remember being so impressed by these young men and women who wanted to make a difference in education. Also, the instructors were outstanding. They challenged us and called us to think critically on how to make learning more effective in our classrooms.
What is your favorite place on campus and why?
Since I was in the evening masters program, I did not spend a lot of extra time on campus. However, I did attend a number of games at the Jenny Craig Pavillion. Go Toreros!
How have you remained involved with SOLES since graduation?
Sadly, we moved to New Hampshire soon after my graduation and I was unable to keep in touch with the university. Every year there is the wine event and I think about attending, as my husband opened a wine store in New Hampshire and was owner and operator for 10 years. I do see there is a branch of USD alumni here in the Dallas area...I should probably look them up!
Tell us a little bit about your journey since your graduation.
After graduating in 2006, my husband and I moved to New Hampshire. My husband is from Massachusetts and we wanted to be close to family. I was hired to teach physical education in Pittsfield, New Hampshire and I immediately began implementing the skills I had learned at SOLES. The focus there was Understanding by Design and Backward Design, both things I had become quite adept at, due to the masters program I had just completed. During my tenure in Pittsfield, I immersed myself in the culture and community of the district. I became union VP, was invited to be a Team Leader, and, along with many committees, was involved in the process of writing a new plan for our district wide teacher and administrator evaluation models. As a Team Leader in the district, I supported other teachers in many areas, one of those included using my understanding of designing curriculum to help develop Educational Competencies that aligned with the New Hampshire state standards. As the need for competencies to be adopted statewide rose, I spoke at our state physical education conference, New Hampshire Association for Health, Physical Education, and Dance (NHAHPED) to help teachers throughout the state to develop and implement competencies into their programs. It was one of the most rewarding parts of my teaching experience. After 10 years, my husband and I decided that we wanted to be closer to our grandchildren and I retired from teaching in New Hampshire and we moved to Fort Worth, Texas. We have been in Texas for three years and have found a home with our church and community. My husband and I have been traveling; we went to Italy last year, where we celebrated 35 years of marriage. And while I am still "retired", I do think about re-entering education in some capacity. In the meantime, I have started my own home organization business, Help U Sort, and have enjoyed working with friends and neighbors to bring peace to the chaos in their lives.
How has your SOLES education impacted your career and your career goals?
The time I spent at USD was invaluable as I ventured out to continue my dream of teaching. I utilized the practices of UBD in my classroom in developing curriculum for the elementary school physical education program. The character education class was vital in establishing the foundation for my classroom discipline and it went hand in glove with the "Responsive Classroom" program that was part of our school-wide behavior management policy. The camaraderie that I experienced was integral in helping me to work within the team of teachers, seasoned and newbies, within the staff. It gave me the confidence to trust my colleagues so that I could continue to grow to be an important part of that learning community. I am so very thankful for the experience I had at USD.
If you could offer a current USD/SOLES student advice, what would it be?
Make good friends and stay involved. The contacts that you make will be crucial to you as you begin to grow in your field. The relationships are so important.