SOLES Student Spotlight: Lena Huang '19 , Nonprofit Leadership & Management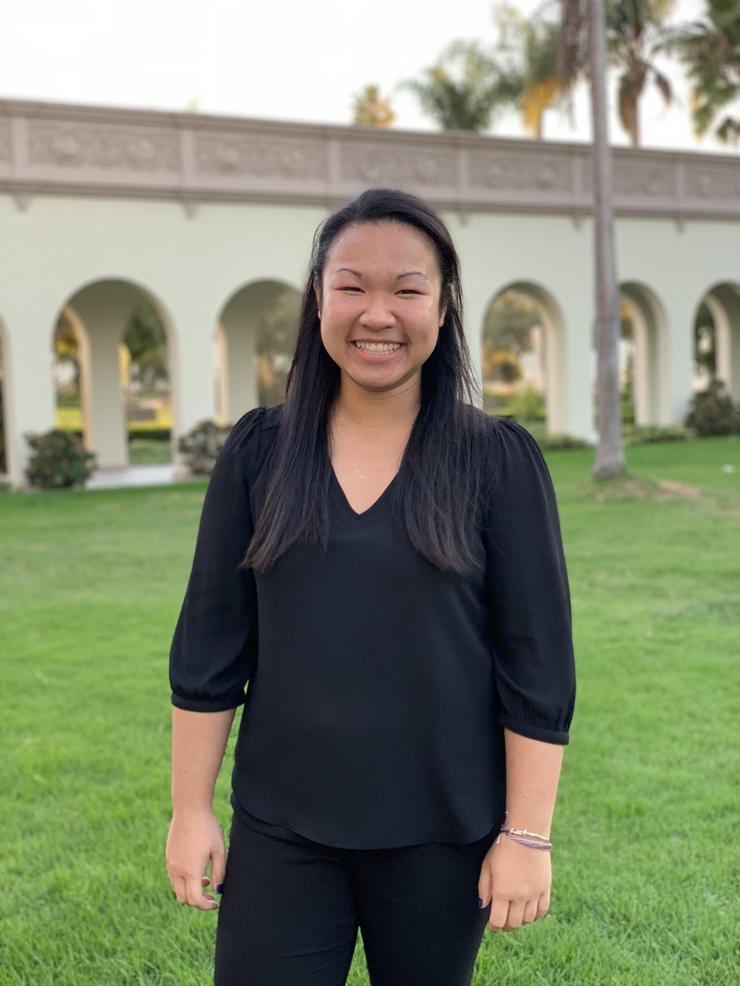 Meet Lena Huang, a current Master's student in the Nonprofit Leadership & Management program in the School of Leadership & Education Sciences. We took a few minutes to sit down with Lena to discuss her experiences in the NPL&M program, her international experience in Amsterdam, and her advice to incoming graduate students interested in entering the program!
Christian: What made you want to pursue a Master's in Nonprofit Leadership & Management at USD?
Lena: I was out of school for a couple of years and got that itch to go back. I was looking into different programs and schools. I was interested in the nonprofit sector and looked at programs in public policy and public administration. I found the program and USD and it seemed like a perfect match! I was also working so that was a factor in choosing this program, as I wouldn't have to move or quit my job. Everything kind of fit into what I wanted to do logistically and topic-wise so here I am!

C: Where were you working at before? How did that job influence the programs you were looking at?
L: So, it's actually kind of a funny story. I work at CCL, [Center for Creative Leadership] where we have programs aimed towards beginning to middle managers but when I was in high school, they had a Young Women's Leadership Program that I went through. I learned a lot about myself! After I had graduated from college, I actually found the highlighter that they gave us during the program so I went on their website, applied, and began working with them (laughs).
C: What has been your favorite experience within the NPL&M program so far?
L: First of all, meeting everyone in my cohort (and outside of my cohort!) and building that network has been really great. But my favorite thing would have to be that we get to work with nonprofits in the area on projects that they need help with. For example, I took a class over the summer and had the opportunity to work with Special Olympics on a project. This semester, I am working with Words Alive, a nonprofit that I used to volunteer with. I think being able to work with local nonprofits and building that professional network and experience is really beneficial. Plus, I'm pretty introverted so this program has allowed me to open up, network, and really make those connections, as well as getting to work with a bunch of different people and organizations that I otherwise would not have had the opportunity to connect with.
C: Does each course you take have a pre-selected nonprofit that you will work with throughout the semester or is that something that you get to decide upon?
L: Both! A lot of the professors are also practitioners so they have connections within the community and often times reach out to see if they need any students to assist on a project. There are also your classmates, who may be working in an outside nonprofit and may choose to focus on their own organization. So, it's a little of both!
C: Switching gears, where did you decide to go for your international requirement? Why this destination versus anywhere else?
L: I went to Amsterdam this past summer and the experience was centered around the ISTR (International Society for Third-Sector Research) conference, which happens every two years. It just so happened to fall this past summer! I was able to attend the conference and actually visit nonprofits in Amsterdam as well. It was an exciting time as it was also my first time going out of the country! However, you're not limited to only your program. There are a lot of options when it comes to international courses!
C: Do you have any favorite memories in Amsterdam?
L: Amsterdam is a wonderful city. The people are so nice, the culture and architecture is beautiful, and it's easy to get around by foot, metro, or bike. Two things stand out for me, though: 1) travelling with people in the same cohort and getting to know more about them as well as 2) visiting the Anne Frank house – the history behind it, the pictures and posters that she posted and were preserved, and being able to be where she was; it was definitely one of the highlights!
C: Were there any nonprofit organizations from Amsterdam that stuck out to you that you want to highlight?
L: There was one called Dignita, which is a restaurant that works to support a vulnerable target group of individuals and provides them resources to develop resilience while also learning other life skills. Plus, the people who work there are highly trained to work with these individuals, identifying behaviors that are potentially triggering and the like.
C: Looking ahead, what is the next for you after you finish the program and go out into the world?
L: I love working with kids so I would love to go back and work for Words Alive in any way I can. The Make-A-Wish foundation is another great organization that I would love to work with because of their mission.
C: Outside of school, what are some things that you like to do in your free time?
L: I'm a pretty boring person (laughs). I like to read, I picked up lettering a few years ago, and I kickbox as a form of working out, though not as much as I used to because of school! I'm also a self-proclaimed coffee lover so I'm always on the hunt for a new place to grab a cup of coffee, read, or do homework. My favorite place was Clockwork by SDSU but they recently shut down which is sad but North Park has great coffee at Dark Horse, Young Hickory, or Cafe Calabria.
C: Lastly, what is some advice that you can give to incoming graduate students?
L: I don't want to discourage anyone, but being in grad school is hard. It's time-consuming, especially if you're also working. It's important to let your loved ones know that you may be really busy for the next few years. Sometimes, on a Saturday night, it's just me and my books so just letting people know and finding that support system is helpful. Graduate school is different than undergrad in that it's mostly night classes and you don't see your classmates very often outside of class so the dynamic is different. Be prepared but have fun! Be open to new experiences and enjoy the ride.