SOLES Alumna Spotlight: Stacey Williams '13 (MA), Higher Education Leadership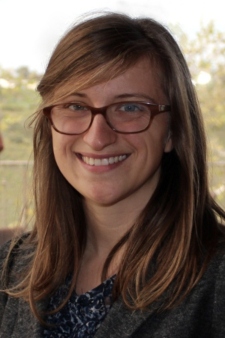 begin quote

Zachary Green, Terri Monroe, and Cheryl Getz all held me in this process of reflexivity and praxis. I can't name a "favorite" among them because they were my great trifecta.
Tell us about your degree program and why you chose it.
I got my MA in Higher Education Leadership with the intention of working with students in service-learning and community engagement. Because change leadership and education was the niche of student affairs that I was interested in, SOLES' emphasis on leadership studies was a huge draw for me.
What is your fondest memory of being at USD and SOLES?
I have so many memories that come to mind with this question that it is hard to choose. While this isn't one "moment", there is a feeling that stands out to me that I experienced in several classes. At these times, I felt empowered and emboldened in a sense of what the Quaker's call "Deep Self". Participating in classroom experiences that draw out your greatest gifts was deeply transformative for me.
What is your favorite place on campus and why?
The classroom space that LEAD 550/600 was held in will forever be a powerful room for me. It represents deep healing and learning and is a part of the container of the personal work that the Leadership Department invites students into.
Who was your favorite SOLES professor or class?
Leadership Theory and Practice (LEAD 550/600) created a foundation for me that informed the rest of my learning journey in the program and beyond. Zachary Green, Terri Monroe, and Cheryl Getz all held me in this process of reflexivity and praxis. I can't name a "favorite" among them because they were my great trifecta.
How have you remained involved with USD and SOLES since graduation?
Since graduating, I have been involved in a couple of Leadership for Change conferences and have also co-presented with colleagues from USD at national conferences. After five years away, I returned to USD and began a new role on campus, helping to establish the LGBTQ+ and Allies Commons, while ushering in a more intersectional approach to affintiy-based spaces on campus.
If you could offer a current SOLES student advice, what would it be?
As cliché as this might seem, trust the process. The leadership theory and methodology that the program is rooted in is one that can vastly improve our efficacy as leaders. It requires inner work and a skillset that academia doesn't always ask of us, or value. That unfamiliarity and challenge can be easy to resist, but I know that I am better for leaning into it.
Tell us a little bit about your journey since your graduation.
I've had the immense privilege of teaching global immerson and service-learning programs all over the world. Focusing on international development, social justice, and environmental sustainability, I have accompanied groups of students as we learn from local communities and organizations through homestays, field research, and practicum placements. While some of this work included more full-time travel, I also got to make a home for myself in both Thailand and New Zealand.
How has your SOLES education impacted your career and your career goals?
I am a better educator, leader, and human because of my training and experience at USD. The theoretical framework, reflective practices, systems-approach, and contemplative capacities that I gained in the program are ones that I rely upon daily. In recent years, I've done a lot of work in curriculum development and educational consulting that pull directly from the concepts, capacities, and ways of being that I learned from SOLES.