SOLES Alumna Spotlight: Andrea Andrade '17 MA, Leadership Studies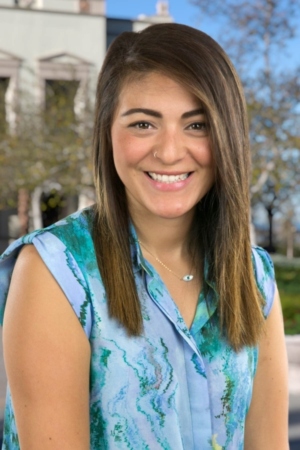 Please tell us about your degree program and why you chose it.
I graduated from the University of San Diego with a MA in Leadership Studies. I decided on this program after doing research on Educational Leadership programs in San Diego. I was focusing on a program that had a different approach to leadership. Something that was not heavily on management, but more so on understanding what it takes to become a leader in learning environments. After attending a SOLES Open House, and speaking to the faculty members, I was convinced that this program had something very unique to it and I was curious to find out more.
What is your fondest memory of being at USD and SOLES?
I am not sure if I can put my finger on one single moment because there were so many memorable events during the course of my experience at SOLES. Perhaps what I am most grateful for, and something that I will take with me for years to come, are the relationships I developed throughout the program. My fondest memories are definitely with people I met in this program. There are faculty members that, to this day, I still call my mentors. The same goes to my peers, from my cohort and those that came before and after me that I know will remain in my life for years to come.
What is your favorite place on campus and why?
Probably the bench on the side of the last tree in the Garden of the Sea at the Joan B. Kroc School of Peace and Justice building. The best time to go was during sunset. Experiencing the serenade of colors in the sky over Mission Bay was certainly the cure to some school related stress.
Who was your favorite USD professor or class?
In my experience the most memorable classes were Of Love and Leadership with Dr. Green and LEAD 550/600: Integral Leadership Theory and Practice with Theresa Monroe. I believe those two courses, more so than any other, impacted my development as a leader, consequently being one of my most valuable takeaways.
How have you remained involved with USD and SOLES since graduation?
After graduation, I was still participating in the Leadership Coaching courses for certification. I was still in touch with faculty members and peers, supporting them with their projects. I also had the opportunity to come back as a senior TA for the 550/600 course in Fall 2017.
If you could offer a current USD/SOLES student advice, what would it be?
Engage in dialogue with an open mind. SOLES has a wide defining spectrum of leadership theories, and if you go by this program with the willingness to take it all in, you will see the contrasting representations of one and the other. The disagreements and discussions that exist between them are what added to my learning experience. Of course, it is not to say that you shouldn't agree with one or the other, but it certainly offers you the option to make your own interpretation of leadership and how to critically think about events where contentions exist. Isn't that what they should prepare us for in this world?
Tell us a little about your journey since your graduation.
I think more than reaching professional endeavours, I have accomplished a significant amount of personal growth. Throughout this program I realized the importance of the interpersonal relationships and a support group, especially when talking about leadership. I believe that after the technical pieces — school for the most part — were over, I had more time to dedicate in developing these relationships, because I knew that without them I could not build more onto my professional endeavors. Being able to identify my tribe was key to continue moving forward in trying to change the world from the inside out. So that said, it has been a challenging task to identify those relationships that provide me growth, compared to those who kept me stagnant. Since then, I've continued to grow my own coaching practice, participate in group relation conferences, was offered a new employment, and recently became part of Generation IV of the RISE Urban Leadership Fellows Program, where I am continuing my personal and professional development to create a youth leadership program with my first focus group being the transborder community.
How has your SOLES education impacted your career and your career goals?
Well, considering all of the above, I think it continues to give me the tools to clear out the weeds, with grace, of the wild garden I once was. Still, acknowledging where I came from to remind me where I must be. This may all sound pretty and poetic, but it was nothing close. The kind of work that I was offered to do for my own growth was meaningful, but not easy, though I've never experienced such training in any other environment. I was fortunate enough to be surrounded by professors and classmates that, for the most part, were working towards this experience collectively. Now I can't say that my experience will be the same for you, but that is the beauty of this program. The dynamism, community mindedness and engagement, and the education parallelism to world events with your own personal and professional development is something that impacted not only my career, but my leadership philosophy. Now, I know for a fact that the work continues.