SOLES Alumna Spotlight: Jennifer A. Jones '08 MA and Ph.D. '15, Leadership Studies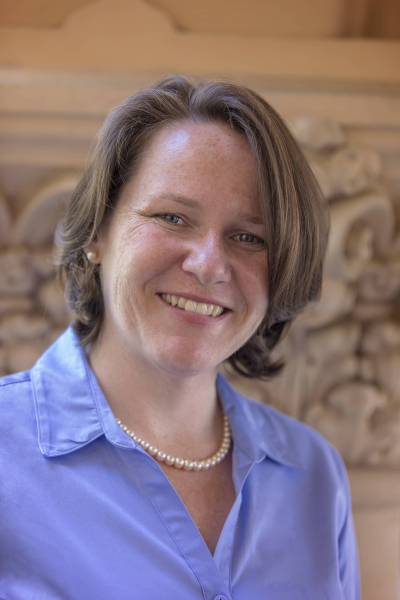 Please tell us about your degree program and why you chose it.
I am a double Torero, graduating with a M.A. in Nonprofit Management and Leadership in '08 and a Ph.D. in Leadership studies, nonprofit specialization, in '15. I chose the M.A. program because I realized while serving in the Peace Corps that if I really wanted to make a difference in the world, there was much more I needed to learn. The M.A. program provided a comprehensive education that was directly useful in my day-to-day work as a nonprofit professional. I chose the Ph.D. program because I realized while working in nonprofit organizations that I had bigger questions about the sector and about "doing good." Obtaining a Ph.D. and now engaging in research allows me to spend my life asking questions and generating knowledge that, hopefully, helps others along the way.
What is your fondest memory of being at USD and SOLES?
I spent most workdays upstairs in the Caster Center and then, around 5pm, would come down to Bert's Bistro to enjoy dinner on the patio. I spent many evenings watching the sunset before going to class. Often times I was joined by fellow students, and we would chat about all things school and life. What a beautiful experience!
What is your favorite place on campus and why?
The Caster Center for Nonprofit and Philanthropic Research is my favorite place on campus. It is alive with possibility and curiosity. I served as a research assistant there for four years, and it helped me to develop my skills and interests. Thanks Dr. Deitrick and Schumann!
Who was your favorite USD professor or class?
My favorite learning experience was defending the dissertation. It was an intellectual boot camp! My committee—Drs. Donmoyer, Galloway, and Green—each had very different perspectives. Each one of those perspectives challenged me then and continues to challenge me today to become the best scholar I can possibly be.
How have you remained involved with USD since graduation?
I continue to collaborate with Drs. Deitrick and Donmoyer, work with the Caster Center, provide guest lectures to Dr. Donmoyer's classes, and to connect with current students at academic conferences. I co-author papers with fellow alumnae Elizabeth Castillo and Lindsey McDougle. I am in touch with many faculty and with peers from my M.A. and Ph.D. cohorts.
If you could offer a current USD student / SOLES student advice, what would it be?
Choose teachers that will challenge you. Find the ones that think differently than you do or that others regard as "tough." Create and embrace opportunities for difficult learnings in the safety of SOLES so you know in your bones how to go the distance once you cross that graduation stage.
Tell us a little about your journey since your graduation.
I just celebrated three years as an assistant professor of nonprofit leadership and management at the University of Florida. I teach large undergraduate classes of 85-100 students and supervise Master's student theses and projects. I have published 10 peer-reviewed journal articles, three book chapters, and 19 practitioner-oriented publications. I was recently awarded the 2018 Emerging Scholar Award by the Association of Fundraising Professionals.
Shifting from working seven days a week as a Ph.D. student, I have rekindled my love of reading, begun taking real vacations, and started running. I ran my first half marathon at Walt Disney World last November and, to my surprise, I actually enjoyed it. Who knew running was fun?!
How has your SOLES education impacted your career and your career goals?
At the M.A. level, SOLES taught me how to be an effective nonprofit leader. At the Ph.D. level, SOLES taught me how to question what it meant to be an effective nonprofit leader. I try to share both of these journeys with my students.